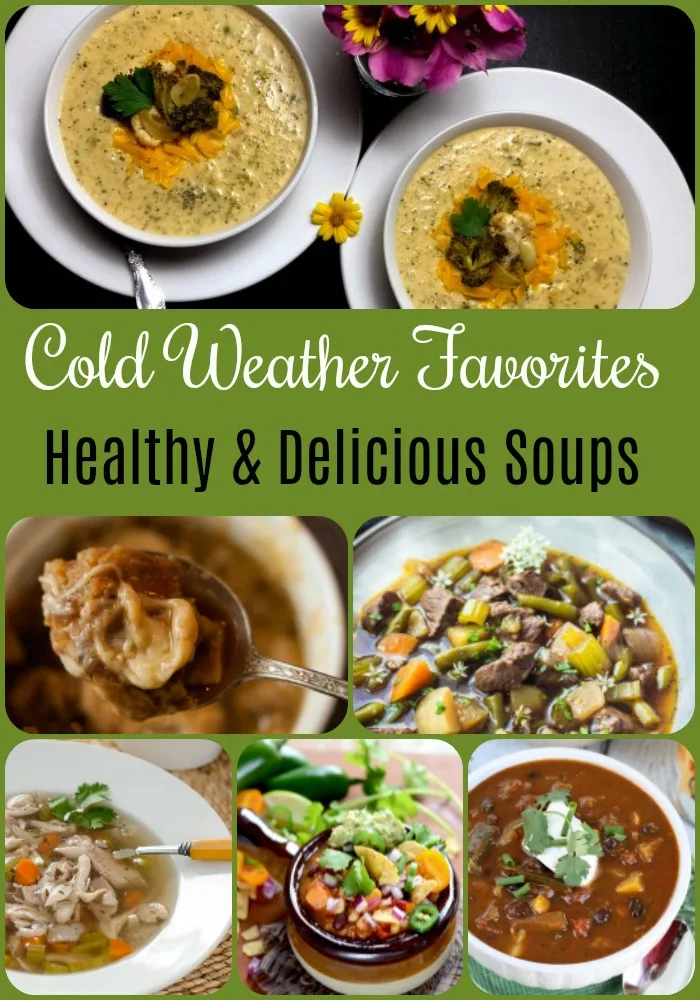 Make sure to check out these healthy soup recipes! Winter weather means it's soup season, so we have collected some great ones for you to try. Scroll down to see them all including a healthy tomato soup recipe, a low carb vegetable beef soup, and even a gluten-free healthy broccoli soup recipe. There are so many yummy ways to make a bowl of delicious soup. Not only are these soups scrumptious but they are good for you too!
Curried Root Vegetable Soup by FabFoodall
This is soup is not only filling and wonderful on a cold day but it is chock full of delicious root vegetables. Plus you get the health benefits of herbs like turmeric and ginger. It's also a vegan recipe so fits the bill for many diets.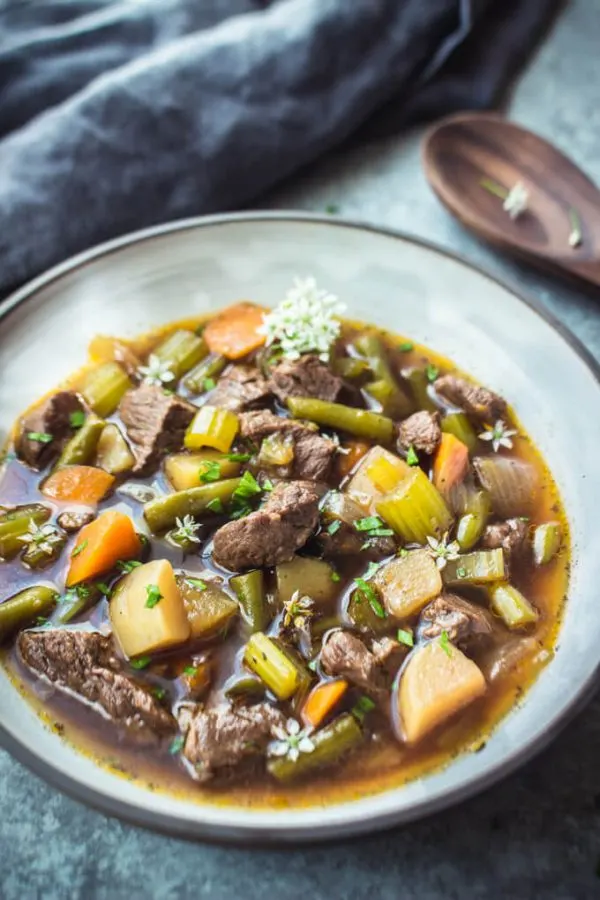 Low Carb Vegetable Beef Soup by Lowcarbmaven
If you are looking for low carb recipes and you are a serious soup lover like I am then you are going to love this vegetable beef soup. It's filling, healthy and delicious! If your New Year's resolution is to lose weight and eat better than start here!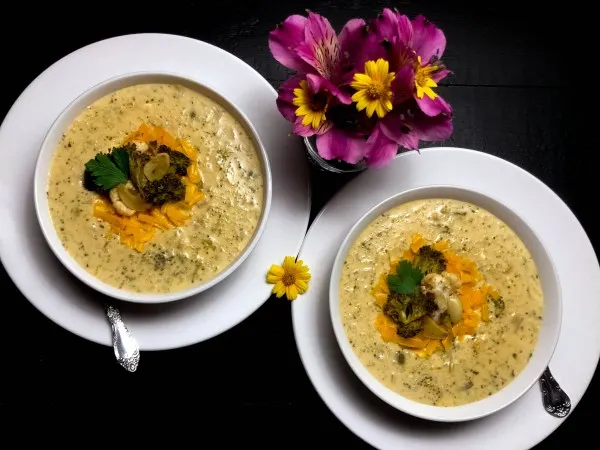 Healthy Gluten-free Roasted Broccoli & Cauliflower soup by A Sprinkling of Cayenne
Creamy, cheesy goodness combines with good-for-you broccoli and cauliflower for a soup lover's delight. I adore cream soups but they often can be full of high carb foods like potatoes. Not in this case! The roasted flavor of the veggies makes it so good.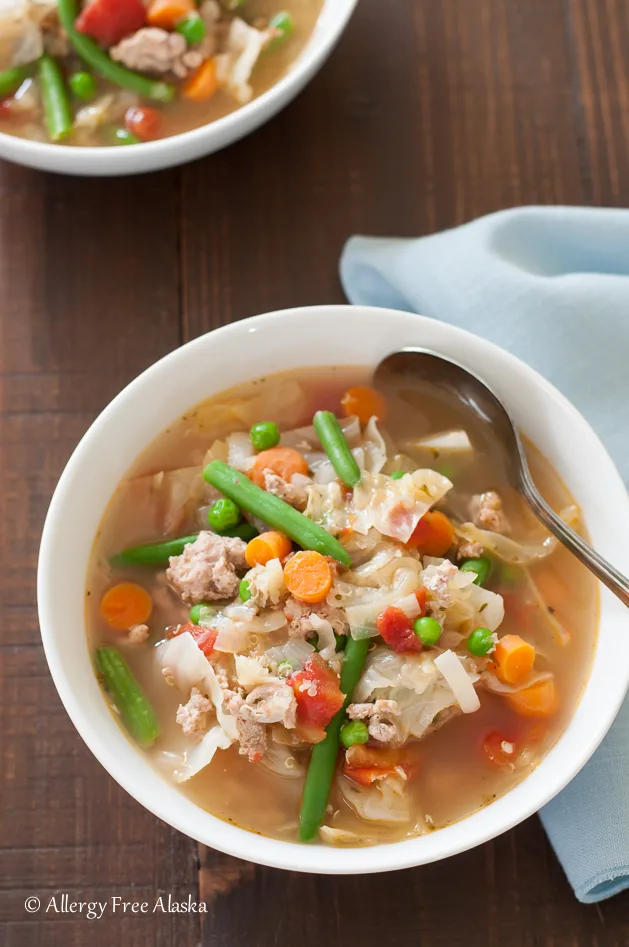 Ground Turkey & Garden Vegetable with Quinoa by Allergy Free Alaska
This soup exudes good health! Ground turkey cuts the fat content of hamburger and quinoa is a healthy grain! Toss in some yummy vegetables and flavorful broth and you have a pot of simmering, delicious goodness.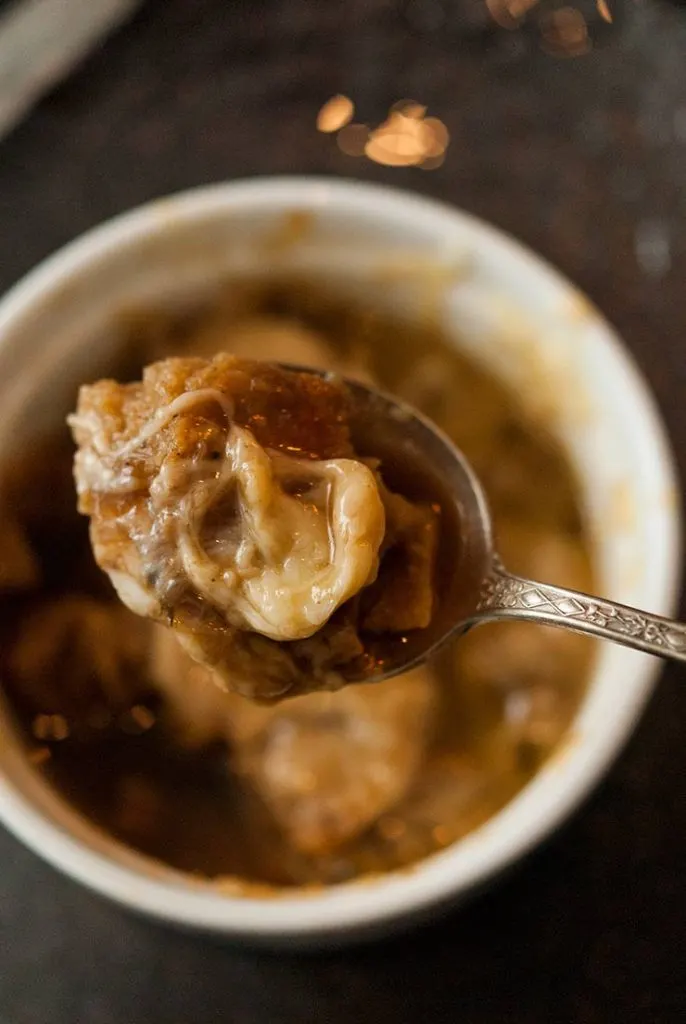 I can't tell you how much I love French onion soup! It's such a simple soup to make but very elegant. Sweet, savory onions sauteed and simmered in beef broth with the final end being a scrumptious masterpiece. Pop in the oven with some cheese, or you can even skip this part. Just don't skip trying this if you have never had French onion soup!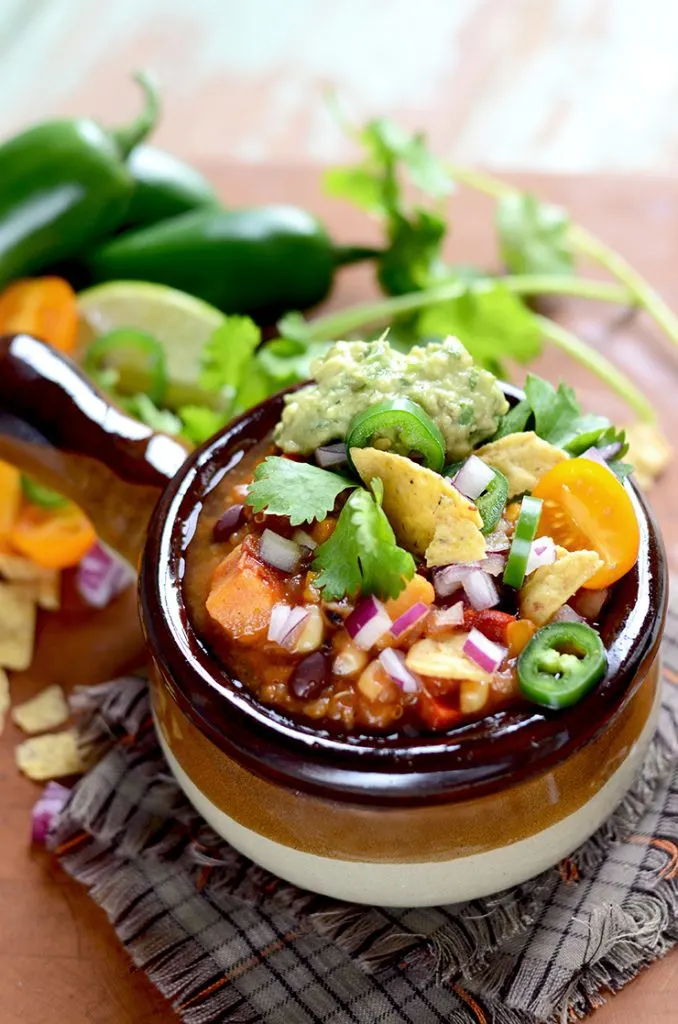 Vegan Sweet Potato Chili with Black Beans and Quinoa by Vintage Kitty
Black beans are so flavorful! Not the usual chili bean but this chili has a delicious twist. It mixes sweet potatoes, black beans and quinoa for a fantastic new taste. It's an all-vegan recipe. You will want to have lots of fresh add-ons on hand, such as chopped onions, fresh cilantro, and jalapenos.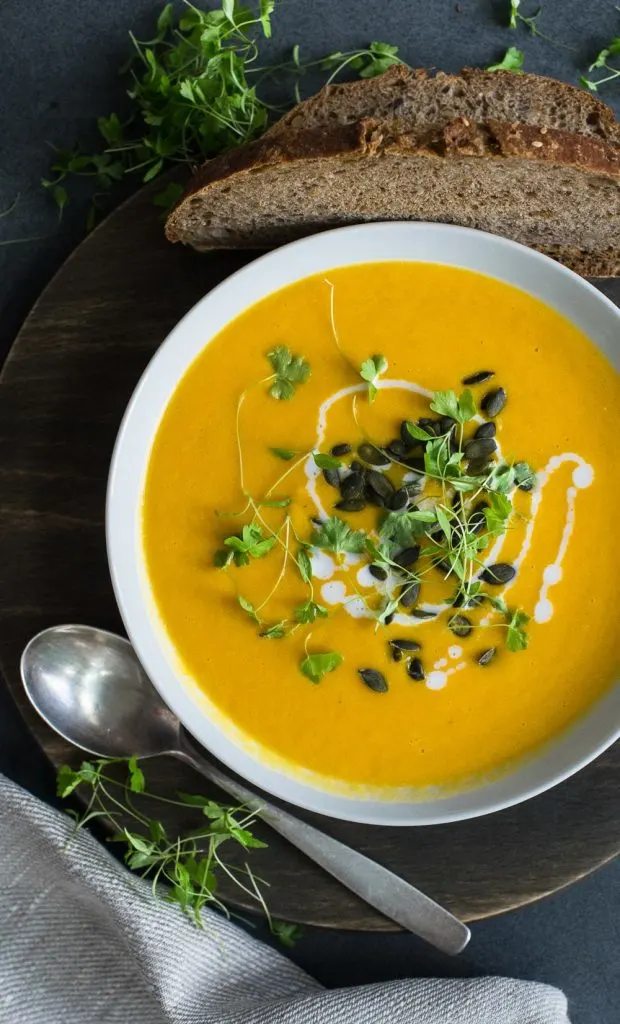 Warm & Filling Ginger Carrot Soup by Gathering Dreams
Ginger and turmeric are very healing foods and this soup has both. Carrots are full of antioxidants and they are the main ingredient in this fresh, creamy soup. It's a lovely soup for a snowy winter day.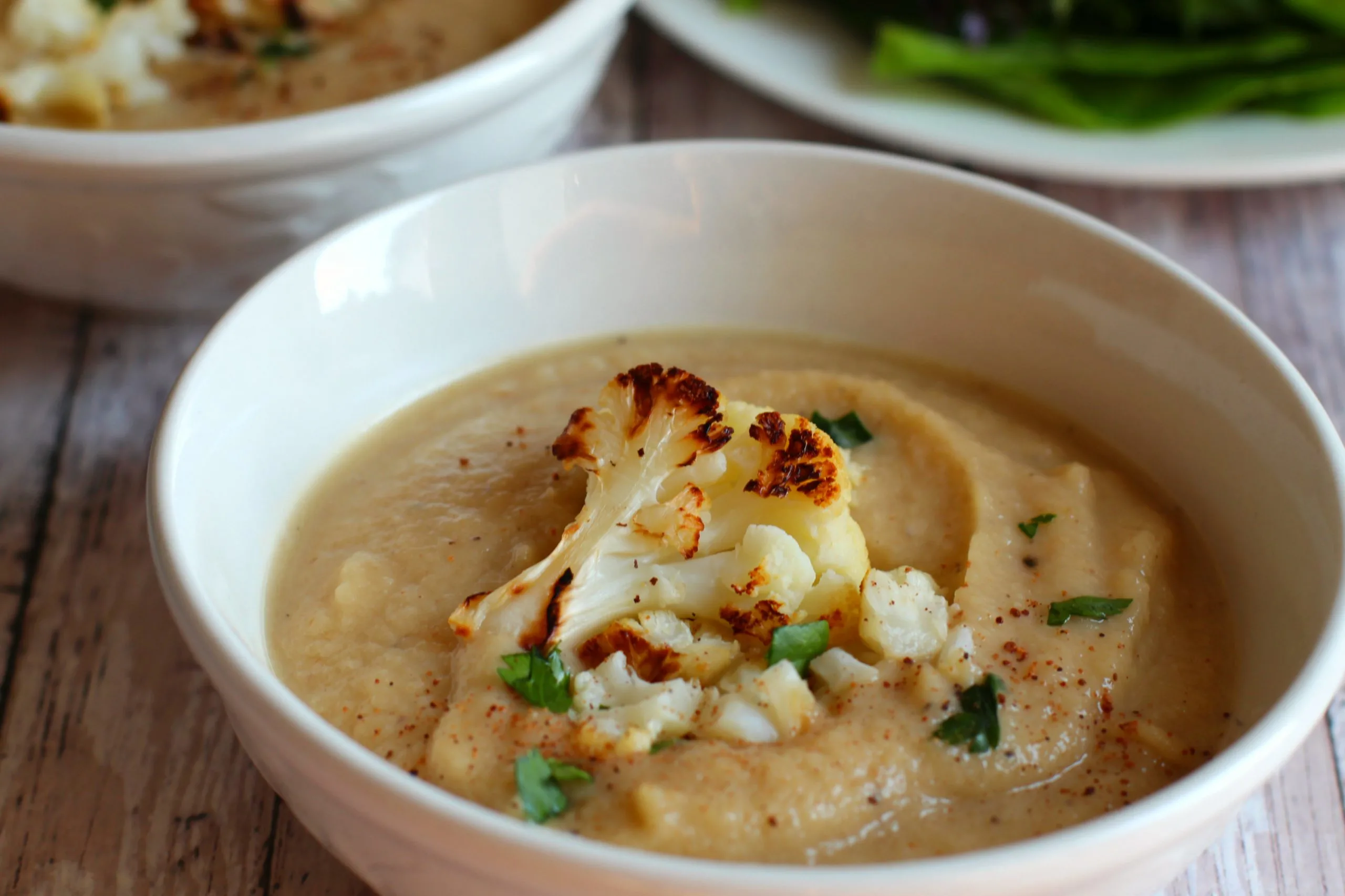 This Healthy and Creamy Roasted Cauliflower Soup Recipe is easy to make and can be eaten on a variety of diets including Low Carb, Gluten-Free, and Vegetarian diets! The cauliflower is roasted before going into the soup, which adds such incredible flavor to this dish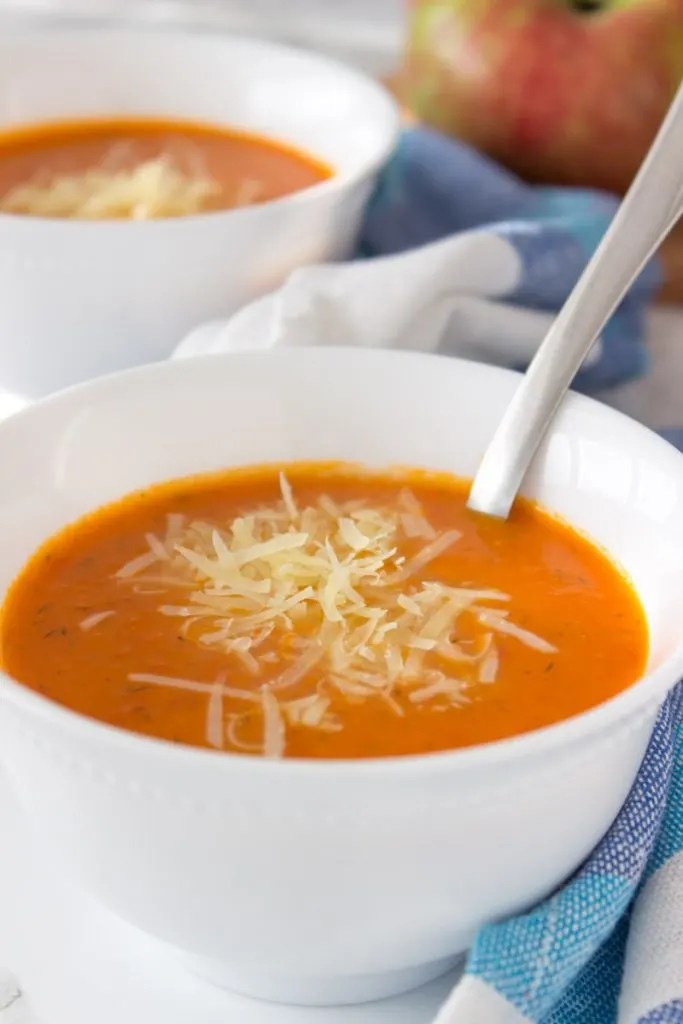 Tomato soup is so good! This made from scratch healthy tomato soup recipe adds the sweetness of apples with a touch of turmeric and cayenne. Plus you can make it only 30 minutes. A definite plus for all of us on busy days when we still want something healthy and fresh.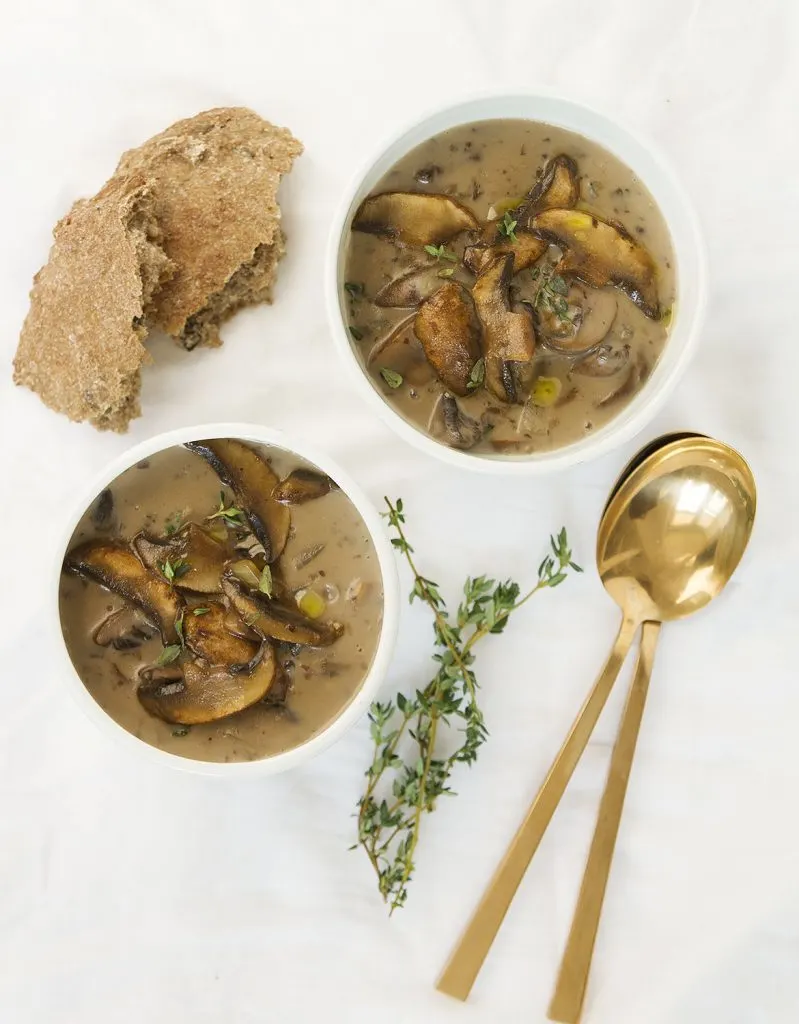 This is not your bland canned cream of mushroom soup. This is overflowing with chunks of mushroom, onion, garlic, and thyme. The flavor is amazing! Serve with some crusty French bread and a tossed green salad for a wonderful meal!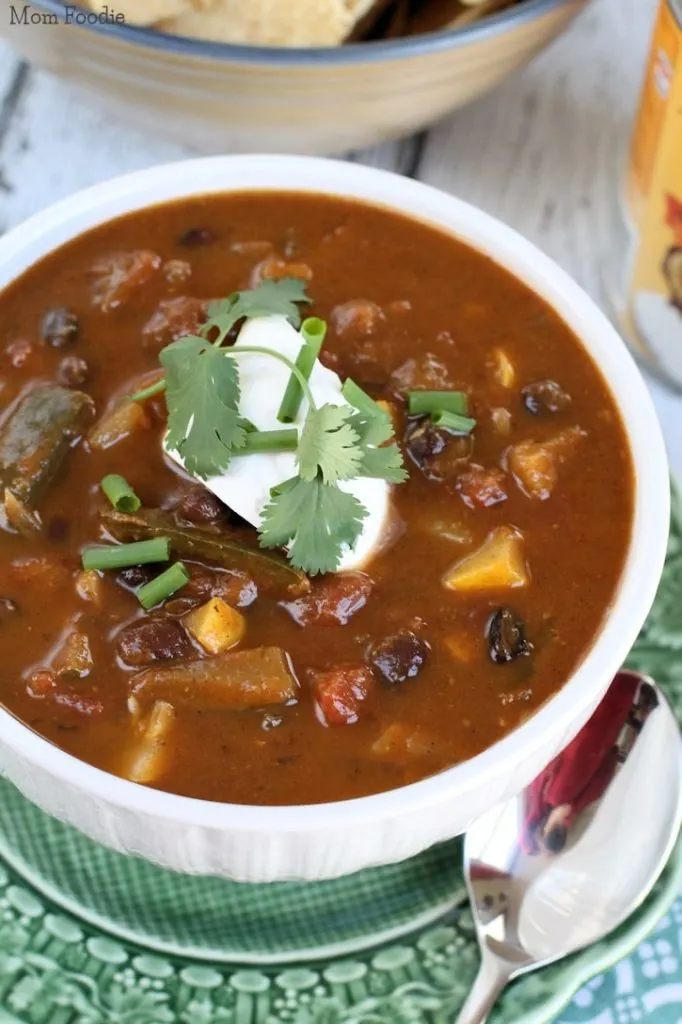 Healthy Vegetarian Chili Soup by Mom Foodie
Love chili but need a vegan version? Look no further – this is meat-free and grain-free for those with grain allergies. And it has a secret ingredient that will have you going wow! The whole family is going to love this healthy chili.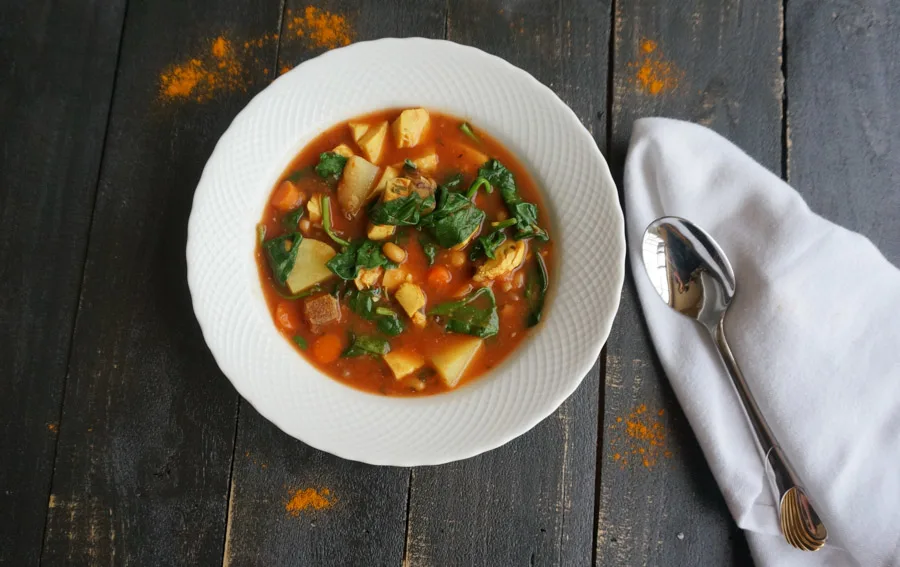 This soup fits in nicely with those doing the Weight Watchers point system. Chickpeas, spinach, seasonings, and chicken broth are just a few of the delicious ingredients in this good-for-you soup you will find yourself making again and again.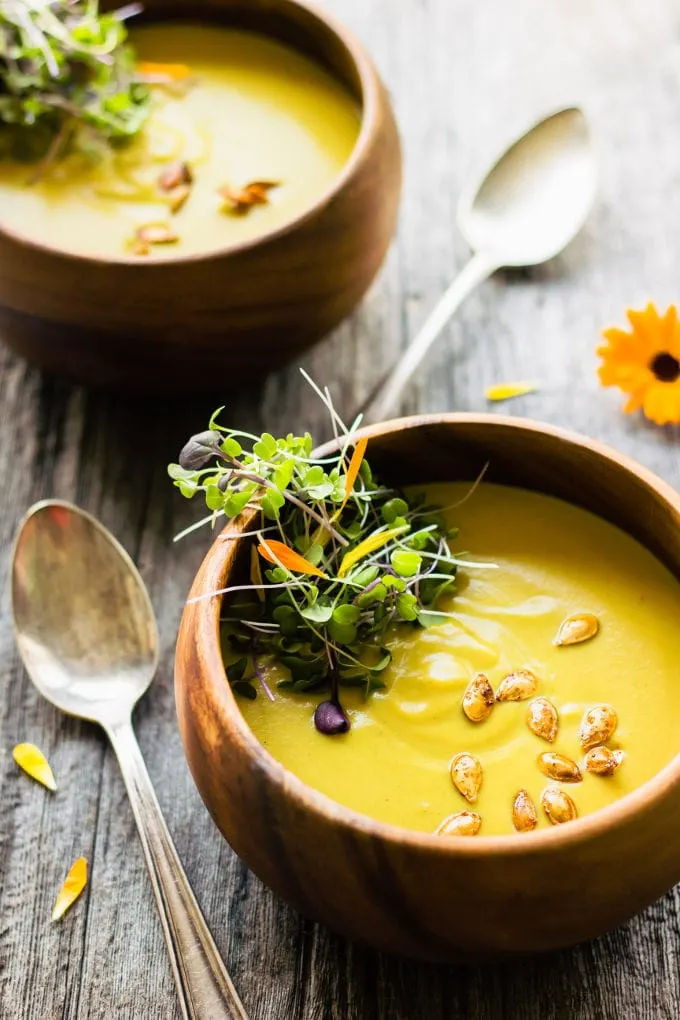 Eating with the seasons is a great way to support local farmers and use fresh ingredients. Acorn squash is a winter squash that will keep for quite a while. This curried version of a winter squash soup is slightly spicy. Coconut milk provides a healthy creaminess.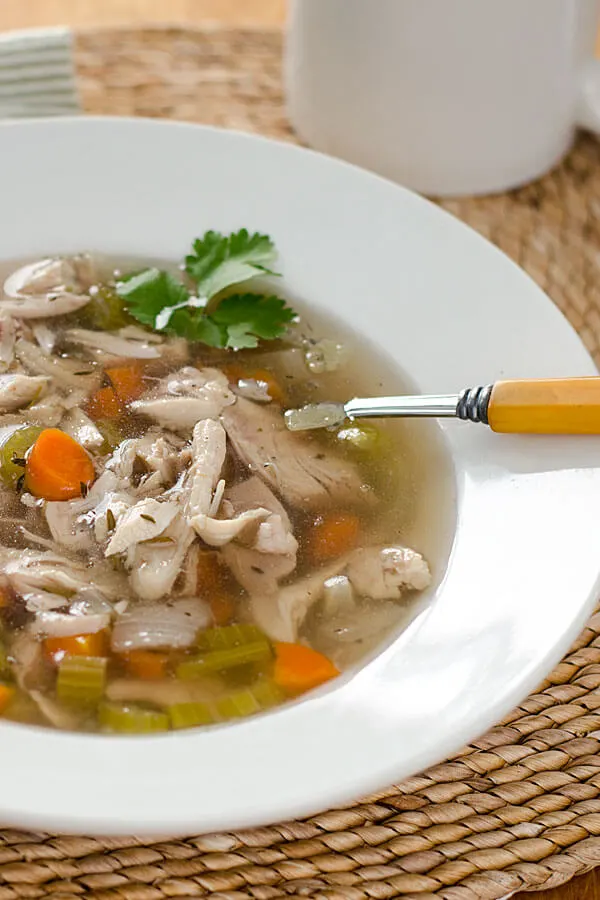 Crockpot Chicken Soup Healthy Soup Recipe by Cook, Eat Paleo
Put your crockpot to work with this delicious chicken soup that will fit nicely into your paleo or low carb diet. Simmered chicken makes a delicious broth for the celery and onions to baste in. Let it cook all day and your house will smell so good. Your taste buds will be tingling long before it's dinner time. This is also a great soup for days when the family is under the weather.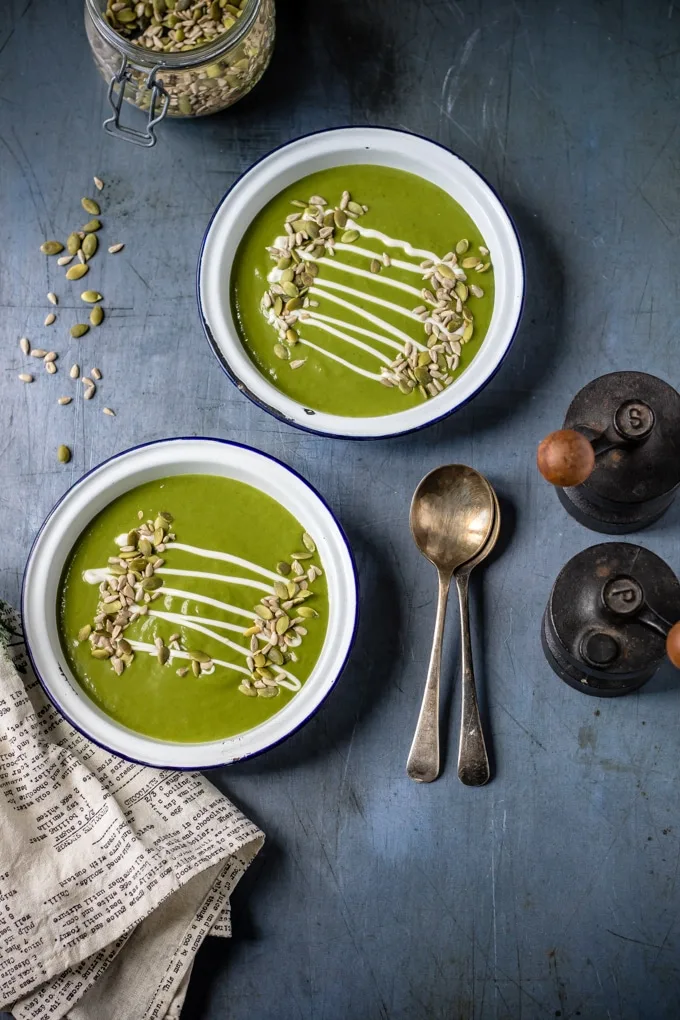 Kale is a phenomenal superfood! You literally can't get enough of it in your diet! This does call for potatoes but if I want a low carb version I just leave that out. So good and so good for you!
Which of these healthy soup recipes are you going to make first? I will be trying the healthy broccoli soup or healthy tomato soup recipes first!

How much easier can it be to save everyday?
Join our Facebook Groups to see more deals like these:
Simple Living, Recipes Crafts & more
Couponing to Cut Your Grocery Bill
Couponing at Tops Markets
Couponing at Wegmans
Couponing at Save A Lot
Couponing the Dollar Stores
Couponing at Dollar Tree
Couponing at CVS, Walgreens and RiteAid
Couponing at Walmart, Target and Kmart
Online Steals & Deals
Printable CouponsForFree FB Group
Coupons.com Facebook Group
Freebies, Cheap Deals, Giveaways and Sweeps