Check out this great Online Grocery Shopping Deal on Fritolays Lays chips, 40 ct!!
This is a great deal on Fritolays Lays chips, 40 ct at $16.98 which is only $.42 a pack! This is the lowest price on any variety of Lays chips multipack that I have seen in quite a while. When you price compare Lays Multipacks Snacks to other stores in-store or online, this a great deal when you are already an Amazon Prime Member!
Get your Lays Chips Snacks right here
If you already have a Subscribe and Save account you can score these Fritolay chips for $14.43 which is only $.36 per pack by adding them to your next delivery!! See below how it shows in my account with having 5 items on subscribe and save– I get an additional 15% savings and you can too!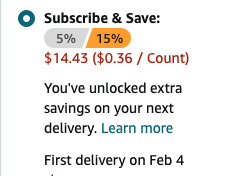 Sign up for Subscribe & Save and save an additional 15%!!
I choose 5 items per month to have auto shipped to my house and save an extra 15%. I schedule my auto ship for the end of the month, and on either the 1st or 15th of every month, I see what I may need that I do not get coupons for and find the best Amazon Subscribe & Save deals and switch them out every month!
NOTE: all items are not available to be added to Subscribe and Save
Details on Fritolay Lays chips:
40 Single Serve favorites Lay's Classic Potato Chips, Crunchy Cheetos, Chili Cheese Fritos, Lay's BBQ Potato Chips, Original Funyuns, Doritos Nacho Cheese, Original Fritos, and Ruffles Cheddar & Sour Cream Chips
With eight different varieties, there's sure to be something everyone will love
These much loved treats are fun to enjoy at lunch, as an after school snack, or party refreshment
Our snacks have a short shelf life (60 to 90 days) so most of our packages only show the month & day of expiration (e.g. "Aug. 16" means august 16th, not august 2016); for optimum flavor and freshness, we recommend the snack be consumed by the date on the package
NOTE: Amazon Prices are subject to change at any moment. Make sure to buy this deal now (double check current pricing below)

Shopping Online and Saving Money:
There are hundreds of shoppers that do not take the time to cut coupons and go to 2-3 different store every week and would rather do online grocery shopping. There are numerous places to shop online for groceries and daily essentials, but there are only a few that you can actually save money while shopping from home. Amazon is my number 1 choice but you can also online grocery shop many stores via Instacart and you can also shop online with Walmart Grocery!
Coupons For Your Family is a participant in the Amazon Services LLC Associates Program, an affiliate advertising program designed to provide a means for sites to earn advertising fees by advertising and linking to Amazon.com

How much easier can it be to save everyday?
Join our Facebook Groups to see more deals like these:
Couponing to Cut Your Grocery Bill
Couponing at Tops Markets
Couponing at Wegmans
Couponing at Save A Lot
Couponing the Dollar Stores
Couponing at Dollar Tree
Couponing at CVS, Walgreens and RiteAid
Couponing at Walmart, Target and Kmart
Online Steals & Deals
Printable CouponsForFree FB Group
Coupons.com Facebook Group
Freebies, Cheap Deals, Giveaways and Sweeps