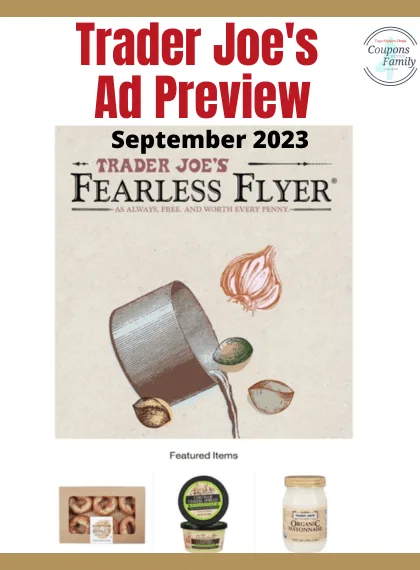 Current Trader Joes Fearless Flyer September 2023 Ad Preview
Are you a Trader Joes shopper and interested in viewing the sales ad online? Viewing the *️⃣ Trader Joes Fearless Flyer Ad September 2023 this week will allow you to plan out your shopping trip. At Trader Joes you will not find many brand named items so you will not be using coupons there, but while 80% of their items are private labeled, they also offer low everyday prices on unique healthy products you will not find anywhere else! Check out more than 500 Trader Joes product recipes on TraderJoes.com! Located in 43 different states, each regions ads may differ in price. Head over to your nearby Trader Joes to get an exceptional grocery shopping experience!
Quick Facts regarding shopping Trader Joes:
Trader Joes is a national chain of local grocery stores so check for the closest nearby Trader Joes here
Sales Ads are monthly and usually start at the beginning of the month
Private labeled Trader Joe products have quality ingredients, NO artificial flavors, NO artificial preservatives, colors derived only from naturally available products, NO MSG, NO genetically modified ingredients, NO partially hydrogenated oils (artificial trans-fats), NO "marketing" costs, are required to tasting panel approval and offer great prices
Make sure to check out special Trader Joes Recipes made with their private labeled products here!!
Trader Joes Fearless Flyer Sales Ad
1 Ads available. Click the links below or keep scrolling to see the current ad.
Now viewing: Trader Joes Ad September 2023