Print this awesome Monthly Guide of Best Time to Buy just about anything!
When is the best time to buy a car, or the best time to buy tv, or the best time to buy frozen foods or the best time to buy a laptop? It is proven fact that certain times of the year are better times than others to buy certain products. Whether the reason is for seasonal sales cycles or whether its based on supply and demand or even your weather for produce, there are certain times of the year better than others, for you to buy certain products.
Many of these are based on preparing for the next seasons sales cycles, such as cars. Its always better to buy a car in the fall because dealers are making room for the new year models on their lots. Many of the grocery items are based around holidays or events like the super bowl so many times these items are plentiful OR the manufacturers such as Pepsi run large promotions so the prices are lower. Whereas sometimes, the demand is so high such as Chocolate for Valentines Day, that the price is not lower right before the holiday.
I have put together data based on my professional sales experiences and knowledge from reading and blogging over the years that should help us all make better buying decisions. I added both Grocery and Retail into one easy document for you to use as an easy reference to peek at when looking to stock up on groceries or to buy a car! As always this document is just to be used as guidance for your buying purposes to help you save a buck! There will be times when these items are priced lower not according to these cycles.
Combining this information in our Best Time to Buy Guide, along with coupons will help you determine when to stock up on grocery items!Seasonal Produce is a very important item to buying but I could not fit the documentation into the one page document. I will save that for another post in the near future!
You can print a PDF of the Best Time to Buy Monthly guide here–>A Month to Month Guide to Retail & Grocery Sale Cycles
Best Time to Buy Items: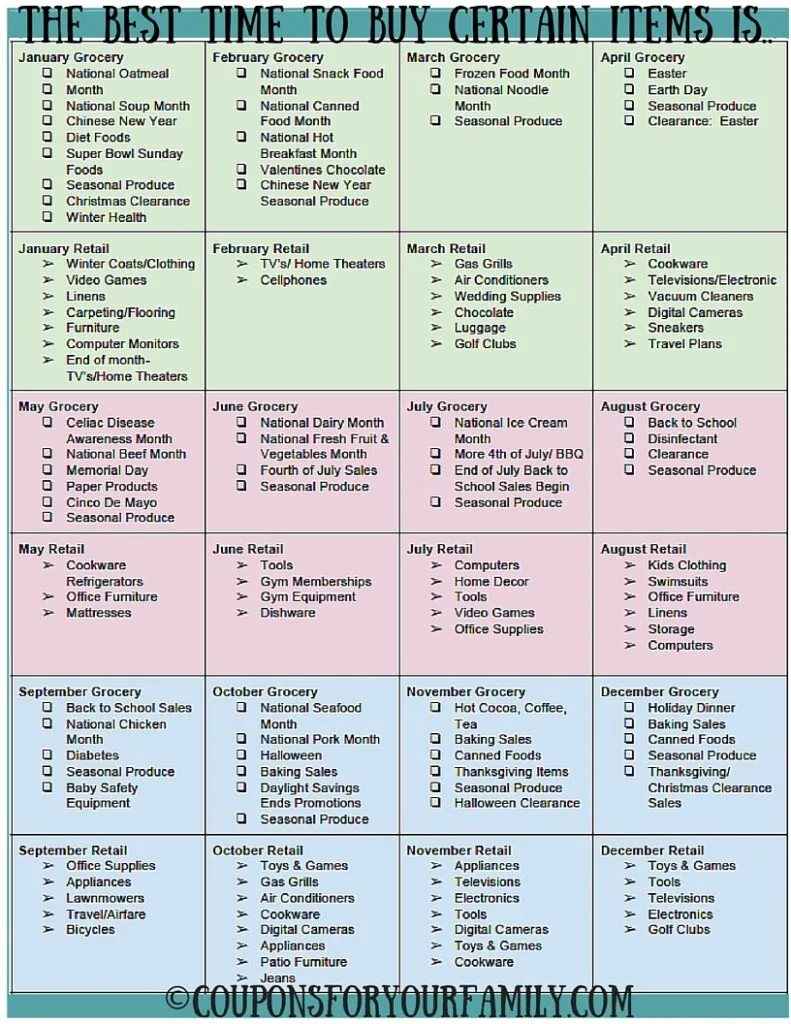 We try to base our posts and deals shared around these times and we will be fine tuning it even more in the future! If you would like help in shopping for items, please email me at denise.caggiano.shophelp.com. It's free to you and gives you direct access to me where I can share my 30 yrs of experience in the sales world along with 10 yrs of Frugal Blogging and Couponing! Please allow time for me to respond as I get 1000's of emails per day!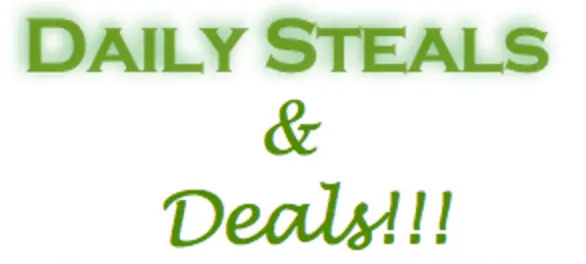 Never miss a deal ~~get them delivered directly to your inbox here!
How much easier can it be to save everyday?
Join our Facebook Groups to see more deals like these:
Couponing to Cut Your Grocery Bill
Couponing at Tops Markets
Couponing at Wegmans
Couponing at Save A Lot
Couponing the Dollar Stores
Couponing at Dollar Tree
Couponing at CVS, Walgreens and RiteAid
Couponing at Walmart, Target and Kmart
Online Steals & Deals
Printable CouponsForFree FB Group
Coupons.com Facebook Group
Freebies, Cheap Deals, Giveaways and Sweeps
Hot Online Deals