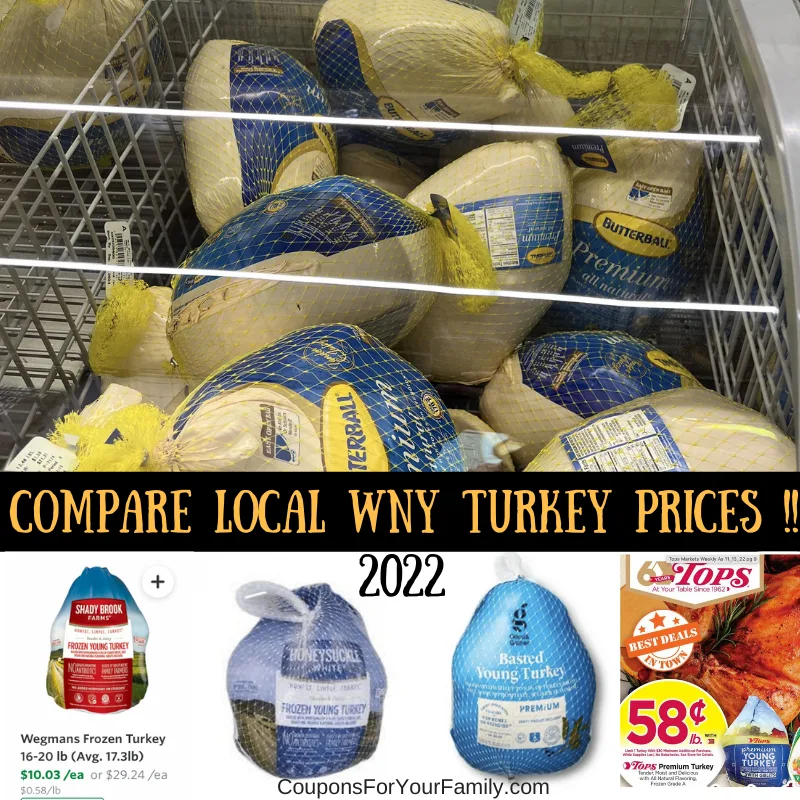 Have you compared Turkey Prices for your Thanksgiving Dinner?
It's that time of year again to be comparing the best turkey prices per pound near me! I started posting these deals back in 2014 and this post is always a hit. In the past, I included comparisons from Tops, Wegmans, Aldi, Walmart, and Target but this year I have added BJ's, Price Rite and Save A Lot for the BEST turkey price comparison so you know where the lowest deal is for your family. Turkey Prices in 2022 are going to be quite interesting with meat prices being as high as they are.
In the past, Tops and Price Chopper have had low price gaurentees on Whole Frozen turkeys and have been the best place to get your turkey for Thanksgiving. In 2021, prices at Tops, Price Chopper and Wegmans where $.48 – $.58 per lb but these prices didn't go down until around November 8-10th so I will continue to watch to see if they will go down this year and will update the post.
Stores are listed below in alphabetical order, and I will be updating this post at new prices are released. Updated as of 10/31/22
So far, the Walmart Turkey Price is the lowest at $.98lb
---
Aldi Turkey Prices 2022:
Aldi generally has a low price on Butterball Turkeys every year. As of 11/6/22, Aldi advertised Butterball Turkeys at $1.07lb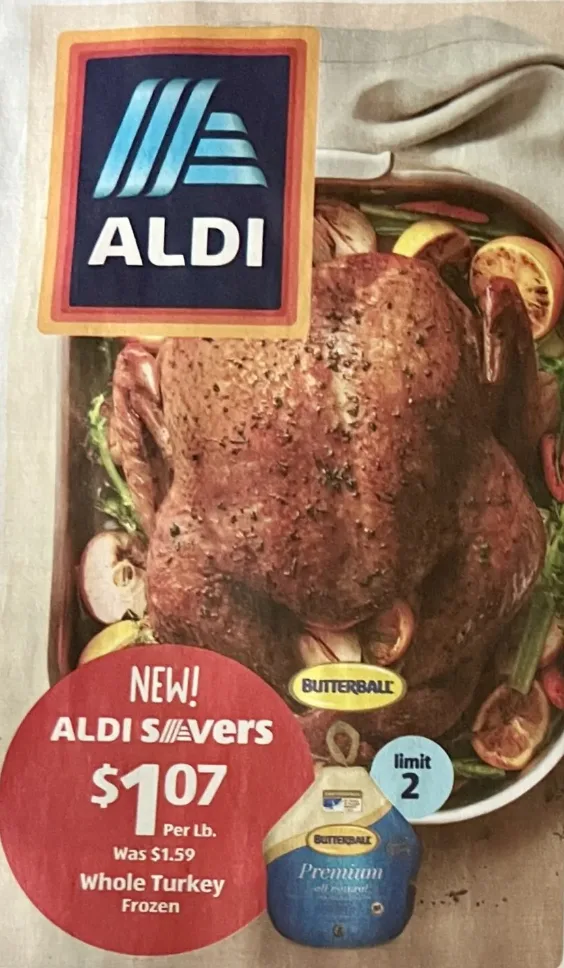 Aldi also has a Kirkwood Bone In Turkey Breast for $1.89lb. At my store the bin was empty so they were already sold out.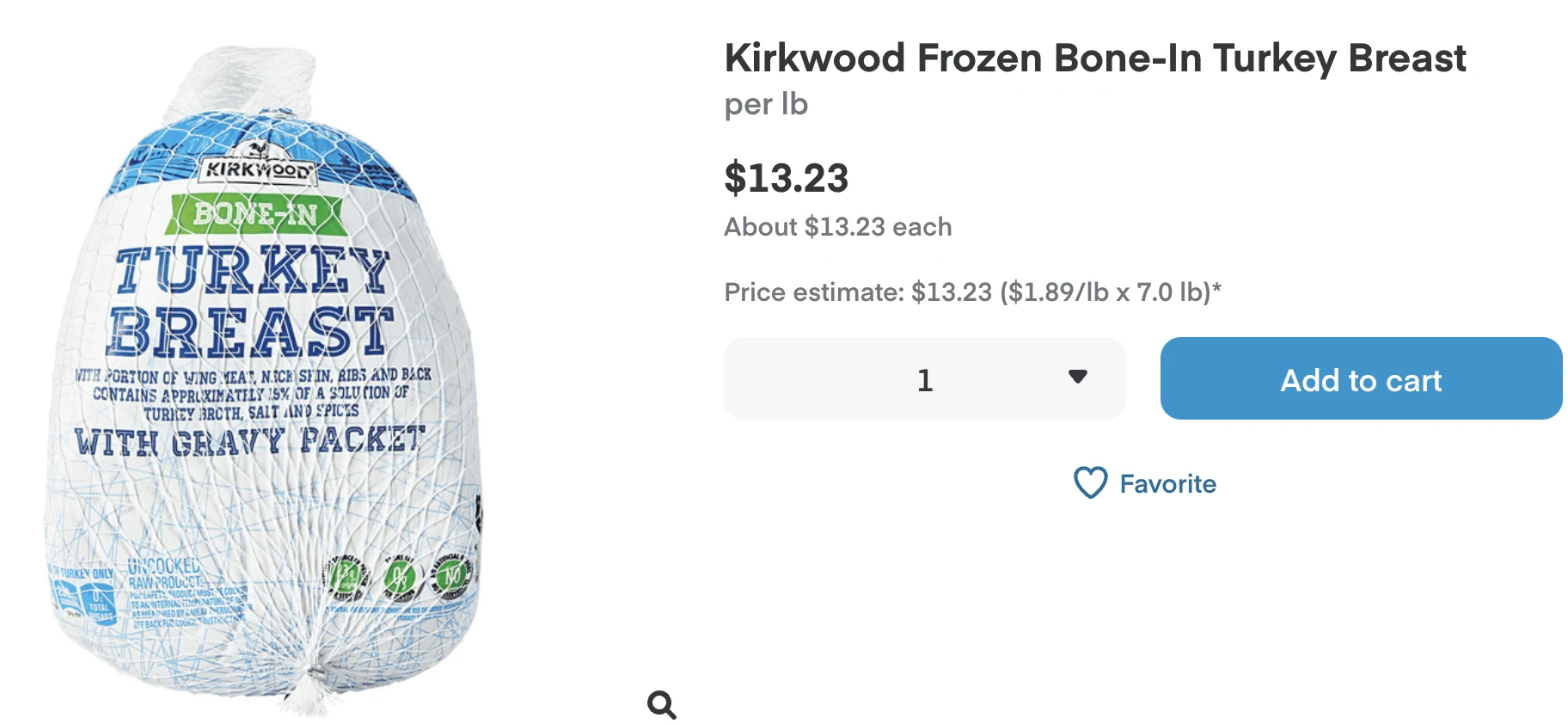 See other Thanksgiving Sale Items in the Weekly Aldi Ad
---
BJ's Turkey Prices 2022
As of 11/6/22, BJ's has still has Butterball Turkeys! They are on sale for $.99 lb!! They are th elowest price for Butterball turkeys
You can get a BJ's Membership for a year for only $25 here!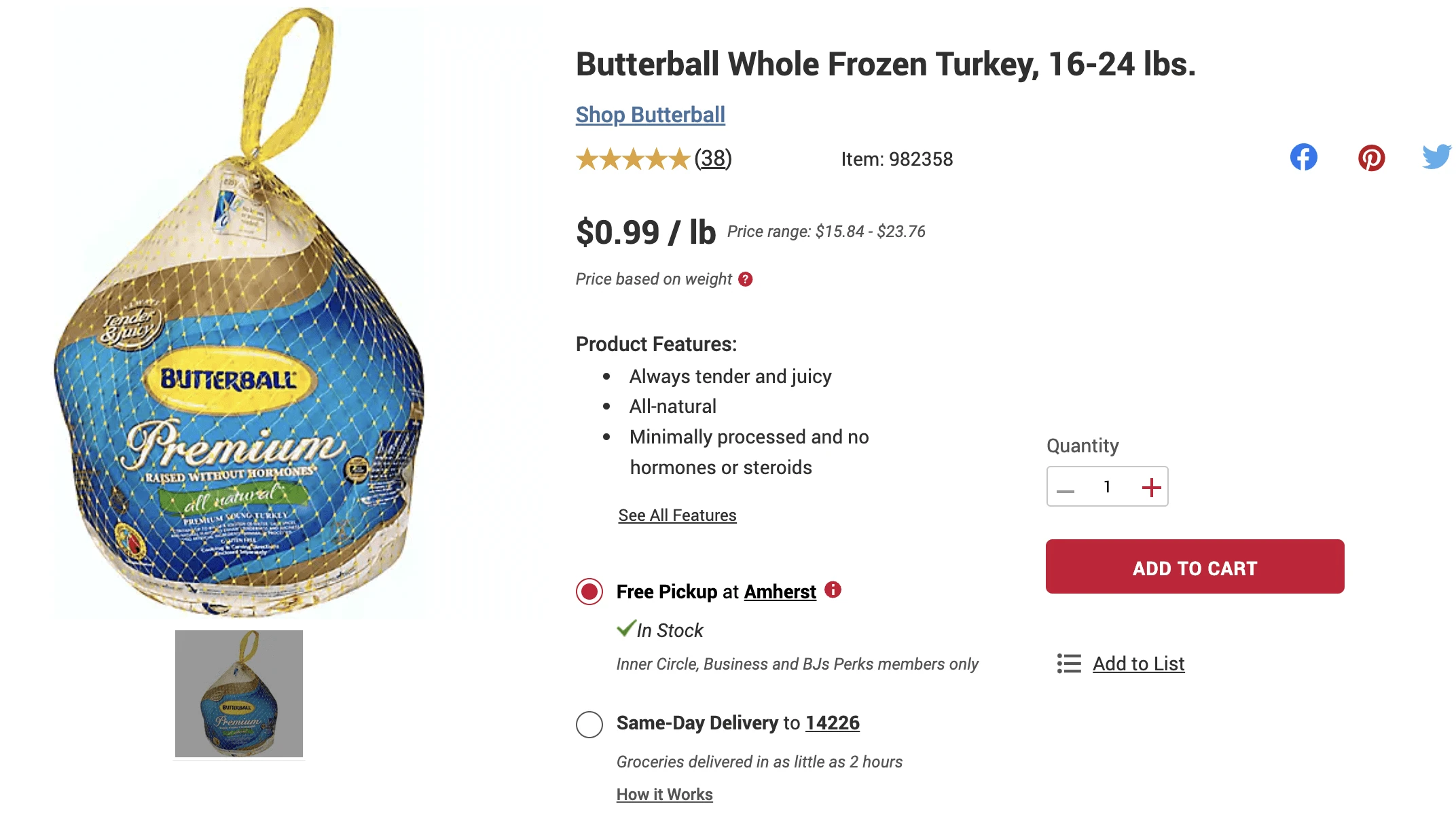 ---
Kroger Turkey Prices 2022
UPDATE 11/10/22 Kroger has differetn prices on turkeys depending on your store. You can get turkeys as low as $.49lb after $.20lb digital coupon AND $25 purchase and some stores get free Kroger Brand turkey for free if you buy $100 in groceries with your Kroger card or pay $.99lb.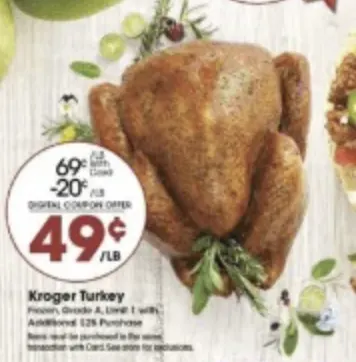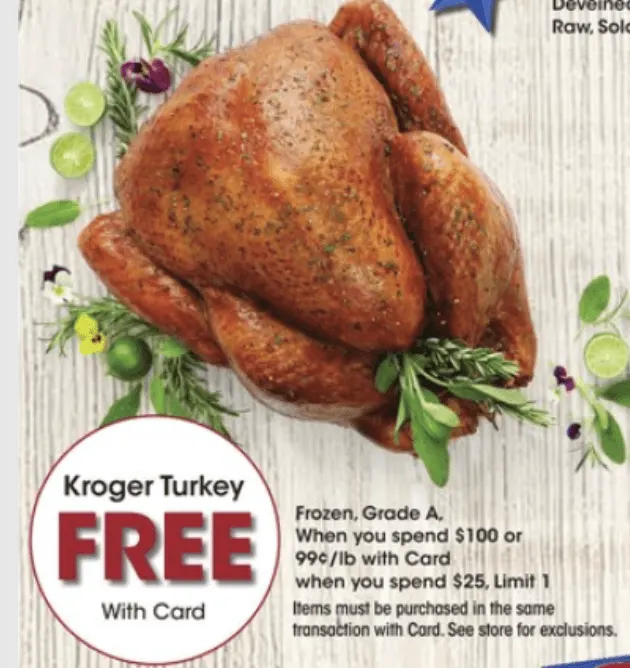 Price Rite Supermarkets Turkey Prices 2022
As of 11/4, Price Rite has a low price match gaurentee on Turkeys with a limit of 1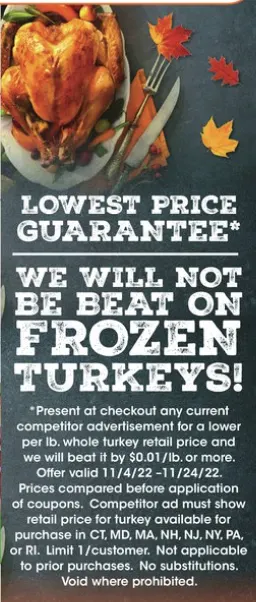 Watch for their price to go down in the Price Rite Weekly Ad.
---
Save A Lot Prices 2022
Turkeys are advertised in the Save A Lot Weekly Ad as of 11/6, but prices are different for regions. The Sunday 11/6 ad for Buffalo NY is showing Honeysuckle Turkeys for $1.49lb and for Uniontown, Pennsylvania the upcoming Weds 11/9 ad is advertising $.99lb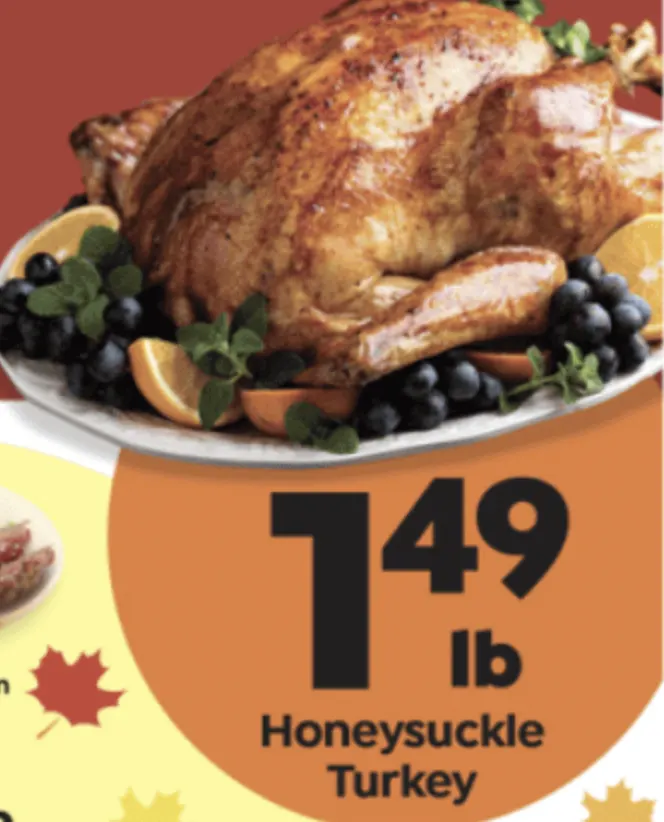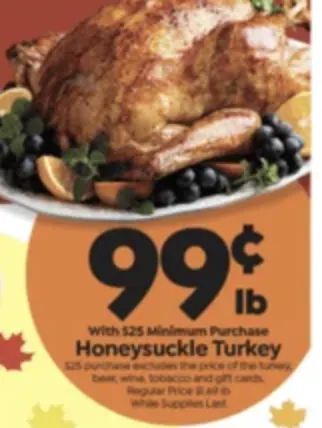 ---
Target Turkey Prices 2022
I am surprised to see Target already having a low price on 10/31/22 on their Good & Gather brand at $.99lb for 10-16lb turkeys. Smaller turkeys, 6-9lbs are listed at $1.49 lb. You can see more Thanksgiving deals in the Target Ad here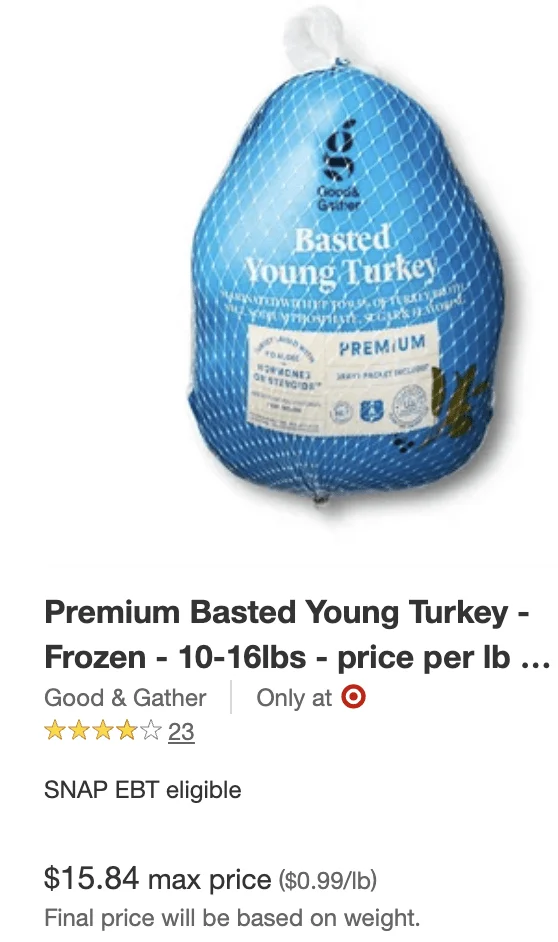 ---
Tops Markets Turkey Prices 2022
We have the Early Preview of Next Weeks Tops Ad, and they are showing one of the lowest prices with $.58 lb plus a $30 purchase! Tops has continually been the lowest price for turkeys in the WNY area.
UPDATE 11/9/22: Turkeys are marked down to $.58lb in store NOW. I already got 2!!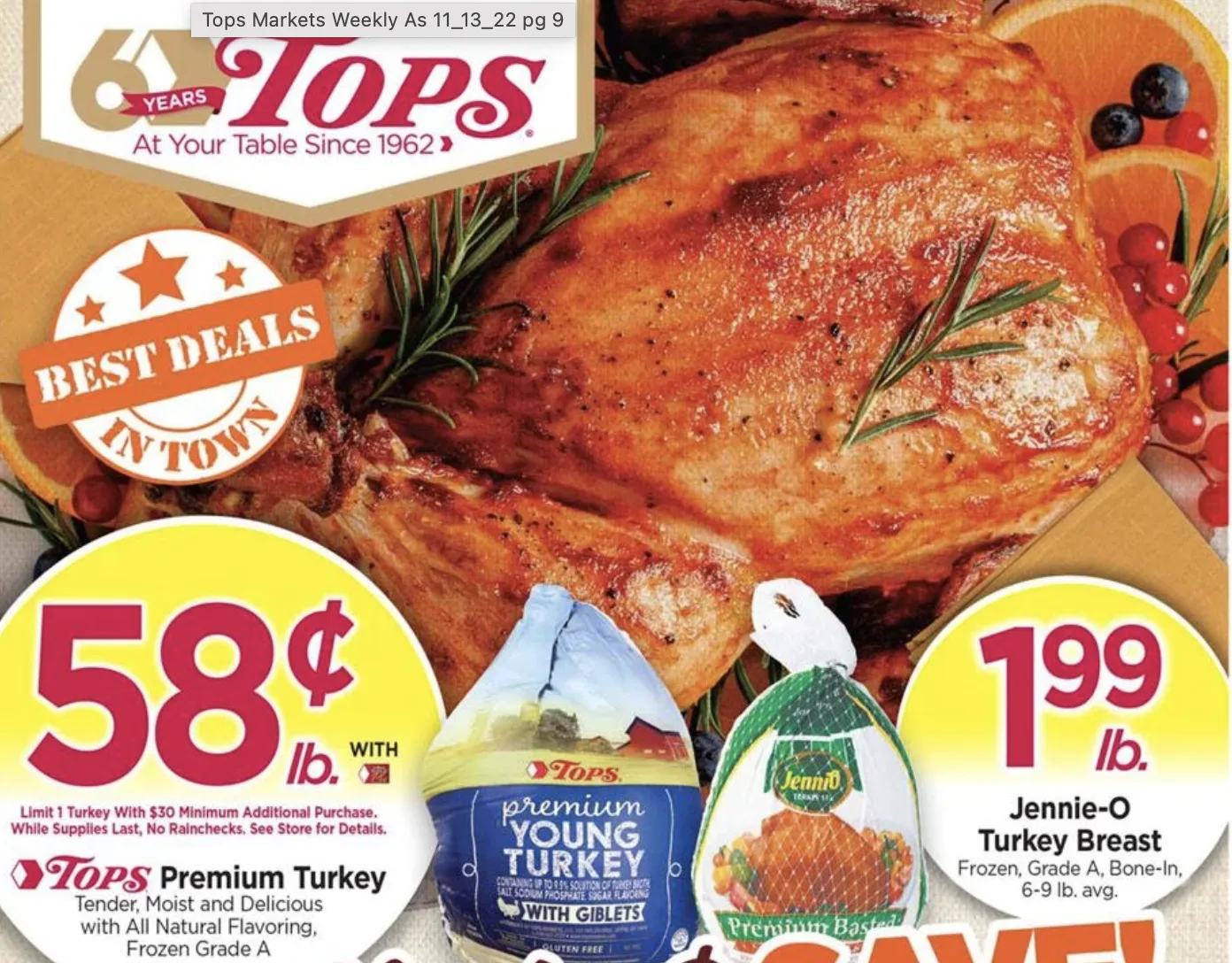 Make sure to follow the Tops Weekly Ad to see all of their sales items!
---
Walmart Turkey Prices 2022
The Walmart Turkey Prices per pound of $.98 is the low as of 10/31/22 with $.98lb! You can even buy Shady Brook Frozen Turkeys online and pickup curbside! Walmart has both 10-17lb, and 16-25lb turkeys to choose from in the Shady Brook brand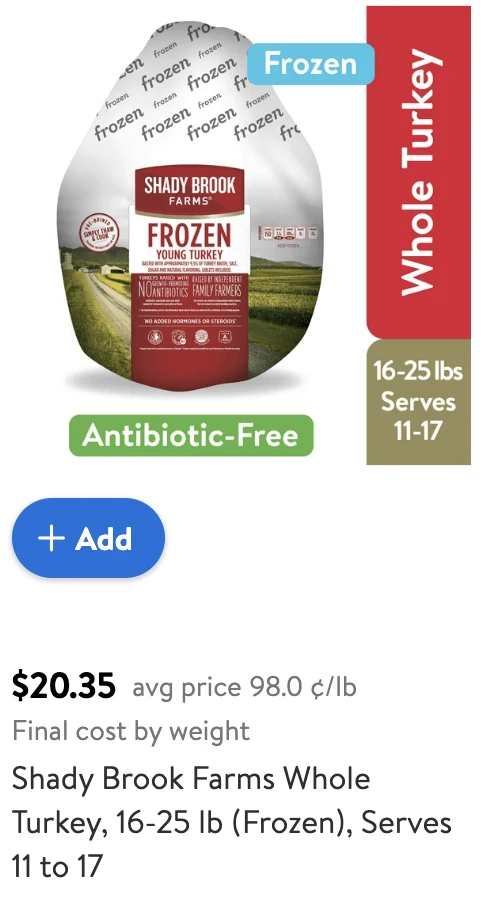 Walmart also has a Butterball Turkey Price at $1.18lb.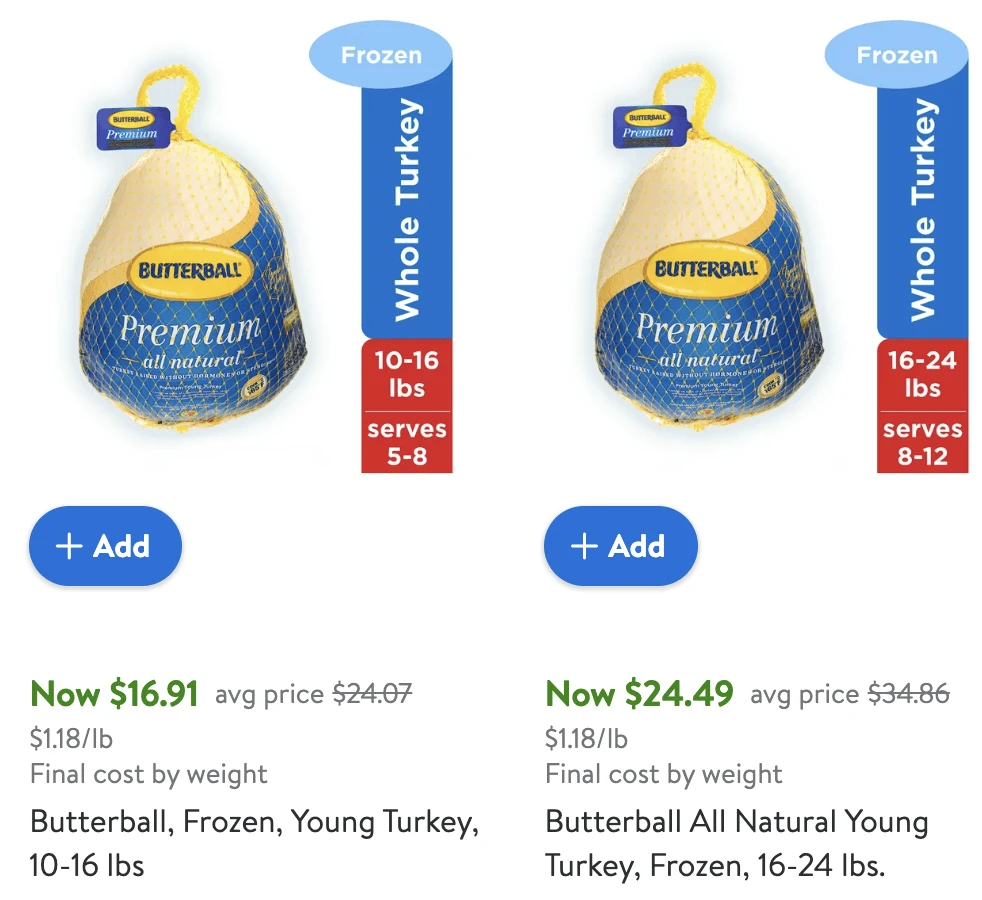 If you don't want a whole turkey, you can also grab a Honeysuckle White Turkey Breast at $1.88 lb at Walmart.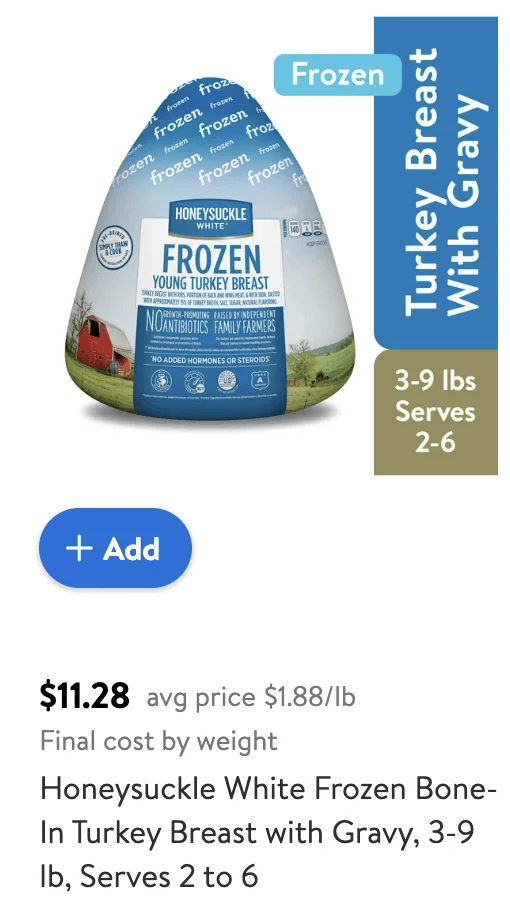 ---
Wegmans Turkey Prices 2022
As of 11/6, Wegmans price on Shady Brook has been lowered to $.58lb with a limit of 1, with SHoppers Club Card and $25 purchase.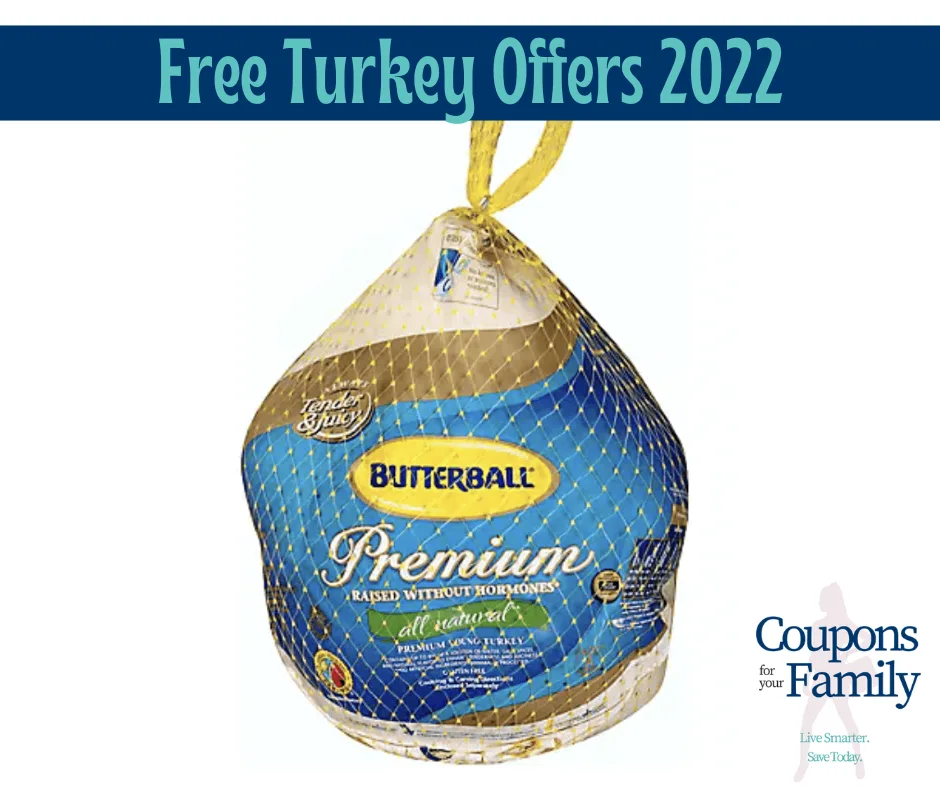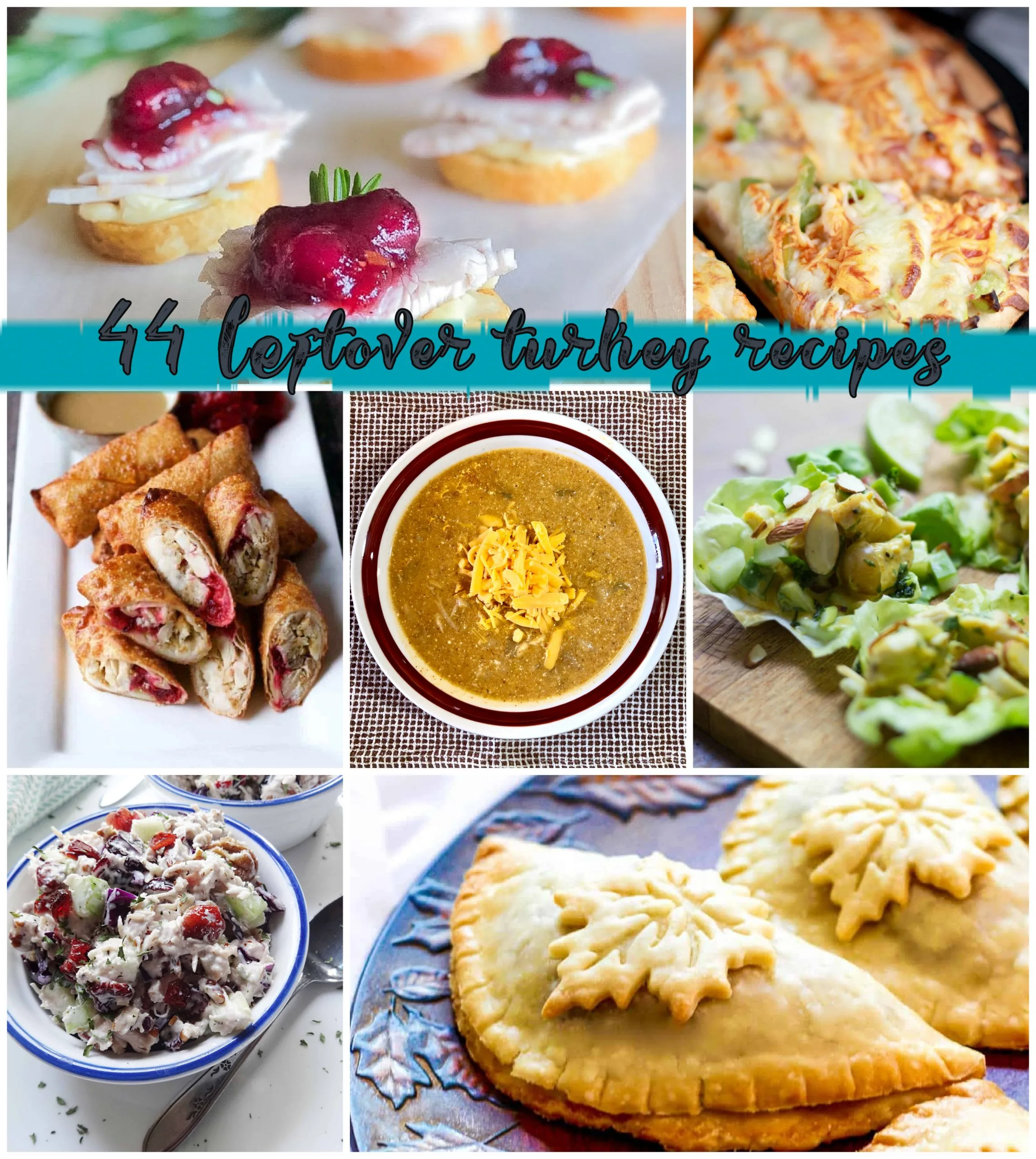 Other Popular Sales Ad Deals:
Joann Fabrics Printable in Store Coupon
Other weekly sales ad previews
How much easier can it be to save everyday?
Join our Facebook Groups to see more deals like these:
Couponing to Cut Your Grocery Bill
Couponing at CVS, Walgreens and RiteAid
Couponing at Walmart, Target and Kmart
Printable CouponsForFree FB Group
Freebies, Cheap Deals, Giveaways and Sweeps