How to Shop for Free and avoid the Grocery Game and spending hours cutting coupons!
Everyone wants to get the most value for their dollar when shopping and we have found the easiest way to save money with the least amount of time invested.
This post is going to give you the quickest way to start saving money immediately.
We have new technology on Coupons For Your Family to allow you to find the majority of the items you can get for close to free and put it all on one list complete with Store names, Sale prices AND the coupons you need to pull from your Sunday Coupon Insert files or print.
So that means you can go through all of our Store Weekly Matchups, choose the items you want to buy/need or simply pick all the free items and print out the list, get your coupons and go shop. If you want to shop 10 stores, then choose best items from all 10 stores. We post Aldi's prices even though you can't use coupons for this reason.
UPDATE:
Since writing this post a new Smartphone App, Favado is available that will allow you to save, not only with coupons, but by price comparing sales at your local stores!
The app is free and can be downloaded to IOS and Android phones. You can even use the IOS app on your Ipad!!
Before going to the app stores, register  here at Favado first , to make sure you are registered by region for your regional deals. Then download the app on your phone, and enter your registration criteria.
You can read more of our posts regarding Favado Grocery List app in the posts below:
Busy Mom Grocery List App
Save 25- 30% just with Price comparisons and Coupon Moms up to 70%
Favado Grocery List App with Local Tops and Wegmans matchups in 
Step #1- Make your list from our Matchups
For example, I usually shop Aldi's for bread, milk, and certain produce but I buy select items at Tops, Wegmans, CVS and Dollar General, Dollar Tree, Target & Walmart.
1) Go to to our menu bar at top of page, choose grocery stores or Find Your Stores Deals, the store of your choice and find the most recent Coupon Matchup for the store of your choice by scrolling down the page.
2) Click in the checkbox the items you want for that store. Let's just say Tops for example. A box will pop up in the bottom right hand corner of your screen showing items on your list.
3) If you want to choose all the items for free (or items on sale you need) from each store go to each store and choose items in same fashion. Your list will continue to grow in the bottom right hand corner of your screen
4) Once you are done adding items, you can print your list or email it to yourself.
Here is an example of how it looks: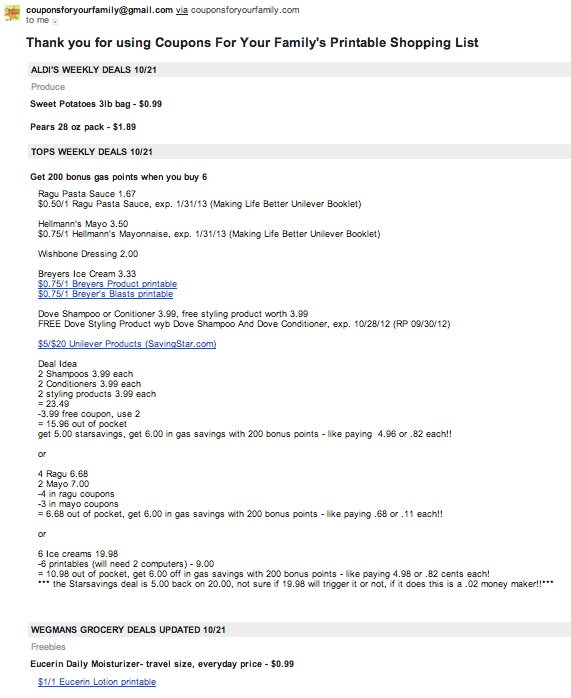 Go here to see video in how to make list–>  How To Shop For Free
Step #2- Understanding Coupons on Matchup List
New couponers come to our matchups and think…" I can't understand this!!??
Yes you can..it is easy:
Here is a standard matchup that shows a Sunday Coupon from your paper, a printable coupon, and a coupon found in a booklet or Magazine
[%printable-list:matchups102512%]
Let's break it down:
1) The first 2 items in the list are from Coupons in your Sunday Newspaper:
$1.50/2 Glade Jar or Scented Oil Candles Product, exp. 11/3/12 (SS 09/23/12)  –This coupon can be found in manilla folder dated  09/23/12 SmartSource (SS) and it expires on 11/3/12
$2/2 Glade Fall Collection Product, exp. 11/3/12 (SS 09/23/12)— This coupon can be in folder dated  09/23/12  SmartSource (SS) and it expires on 11/3/12 also.
Go here for a list of Abbreviations to understand Coupon Lingo–> Coupon Lingo
2) The third  item is from All You Magazine. We provide you with a link to subscribe to All You so you can get these coupons.
$0.75/1 Glade Fall Collection Item, exp. 12/31/12 (ALL YOU Oct '12)— The coupon was found in October issue of All You and it expires on October 12.
Once you start couponing and following the matchups, you will see how valuable the All You coupons are:)
3) The 4th and 5th coupons are printable coupons from different locations:
$1.50/2 Glade Jar Candle printable—-if you click the link it will take you where the printable coupon is available. This one happens to be coupons.com
$1/1 Glade Jar or Scented Oil Candle Product (Recyclebank)— if you click the link it will take you where the printable coupon is available. This one comes from Recyclebank where you need to be a member and collect points when you learn how to recycle. These are all free just for learning how to be more Environmentally friendly.
Printable coupons can be tricky at the beginning because there are so many places to print from. That is why our matchups are so valuable. It provides you a link to the coupon or at least the database where you can print from. THESE CHANGE DAILY AND SOMETIMES HOURLY, some last for days, weeks. When we make our matchup list, they are available to print. Once the coupon reaches its print limit, then it is no longer available
Step #3- Collect your coupons and Go to the Store and Save!!
For more Coupon Education Posts, see all here
Make sure to sign up for our FREE  Top Coupons and Deals Newsletter  here which gives you all of the posts made on the site for the last 24 hours. The newsletter is automatically sent out everyday at 2pm.
Topic: Avoid the Grocery Game