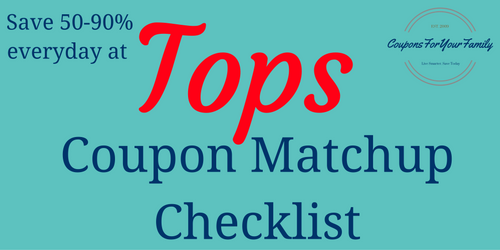 Here are this weeks entire list of Tops Coupon Matchups and Tops Coupons!

Every week we put together all of the Tops Markets weekly sales items with available coupons to make it easy for you to save money at the grocery store!! Tops has numerous sales every week and we take the time to match all the available coupons to them whether they are printable or newspaper coupons.
Quick facts regarding Tops Coupon Matchups :
-These Tops Coupon Matchups are based on the Buffalo ad.
-Manufacturer Coupons are doubled up to $.99; Tops Coupons do not double
-Tops does not accept internet coupons with the word FREE
-Make sure to check out Tops coupon policy here.
-add your Tops Click To Card coupons to your Bonus Plus Card here
Join our NEW Tops Newsletter here for Tops sneak peeks and to ensure you never miss a Tops deal we posted!

Let us know which are your favorite deals in this weeks Tops Coupon Matchups!

There are currently no items in this list.