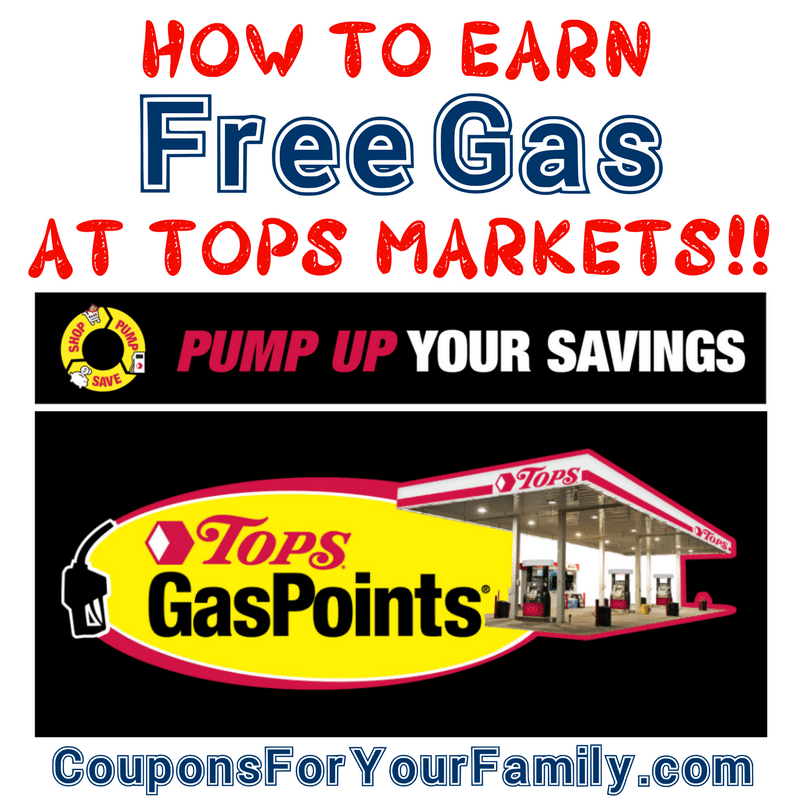 Tops Markets Gas Points Promotions can help you get FREE GAS!!
TOPS GasPoints are the points you earn towards fuel savings just for shopping at TOPS. GasPoints can be redeemed at any TOPS Gas Station to save at the pump! Go here for a listing of Tops Gas Stations

Tops Markets allow you to earn gas points on all of your purchases WHEN it is a Gas point EARNING period. Usually Gas Point promos usually run for a 6 to 8 week period and then there is a 2 week REDEEM period. During redeem period, you will not earn on purchases but that is the time frame you can get your gas point savings at a Tops Gas Station. Your Gas Points do expire so make sure to watch the Tops weekly ads to see when you are in an EARN period and when you are in a REDEEM period.

Combining sales, coupons and cashback offers with the special Bonus Gas Point Items is how you can save the most AND be on your way to earning FREE GAS!! The image above shows just one of the types of Bonus Gas Point promos. Check for the best Tops Deals this week here or for our complete weekly listing of Tops Coupon Matchups here to see how you can maximize your savings and Gas Point Earnings from items in the Bonus Gas Point Boxes!
How Gas Points Work
1) You earn 1 gas point for every dollar spent.
2) You earn 10 Bonus Gas Points per Coupon Redeemed. (Limit of 100 Bonus Gas Coupon Points per transaction) That means in one transaction if you use 10 manufacturer coupons, you earn 100 Gas points (you can use as many coupons as you want per transaction, but only the first 10 will give you the bonus gas points)
So if you want to maximize your gas points you need to do separate orders with 10 manufacturers coupons each. Some stores limit multiple transactions so make sure you know before going to the cash register by asking the front end customer service manager or lead. Just ask them if they allow multiple transactions.
3)There are also special Bonus Gas Points promos every week as shown above! These promos are really where you can rack up the most points. You can find them located in the weekly Tops Ad Scan.
Gas Point Value Chart
Its sometimes hard to calculate how much in dollars you will earn with points. Remember the max fill up is 25 gallons. Here is a little cheat sheet 🙂
100 points= $.10 per gallon (25 gal= $2.50 value)
200 points= $.20 per gallon (25 gal = $5.00 value)
300 points= $.30 per gallon (25 gal = $7.50 value)
400 points= $.40 per gallon (25 gal = $10.00 value)
500 points= $.50 per gallon (25 gal = $12.50 value)
600 points= $.60 per gallon (25 gal = $15.00 value)
700 points= $.70 per gallon (25 gal = $17.50 value)
800 points= $.80 per gallon (25 gal = $20.00 value)
900 points= $.90 per gallon (25 gal = $22.50 value)
1000 points= $1.00 per gallon (25 gal = $25.00 value)
There is no limit to the amount of gas points you can earn! For every 100 points you earn over 1000 points, you can add $2.50 to see your value of the gas points!
How to Earn Free Gas:
1) Shop weekly at Tops Markets to earn 1 gas point for every dollar spent
2) Break up your transactions and only use 10 manufacturers coupons per transaction to get 100 points per transaction
3) Buy items in the Gas Points Combo boxes every week in the Tops Weekly Ad
4) Make sure to use any in ad Bonus Gas Points coupons when available
How much have you earned:
Make sure to watch the bottom of your receipts to see how much you have earned. The largest amount I have earned during a period is $6.90 per gallon. That's a lot of free gas!!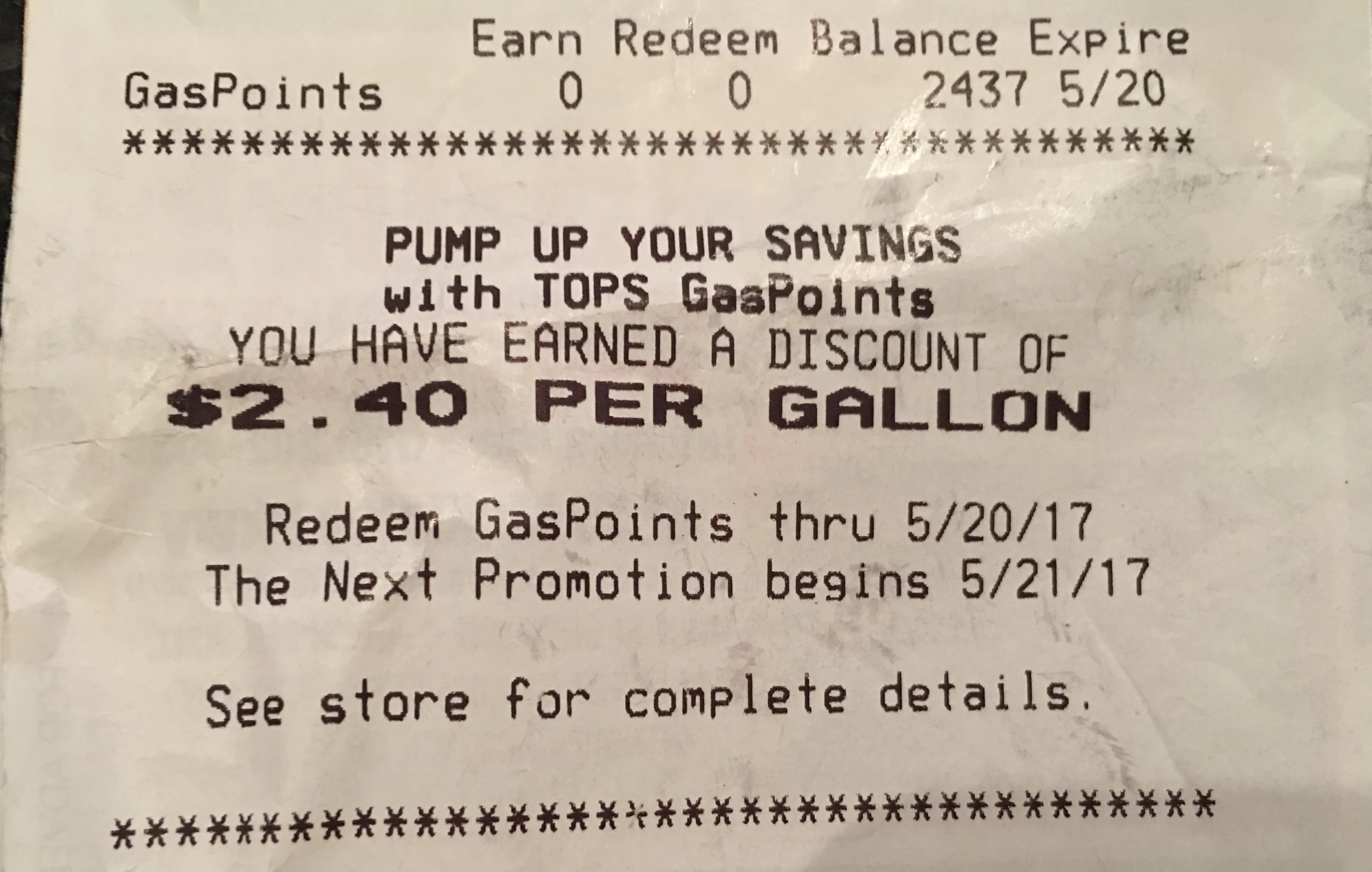 Did you know that you can check your gas point balance online? You can also look at your savings for the year. Click here to go to the Tops website.
How to Redeem your Gas Points
1) You can redeem your Gas Points during the earning periods BUT you must use them all up before the redeem period ends and the new earning promo starts
2) You are limited to a total of 25 gallons of gas. Example: if you have $2.40 per gallon in Gas points like my receipt shows above, then you can get 25 gallons at $2.40 off! That's $60 savings!! NOW…most cars have 12-16 gallon tanks so make sure not to leave the remaining gallons unused. My sons trucks have 30 gallon tanks so they can use all of the 25 gallon, or we have extra 5 gallon Gas Cans that we bring so that we use ALL of the 25 gallons.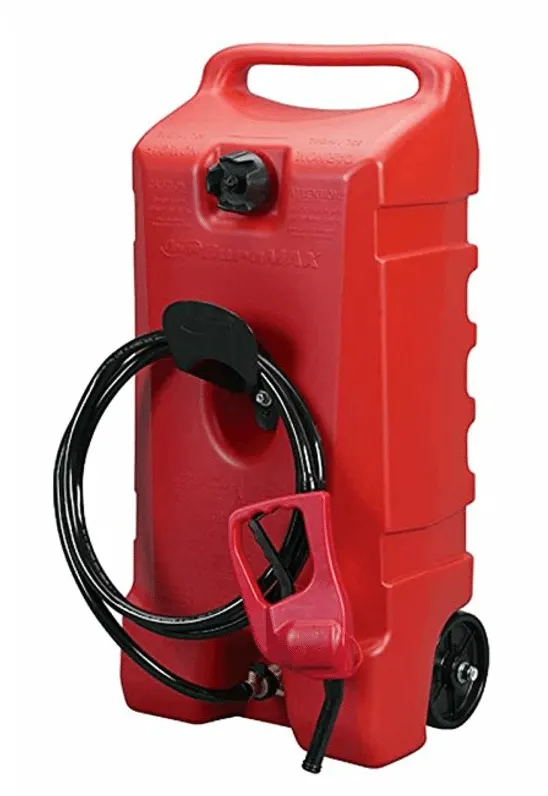 We even have thought about buying this portable 14 gallon Gas Pump in order to fill our boat or jet skis with as we keep ours at a harbor and to pay $4.99 gallon is expensive!!
Join our NEW Tops Newsletter here for sneak peeks and to ensure you never miss a deal we posted! We are the only site to publish EVERY Tops sales deal every week matched with coupons with more than 350 items PLUS the most B1G1 prices published within our list!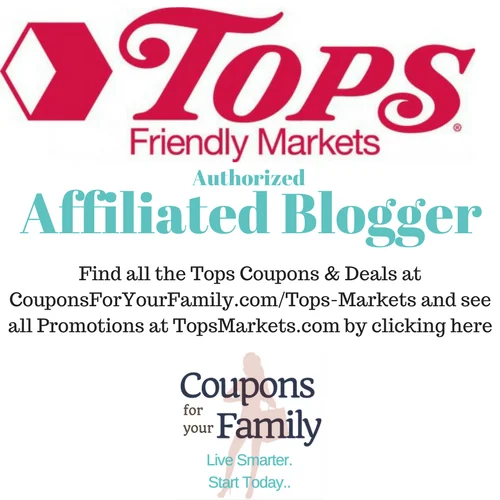 How much easier can it be to save everyday?
Join our Facebook Groups to see more deals like these:
Couponing to Cut Your Grocery Bill
Couponing at Tops Markets
Couponing at Wegmans
Couponing at Save A Lot
Couponing the Dollar Stores
Couponing at Dollar Tree
Couponing at CVS, Walgreens and RiteAid
Couponing at Walmart, Target and Kmart
Sears and Kmart Steals & Deals
Printable CouponsForFree FB Group
Coupons.com Facebook Group
Freebies, Cheap Deals, Giveaways and Sweeps
Hot Online Deals