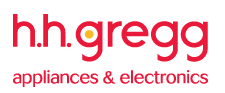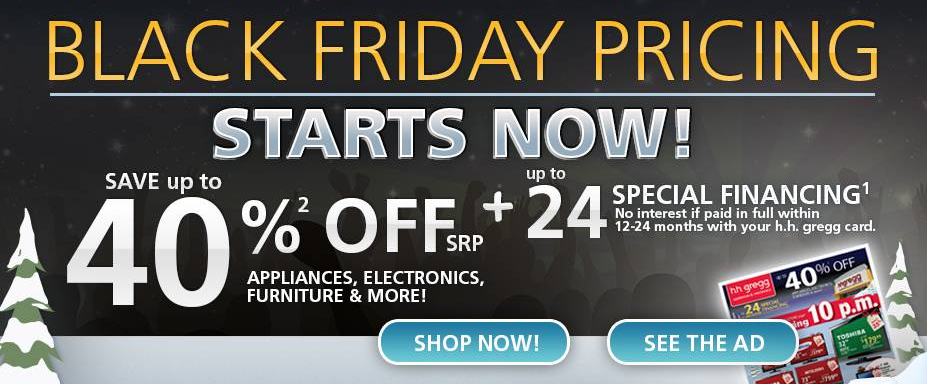 Here is the 2012 Black Friday Ad for h.h.gregg! They open at 10 pm on Thanksgiving!
Even if you do not have a store near you, you can purchase many items at HH Gregg Online depending on weight of product for shipping.
Save 40& off their already lower prices online here–> HH Greg Online Black Friday Deals
Special thanks to Nicole's Nicoles for sharing this great list of HH Gregg Black Friday Deals with us!
TV's & Blu-Rays
Samsung 60″ 1080p HDTV, On Sale for $849.99
Samsung 22″ 1080p LED HDTV, On Sale for $199.99
Samsung 32″ LED HDTV, On Sale for $249.99
Samsung 39″ LED HDTV, On Sale for $399.99
Samsung 51″ HDTV, On Sale for $479.99
24″ 1080p LED HDTV/DVD Player Combo, On Sale for $169.99
32″ HDTV/DVD Player, On Sale for $269.99
Toshiba 19″ LED HDTV, On Sale for $129.99
Samsung 43″ HDTV, On Sale for $379.99
Hisense 46″ 3D 1080p LED Smart HDTV, On Sale for $499.99
Samsung 51″ 1080p HDTV, On Sale for $579.99
Samsung 40″ 1080p LED HDTV, On Sale for $429.99
Samsung 46″ 1080p LED HDTV, On Sale for $579.99
LG 50″ 1080p HDTV, On Sale for $599.99
LG 60″ 1080p HDTV, On Sale for $899.99
LG Blu-ray Player w/ Built in Wi-Fi, On Sale for $59.99
Samsung Blu-ray Player w/ Internet Video Streaming, On Sale for $69.99
Sony 3D Wi-Fi Network Blu-ray Player, On Sale for $99.99
Sharp 60″ Aquous 1080p 120Hz LED HDTV, On Sale for $999.99
Sharp 70″ Aquous 1080p 120Hz LED HDTV, On Sale for $1799.99
Samsung 50″ 1080p LED HDTV, On Sale for $699.99
Sharp 52″ Aquous 1080p 120Hz LED Smart HDTV, On Sale for $799.99
LG 55″ 1080p 120Hz LED HDTV, On Sale for $899.99
Sony 46″ 1080p 120Hz LED Smart HDTV, On Sale for $798
Sony 50″ 1080p 120Hz LED Smart HDTV, On Sale for $898
Samsung 60″ 3D 1080p Smart HDTV, On Sale for $1197.99 (FREE 3D Blu-ray Player with purchase)
Samsung 40″ 1080p 120Hz Thin LED Smart HDTV, On Sale for $697.99
Samsung 55″ 1080p 120Hz Thin LED Smart HDTV, On Sale for $1097.99
Samsung 60″ 1080p 120Hz Thin LED Smart HDTV, On Sale for $1397.99
LG Cinema 47″ Google TV 1080p 120Hz LED Smart HDTV, On Sale for $1099.99 (FREE 6 Pair of 3D Glasses Included)
LG Cinema 55″ Google TV 1080p 120Hz LED Smart HDTV, On Sale for $4499.99 (FREE 6 Pair of 3D Glasses Included)
Compact DVD Player, On Sale for $9.99
Sony DVD/CD Player, On Sale for $24.99
7″ Portable DVD Player, On Sale for $39.99
Sony 9″ Portable DVD Player, On Sale for $99.99
2 XD Streaming Player, On Sale for $59.99
2 XS Streaming Player, On Sale for $79.99
Laptops & Tablets
Samsung 8GB 7″ Android Ice Cream Sandwich Galaxy Tab 2, On Sale for $179.99
Samsung 16GB 10.1″ Android Ice Cream Sandwich Galaxy Tab 2, On Sale for $299.99
Samsung 16GB 10.1″ Android Ice Cream Sandwich Galaxy Note Tablet, On Sale for $449.99
7″ 4GB Android Ice Cream Sandwich Tablet, On Sale for $49.99
Coby 8″ 4GB Android Ice Cream Sandwich Tablet, On Sale for $99.99
Kindle Fire HD 7″ 16GB Wi-Fi Tablet, On Sale for $199.99
Asus 32GB Nexus 7 Google Android Jelly Bean Tablet, On Sale for $249.99
hp Windows 8 Next Gen AMD A4-4300M Accelerated Processor, On Sale for $399.99
Intel Core i3-2370M Processor, On Sale for $399.99
Intel Core i3-3217U Processor, On Sale for $479.99
Intel Core iS-3210M Processor, On Sale for $549.99
Intel Core i7-3630QM Processor, On Sale for $599.99
Intel Core 17-3632QM Processor, On Sale for $899.99
hp Windows 8 AMD A6-5400K Acceleratoed Processor, On Sale for $599.99
Intel Premium G645T Processor, On Sale for $479.99
Copiers, Routers, Monitors, Phones
hp Wireless 3-in-1 Printer/Scanner/Copier, On Sale for $39.99
hp Windows 8 AMD E1-120 Accelerated Processor, On Sale for $299.99
Linksys E1200 Wireless-N Router, On Sale for $29.99
Netgear N600 Wireless Dual Band Router, On Sale for $59.99
Canon Photo All-in-One Wireless Printer/Copier/Scanner/Fax, On Sale for $89.99
Toshiba 2TB Desktop External Hard Drive, On Sale for $99.99
AOC 22″ Widescreen LED Monitor, On Sale for $99.99
Samsung 23.6″ 1080p Widescreen Monitor, On Sale for $129.99
Motorola Droid RAZR by Motorola 16GB, On Sale for $49.99
Motorola Droid 4 by Motorola, On Sale for $69.99
Samsung Galaxy Stellar, On Sale for $1
Home Theater & Speakers
LIVE TV/Desktop/Phone Soundbar, On Sale for $29.99
LG Soundbar, On Sale for $99.99
Samsung Bluetooth Soundbar with Smart Volume and Wireless Sub, On Sale for $179.99
Energy Power Bar Elite with Wireless Sub, On Sale for $349.99
HMDX Jam Wireless Portable Speaker, Bluetooth, On Sale for $29.99
Home Rechargeable Portable Bluetooth Speaker w/ Speakerphone, On Sale for $39.99
Wireless Bluetooth Audio System, On Sale for $79.99
Sonos PLAY:3 Streaming Music Player, On Sale for $299.99 (FREE Bridge with ANY Play System)
Desktop Stereo, On Sale for $29.99
Yamaha Natural Sound Indoor/Outdoor Speakers, On Sale for $49.98
Sony 540-Watt iPod/iPhone Shelf System, On Sale for $149.99
Sony 5.1 Home Theater, On Sale for $99.99
Samsung 5.1 Blu-ray Home Theater, On Sale for $179.99
Pioneer 550-Watt 3D 5.1 Network Receiver, On Sale for $199.99
Klipsch Center-Channel Speaker, On Sale for $109.99
Klipsch Bookshelf Speaker, On Sale for $139.98
Klipsch Surround Speaker, On Sale for $174.98
Klipsch 5-Channel Home Theater Speakers, On Sale for $274.99
Klipsch Ported Tower Speaker, On Sale for $499.98
Bose Lifestyle T20 Home Theater System, On Sale for $1699.99
Furniture
Mocha Rocker Recliner, On Sale for $179.99
Ebony DuraBlend Leather Power Home Theater Recliner, On Sale for $399.9
Leather Brown Reclining Power Sofa, On Sale for $899.99
5 Piece Living Room Package, On Sale for $999.99
Serta Super Pillow-Top Queen Set, On Sale for $399.99
Ipods, Cameras, Camcorders & GPS
iPod shuffle, On Sale for $44.99
iPod nano, On Sale for $139.99
4th Generation iPod touch, On Sale for $179.99
Canon 12.2 MP D-SLR Camera w/ 18-55mm IS Lens, 2.7″ LCD, On Sale for $449.99 (w/ 75-300mm Zoom Lens, Zoom Holster, and 8GB SD Card, 180x Speed, $499.99)
Nikon 16.2 MP D-SLR Camera w/ 18-55mm Lens, 3″ LCD, On Sale for $549.99 (w/ 55-200mm VR Zoom Lens, Starter Kit, and 8GB SD Card, 180x Speed, On Sale for $699.99)
Canon EOS Rebel T4i 18 MP D-SLR Camera w/ 18-55mm IS Lens, 3″ LCD, On Sale for $799.99 (w/ 55-200mm IS Zoom Lens, Camera Bag, and 8GB SD Card, 180x Speed, On Sale for $979.99)
Canon 16 MP Camera w/ 8x Optical Zoom, 3″ LCD, On Sale for $99.99 (w/ Camera Case and 8GB SD Card, 180x Speed, On Sale for $119.99)
Nikon 16 MP Backlit CMOS Camera w/ 14x Optical Zoom, 3″ LCD, On Sale for $149.99 (w/ Leather Case and 8GB SD Card, 180x Speed, On Sale for $179.99)
Canon PowerShot 16 MP Camera w/ 30x Optical Zoom, 3″ LCD, On Sale for $249.99 (w/ Camera Bag and 8GB SD Card, 180x Speed), On Sale for $279.99
JVC HD Flash Memory Camcorder w/ 40x Optical Zoom, 2.7″ LCD, On Sale for $129.99
Sony Flash Memory HD Camcorder w/ 25x Optical Zoom, 2.7″ LCD, On Sale for $199.99
Sony Full HD Camcorder w/ Projector, 25x Optical Zoom, 2.7″ LCD, On Sale for $299.99
Sony Accessory Package: 72″ Professional Tripod, Carrying Case, 8GB SDHC Card, On Sale for $49.99
Lexar 16GB Memory, $7.99
7″ Widescreen Digital Photo Frame, On Sale for $19.99
Garmin 5″ GPS w/ Free Lifetime Map Updates, On Sale for $99.99
SPRI Home Gym-in-a-Box, On Sale for $29.99
POLAR FT1 Heart Rate Monitor Watch, On Sale for $49.99
POLAR FT4 Heart Rate Monitor Watch, On Sale for $79.99
Appliances
LG 24.7 Cu. Ft. Stainless Steel French Door Refrigerator, On Sale for $1599.99
Samsung 28.5 Cu. Ft. Stainless Steel French Door Refrigerator, On Sale for $1699.99
Samsung 28 Cu. Ft. Stainless Steel 4-Door Refrigerator, On Sale for $1899.99
LG 30.7 Cu. Ft. Stainless Steel French Door Refrigerator, On Sale for $2199.99
Whirlpool 1.7 Cu. Ft. 1000 Watt Stainless Steel Microwave Oven, On Sale for $199.99
Whirlpool Stainless Steel Smooth-Top Double Oven Electric Range, On Sale for $799.99
Frigidaire Stainless Steel Gas Range, On Sale for $499.99
Samsung Stainless Steel Smooth-Top Electric Range, On Sale for $699.99
Frigidaire Stainless Steel Dishwasher, On Sale for $299.99
Samsung Stainless Steel Dishwasher, On Sale for $499.99
5. Cu. Ft. Chest Freezer, On Sale for $129.99
Keurig Mini Plus Brewing System, On Sale for $99.99 ($20 Gift Card with purchase)
Dirt Devil Jaguar Pet Upright Vacuum, On Sale for $39.99
Hoover SteamVac Carpet Cleaner w/ Two Tanks to Keep Solution & Dirty Water Separate, On Sale for $69.99
dyson DC35 Digital Slim Multi-Floor Cordless Vacuum, On Sale for $247.49
All dyson Floors Upright Vacuum, On Sale for $299.99
dyson DC39 Animal Canister Vacuum, On Sale for $374.99
Frigidaire 26 C. Ft. Stainless Steel Side-by-Side Refrigerator, On Sale for $899.99 *
Frigidaire Stainless Steel Self-Cleaning Electric Gas Range, On Sale for $499.99 *
Frigidaire 1.6 Cu. Ft. Stainless Steel Over-the-Range Microwave, On Sale for $199.99 *
Frigidaire Stainless Steel Dishwasher, On Sale for $299.99
* Frigidaire Side-by-Side Refrigerator, Electric Gas Range, Over-the-Range Microwave, and Dishwasher, On Sale for $1899.96
Maytag 3.6 Cu. Ft. Silver High-Efficiency Top-Load Washer, On Sale for $549.99
Maytag 7.4 Cu. Ft. High-Efficiency Electric Dryer, On Sale for $549.99
Samsung 3.6 Cu. Ft. Steam Washer, On Sale for $599.99
Samsung 7.3 Cu. Ft. Steam Electric Dryer, On Sale for $599.99
GE 3.7 Cu. Ft. Energy Star Top-Load Washer, On Sale for $349.99
GE 6.8 Cu. Ft. Electric Dryer, On Sale for $349.99
Maytag 3.6 Cu. Ft. Top-Load Washer, On Sale for $399.99
Maytag 7 Cu. Ft. Electric Dryer, On Sale for $399.99
Samsung 4.2 Cu. Ft. High-Efficiency Top-Load Washer, On Sale for $599.99
Whirlpool 3.6 Cu. Ft. High-Efficiency Top-Load Washer, On Sale for $499.99
Whirlpool 7.4 Cu. Ft. High-Efficiency Electric Dryer, On Sale for $499.99
LG 3.6 Cu. Ft. Graphite Steel Steam Washer, On Sale for $749.99
LG 7.3 Cu. Ft. Graphite Steel TrueSystem Electric Dryer, On Sale for $749.99
Whirlpool 4.6 Cu. Ft. Silver High-Efficiency Top-Load Washer, On Sale for $799.99