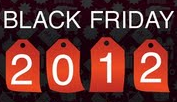 Home Depot has some great Black Friday deals as usual!!!
My favorite thing about shopping Home Depot is you can buy online, use coupon codes and pick up in store with no shipping fees!
Right now you can get Home Depot $5 off $50+ Sitewide using coupon code BFHD2012.
Dont fight the crowds and shop from home and pick up when convenient for you–> Shop Home Depot Online
You can also shop Home Depot Black Friday Deals + 5 % Cash Back through Ebates and shop deals on Thanksgiving when stores are closed!!
Special financing available-12 or 24 months on certain purchases
Home Depot's Black Friday deals will start at 5:00am on Friday, November 23rd.
Special Thanks to Bargain Blessings for this great list of Home Depot Black Friday Deals 2012!!
Holiday Items
29″ Animated Rocking Horse $39
The Home Depot 2012 Gingerbread House Kit $7.88
6″ Live Poinsettia .99 (Friday Only)
6.5″ Live Poinsettia in Decorative Pot $5
8″ Live Poinsettia $11.98
24″ Fresh-Cut Premium Decorated Wreath
22″ Fresh-Cut Frasier Fir Wreath with Bow $5
15′ Fresh-Cut White Pine & Cedar Garland $5
Fresh-Cut Mixed Evergreen Swag with Bow $5
18′ Candy Cane Rope Light $12.88
2pk Decorative Duct Tape $3.88
55″ Giant Teddy Bear $29.88
The Home Depot 11oz Paint Pail Tool Cookie Tin $4.88
Hurricane 1:8 Scale Remote Control Car $49
1:8 Scale Radio Control Silverado HD $49
14″ Metal Frame Remote Control Helicopter $49
2pk Stainless Steel Travel Mugs $8
Imagination House Doll House Kit $68
36pc Decorative Ornament Set $4.88
Assorted Tree Decorations $5.98-$27.97
Maestro Mouse Sounds of Christmas $39.97
42″ Pre-Lit Decorated Porch Christmas Tree in Decorative Urn $17.98
20′ Pre-Lit Noble Fir Garland $19.97
30″ Martha Stewart Living Poinsetia Wreath $25.98
Pre-Lit Reindeer Yard Decorations $24.97
48″ Airblown LED Lit Inflatable Snoopy $27.98
30″ Pre-Lit Grapevine Dog $49.97
Pre-Lit Animated Grapevine Yard Decorations $79.97
Assorted Christmas Mats $3.97-$12.87
Old World Solar LED Candle Landscape Light $4.88
Indoor Decor Assortment $5.97-$19.98
Christmas Lights and Accessories
5pc Lightshow LED Color-Changing Combo Light Pack $59
4pc Lightshow LED Shooting Star Combo Pack $59
Outdoor Dusk to Dawn Timer $19.97
100-Light Mini Bulb Set $2.88
300-Light Mini Bulb Set $8.98
300-Light Icicle Set $9.98
500-Light Heavy Duty Mini Bulb Set $29.98
25-Light LED Large Bulb Set $8.47
100-Light LED Home Icicle Bulb Set $12.97
75-Count All-Purpose Light Clips $3.98
Belkin 5-Outlet Wall Mount Surge Protector $8.97
Value 3pk Green Indoor Extension Cords $5.88
GE Lamp Timer $4.88
Christmas Trees
Fresh Christmas Trees 5′-8′ Fraser Fir, Noble Fir and Douglas Fir $19.98-$59.98 + Free Tree Trimming and Wrapping Service
7.5′ LED Pre-Lit Christmas Tree $59
6.5′ Pre-Lit Verde Pine Christmas Tree $39.98
6.5′ Pre-Lit Aster Pine Christmas Tree $71.98
7.5′ Quick Set Pre-Lit Wesley Pine Christmas Tree $119.20
7.5′ Martha Stewart Living Pre-Lit Denison Christmas Tree $159.20
7.5″ GE LED Pre-Lit Christmas Tree $215.20
6″ Live Rosemary $11.98
10″ Live Norfolk Island Pine $19.99
Washers and Dryers
GE 3.7 Cu Ft Washer or 6.8 Cu Ft Duradrum Dryer $349
Maytag Centennial High Efficiency 3.6 cu.ft. Washer $399
Maytag Centennial High Efficiency 7.0 cu.ft. Dryer $399
LG Graphite Steel 3.6 cu.ft. Steamwasher $749
LG Graphite Steel 7.3 cu.ft. SteamDryer $749
LG 7.3 cu.ft. Steamdryer $749
LG 7.1 cu.ft. Dryer $599
Maytag Bravos Liquid Silver 3.6 cu.ft. Washer $549
Maytag Bravos Liquid Silver 7.4 cu.ft. Dryer $549
GE Adora 3.9 cu.ft. Washer or 7.0 cu.ft. Dryer $499
Admiral 3.4 ct.ft. Washer or 6.5 ct.ft. Dryer $299
Kitchen Appliances
0.7 cu.ft. Microwave $38
Maytag 25 Cu Ft Stainless Steel French 4-Door Refrigerator $1,698
GE Adora 28.6 cu.ft. Stainless Steel French Door Refrigerator $1,998
GE Adora 5.3 cu.ft. Stainless Steel Electric Convection Range $848
GE Adora Spacemaker 1.9 cu.ft. Stainless Steel Over the Range Microwave $298
GE Adora Stainless Steel Dishwasher with Hidden Controls $598
LG 6.7 cu.ft. Stainless Steel Self Clean Double Oven Electric Convection Range $1,298
LG 5.4 cu.ft. Stainless Steel Gas Convection Range $1,098
Maytag 6.2 cu.ft. Stainless Steel Electric Convection Range $999
GE 5.0 cu.ft. Stainless Steel Self Clean Gas Range $648
Frigidaire 5.3 cu.ft. Stainless Steel Self Clean Electric Range $498
LG 1.6 cu.ft. Stainless Steel Over the Range Microwave $198
LG 1.8 cu.ft. Stainless Steel Over the Range Microwave $248
GE 1.7 cu.ft. Stainless Steel Over the Range Microwave $248
1.6 cu.ft. Over the Range Microwave $98
LG Stainless Steel Dishwasher $548
GE Slate Finish Dishwasher $548
Maytag Stainless Steel Tall Tub Dishwasher $448
Frigidaire Stainless Steel Dishwasher $278
Maytag 25.6 cu.ft. Stainless Steel French Door Refrigerator $1,498
Maytag 5.0 cu.ft. Stainless Steel Self Cleaning Gas Range $498
Maytag Stainless Steel Tall Tub Dishwasher $498
Maytag 2.0 cu.ft. Stainless Steel Over the Range Microwave $298
LG 30.5 cu.ft. Stainless Steel French Door Refrigerator $2,598
GE Profile 28.6 cu.ft. Stainless Steel French Door Refrigerator $2,398
LG 27.6 cu.ft. Stainless Steel French Door Refrigerator $1,898
LG 24.7 cu.ft. Stainless Steel French Door Refrigerator $1,598
Maytag 21.9 cu.ft. Stainless Steel Refrigerator $998
Maytag 24.8 cu.ft. Stainless Steel French Door Refrigerator $1,198
Frigidaire 26.0 cu.ft. Stainless Steel Side by Side Refrigerator $898
GE 18.1 cu.ft. Refrigerator $498
Magic Chef 7.0 cu.ft. Chest Freezer $158
Maytag 15.8 cu.ft. Frost Free Upright Freezer $448
Vissani 4.5 cu.ft. Compact Refrigerator $178
Magic Chef 3.5 cu.ft. Stainless Style Compact Refrigerator $98
LG 30.7 cu.ft. Stainless Steel French Door Super Capacity Refrigerator $2,198
LG 6.3 cu.ft. Stainless Steel Electric Convection Range $748
LG Stainless Steel Tall Tub Dishwasher with Hidden Controls $648
Magic Chef 0.9 cu.ft. Microwave $58
Magic Chef 1.1 cu.ft. Stainless Steel Microwave $68
Small Kitchen Appliances
Magic Chef 1.8 Gallon Glass Bowl Convection Oven $28
Stainless Style Blender with Glass Jar $19.88
12 Cup Coffee Maker $19.88
2 Slice Stainless Steel Toaster $19.88
5 qt. Stainless Steel Digital Slow Cooker $19.88
Vacuums
All Dyson Vacuums 25% off
Shark Navigator Lightweight Pet Hair Canister Vacuum $98
Dirt Devil Quick Vacuum $28
Hoover Twintank Steam Mop $48
Tools and Tool Storage
Husky 230 Pc Mechanics Tool Set $99
Husky 26″ 6-Drawer Chest & Cabinet Combo $129
Ryobi One+ 18-Volt Lithium-Ion Drill & Impact Driver Kit $99
Makita 12-Volt Max Lithium-Ion Drill/Driver & impact Driver Kit $99
4pk Husky Tape Measure $9.88
Husky 22″ Toolbox $9.88
Dewalt 45pc Screwdriver Set $9.88
Ryobu 43pc Speedload+ Drill/Drive Set $9.88
8pk HDX Pliers $9.88
3pk Husky Double Speed Adjustable Wrench $9.88
Husky 10″ Foldable All-Purpose Tote Bag $9.88
3pk Irwin Speedbor Max Speed $7.88
Milwaukee 24pc Shockwave Impact Ready Bit Set $9.88
2pk Wiss Metalmaster Straight Cut Snips $13.98
Husky 4pc Pliers Set $19.97
HDX 101Pc Homeowners Set $19.88
4pk Irwin 12″ Mini-Bar Clamp $19.88
Husky 6-Gallon Portable Oil-Free Compressor Kit $99.88
Dewalt Compact 18-Volt 2pc Combo Kit $179
Ryobi 18 Volt 3pc combo Kit $59.88
Ryobi 4 Volt Litium-Ion Screwdriver Kit $29.97
Ryobi 18 Volt Lithium 6pc Ultimate Combo Kit $299
Ryobi 6″ Bench Grinder $24.88
Ryobi 7″ Tile Saw with Starter Kit $79
Ryobi 17pc Speedload+ Titanium Drill Bit set $9.88
Ryobi 100pc Driving Bit Set $9.88
Dewalt 18 Volt Compact Drill/Driver Kit $99
Dewalt 20 Volt Max Lithium-Ion Compact Drill/Impact Driver 2pc Kit $199
Dewalt 12″ Sliding Compound Miter Saw $399
Dewalt 12 Volt Lithium-Ion Screwdriver Kit $99
Dewalt 12 Volt Max Lithium Ion 3pc Combo Kit $199
Dewalt 95pc Drill/Driver Set $19.88
Ridgid Jobmax Multi-Tool Kit $99
Ridgid X4 18-Volt Hyper Lithium Ion 2pc Drill/Driver Combo Kit $179
Ridgid 12 Volt Lithium-Ion 2 Speed Drill $99
Milwaukee M12 Redlithium 12-Volt Drill/Driver Kit $99
Milwaukee M18 Redlithium 18-Volt 2pc Combo Kit $199
Makita 18-Volt Lithium-ion Compact 2pc Combo Kit
Ridgid Jobmax 12pc Blade Set $49.88
Milwaukee M18 Redlithium Combo Kit $299
Makita LXT 18-Volt Lithium Ion 3pc Combo Kit $299
Milwaukee Heavy Duty AC/DC Radio $99
Exclusive Makita LXT 18-Volt Lithium-Ion Radio $99
Milwaukee 12 AMP Sawzall $99
Milwaukee 5pk the AX 9″ Super Sawzall Blades $9.88
Makita 15 AMP 7.25″ Circular Saw $99
Makita 21pc Impact Gold Ultra Magnetic Driver Bit Set $19.88
Husky 37pc 3/8″ Socket Set $19.88
Husky 65pc Mechanics Tool Set $29.88
Husky 10pc SAE or Metric Universal Combination Wrench Set $14.88
Husky 7pc SAE or Metric Universal Ratcheting Wrench Set $24.88
Husky 102pc Mechanics Tool Set $49.88
Husky 20″ Caddy $1.98
2pk Seattle Sports All-Purpose Heavy-Duty Dry Bags $14.88
Husky 10pc Screwdriver Set $9.88
Husky 3pc Groove Joint Pliers Set $14.88
Husky 3 Drawer Tool Box $29.97
Husky 18″ Rolling Tool Tote $59
Husky 46″ Stainless Steel Mobile Work Center $298
Husky 41″ 13-Drawer Steel Tool Chest & Cabinet Combo $369
Husky 27″ 9-Drawer Steel Tool Chest & Cabinet Combo $198
HDX 28pc Drill/Drive Set $4.88
Dremel 110pc Power Tool Accessory Kit $9.88
3pk Husky t-Lock Folding Utility Knife Set $9.88
Husky 10pc SAE/Metric T-Handle HEX Key Wrench Set $9.88
Milwaukee 13pc Bi-Metal Hole Saw Kit $49.88
Dremel 200 Series 2-Speed Rotary Tool with 15 Accessories $29.97
Vaughan 19oz Milled Face California Framing Hammer $12.88
Leatherman Sidekick 4″ Stainless Steel Multi-tool $19.88
Bosch 12-Volt Lithium-Ion Pocket Driver Kit $69
Dremel 4000 Deluxe Rotary Kit $84
Irwin 3pc Groovelock Set $19.88
Crescent 4pc Adjustable Wrench Set $19.88
Porter Cable 3.5 Gallon Compressor $89.88
Husky 20 Gallon Oil-Free Compressor $149
Porter Cable 2pc Nailer Combo Kit $219
Husky 3pc Finish Nailer Kit $99.88
Porter Cable 3.5″ Clipped Head Framing Nailer $129
Husky Digital Tire Guage with LED Light $9.88
HDX 12 Volt with LED Warning Light $9.88
Ryobi One + 18 Volt Drill Kit $29.88
Husky 23pc Screwdriver Set $19.88
Husky 15″ Tool Bag & Utility Sack Combo $14.88
HDX 3 Gallon Oil-Free Pancake Compressor Kit
Ridgid Fuego 18 Volt Hyper Lithium Compact Drill Kit $99
Makita 18 Volt Lithium-Ion Compact Drill Kit $99
Milwaukee M18 18 Volt Redlithium Compact Drill Kit $99
Furniture and Household
Brexley Leather Parsons Stool $59
Brexley Leather Club Chair $99
Brexley 3pc Pub Set $99
Set of 2 Creston Swivel Stools $99
Trafficmaster Allure Oak Resilient Vinyl Plank Flooring .99/sq ft
Set of 3 Elegance Collection Area Rugs $39.88
Hampton Bay Southwind 52″ Ceiling Fan $69.88
Glacier Bay Bennington Kitchen faucet $24.88
Glacier Bay Bennington Bath Faucet $19.88
American Standard 6-Spray Hand Shower $14.88
19″ Table Lamp $10
Sleep Innovations Queen Mattress Topper with Cover $99.88
Queen Deluxe Pillow Rest Raised Air Bed $49
Pet Bowl Mat $4.88
AKC 30″x40″ Plaid Pet Bed or 24″ Faux Suede Ortho Cuddle $17.88
Portable Dog House $39.88
3pk Bamboo Cutting Boards $8
Steam Iron $8
1,500 Watt Ceramic Tower Heater with Thermostat $18.88
Easy Reach Ultra Light Type II Step Stool $17
Prego Presto 7-5/8″ Wide Laminate Flooring .94/lb
Martha Steward Living 8-Cube Organizer + 4 Bins $29.88
4pk Plano 11″ Stowaway Organizers $6.88
Hunter Claremont 52″ Celing Fan $69.88
St. Paul Madeline Vanity with Composite Top $99
Other Items
Defiant 7-Outlet Home Theater Surge Protector $12.88
2pk CE Tech Earbuds with Pouch $8.88
Sentrysafe 24-Gun Safe $5.99
Husky 27″ Steel Base 2-Door Cabinet $94
Signature Fold-out Workbench $59.97
2pk CE Tech HDMI Cable $9.97
STC TV Wall Mount $18.97
Commercial Electric LED Mini Worklight $4.88
5pc Tent Combo Pack $49
Sterilite 58qt Plastic Sotrage Box $4
Coast Dual-Color LED Headlamp $9.88
Chamberlain Garage Door Opener $97
Husky Portable LED Worklight $34.88
2pk Heath/Zenith 110″ Motion Sensor Security Light $12.97
2pk Rust-Oleum Leakseal 12oz Black Rubber Coating Spray $9.96
2pk Dow Fill and Seal 12oz Expandable Foam Sealant $2.98
Gorilla Ladders 20″ Work Platform $17
Husky 2-Ton Hydraulic Jack $19.88
Powerstroke 2200 PSI Gas Pressure Washer Kit $199
8″x8″ Wavy Glass Decoblock $4.98
24ct MyColor by Pantone 2oz Acrylic Craft Paint $9.98
Werner 22′ Multi-Purpose Ladder, Type IA
8 Pack Aluminum LED Flashlights $11.88
Defiant LED Flashlight $19.88
Defiant LED Rechargable Spotlight with Dimmer $19.88
Rayovac Four-in-One LED Light $29.88
2pk Coast G25 LED Flashlights $14.97
48pk Rayovac AA + AAA Batteries
Werner 4′ Fibergladd Type I Stepladder $17
Homelite 7 AMP Electric Blower $15.88
Broil-Mate 712 Series Stainless Steel 4-Burner Grill $199