---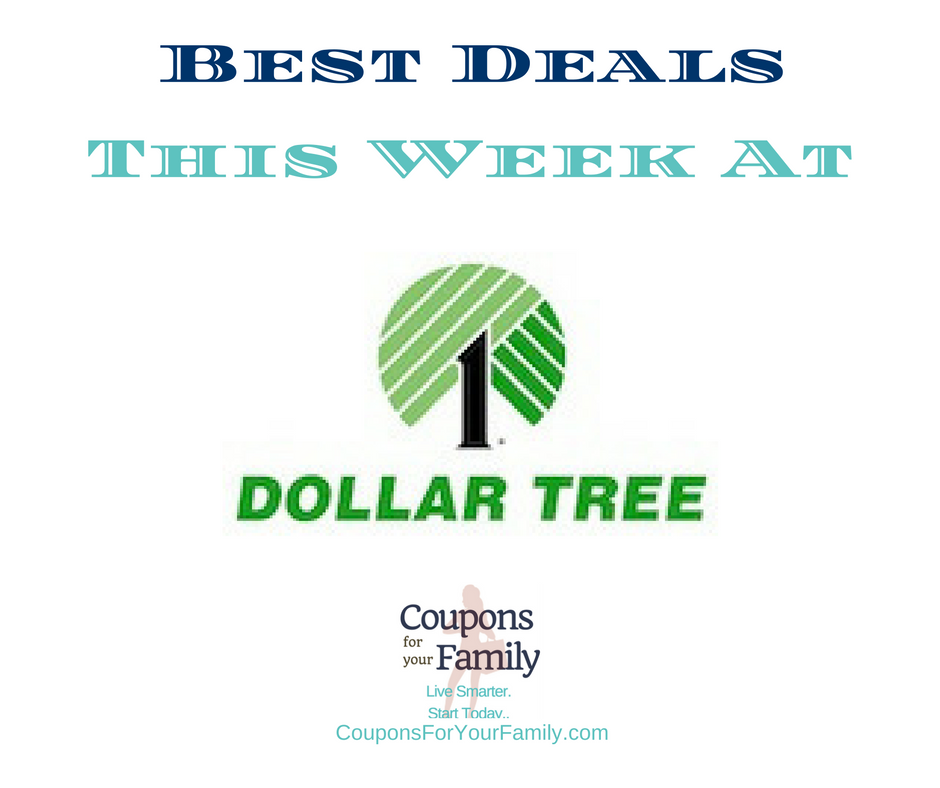 Dollar Tree / National Stores / Stores
Here are this week Dollar Tree Ad Coupons & Deals June 25 – July 1

Every week we will publish these highlights of the Dollar Tree Coupons and Deals in order to help your family save money!  View the entire list of this weeks matchups on the Dollar Tree Coupon Matchups page. The most current Dollar Tree Ad Scan can be viewed by scrolling down the page.
Please remember that prices on these lists may vary by location!
Check your store prices when purchasing!!
For those unfamiliar with Dollar Tree, everything is priced at $1.
They only have some brand name products. When using coupons, pay attention to the oz weight limitations even if on our list. I do not actually look at each coupon before it is added to the list so use these matchups as a guide because some coupons may have an oz limit on them to use the coupon. Also each store inventory differs.
Only (2) printed internet coupons can be used per transaction
Dollar Tree does not accept coupons for "Free" items with no purchase requirements or where the amount for the product is blank
Management has the right to refuse any coupon or otherwise limit quantitie
Go here to view the full coupon policy–> Dollar Tree Coupon Policy
To find a store near you –> Dollar Tree Store Locator
Here are the best deals with coupons this week:
Product May Vary by Store
Breakfast & Cereal
Cap'n Crunch's Crunch Berries, 4.4 oz – $1.00
Final Price: $0.50
Cap'n Crunch, 5.5 oz – $1.00
Final Price: $0.50
Canned Goods & Soups
Libby's Canned Mandarin Oranges, 15 oz – $1.00
Out-of-Pocket Price: $1.00
Final Price: $0.80
Includes MobiSave Rebate
Condiments, Spice & Baking
Hunt's Ketchup, 24 oz – $1.00
Out-of-Pocket Price: $1.00
Final Price: $0.80
Includes MobiSave Rebate
Texas Pete Hot Sauce, 12 oz – $1.00
Out-of-Pocket Price: $1.00
Final Price: $0.85
Includes Checkout 51 Rebate
Cookies, Snacks & Candy
$0.50/2 General Mills Chex Mix Products, Bugles Corn Snacks, or Gardetto's Snack Mix – 6-4-17 SS; Includes 3.7 oz or Larger Only (exp. 07/29/17)
$1.00/2 General Mills Chex Mix Products, Bugles Corn Snacks, or Gardetto's Snack Mix – 6-4-17 SS; Includes 3.7 oz or Larger Only (exp. 07/29/17)
Final Price: $0.50
Buy 2; Use (1) $1.00.2 coupon
Trident Gum, 15 – 20 ct – $1.00
Final Price: $0.47
Frozen Foods
Fast Bites Single Serve Sandwiches, 4.5 – 5.5 oz – $1.00
Out-of-Pocket Price: $1.00
Final Price: $0.75
Includes Ibotta Rebate
Home Supplies
Air Wick Air Freshener, 8 oz – $1.00
Final Price: $0.50
Air Wick Stick Ups Air Freshener, 2 ct – $1.00
Final Price: $0.50
Angel Soft Bath Tissue, 4 Regular Rolls – $1.00
$0.45/1 Angel Soft Bathroom Tissue – 6-4-17 RP (exp. 07/04/17)
$1.00/2 Angel Soft Bathroom Tissue – 6-4-17 RP (exp. 07/04/17)
Final Price: $0.50
Buy 2; Use (1) $1.00/2 coupon
Puffs Basic Facial Tissue, 96 ct – $1.00
Out-of-Pocket Price: $0.75
Final Price: Free
Buy 1; Use (1) $0.25/1 coupon; Submit for Checkout 51 Rebate
Rubbermaid Take Along Storage Containers, 2 pk – $1.00
$2.00/1 Rubbermaid Food Storage Containers – 5-14-17 SS; DND (exp. 07/09/17)
Final Price: Free
Packaged Meats
Bar-S Bologna, 10 oz – $1.00
$0.55/2 Bar-S Franks, Bologna, or Lunchmeat – 6-11-17 RP; DND (exp. 07/23/17)
Final Price: $0.72
Personal Care
White Rain Hair Spray, 4 oz – $1.00
Out-of-Pocket Price: $0.75
Final Price: $0.37
Buy 2; Use (1) $.50/2 coupon, Submit for MobiSave Rebate
White Rain Shampoo or Conditioner, 15 – 18 oz – $1.00
Out-of-Pocket Price: $0.75
Final Price: $0.37
Buy 2; Use (1) $.50/2 coupon, Submit for MobiSave Rebate