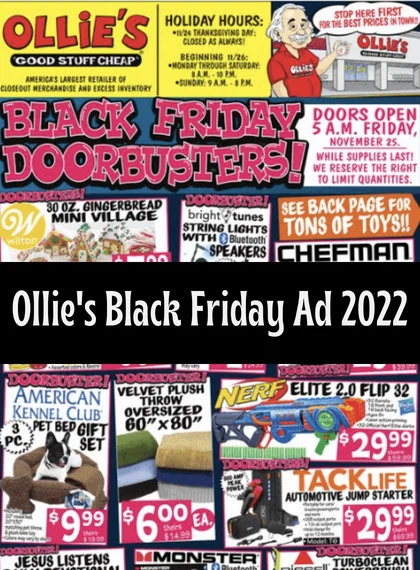 Ollies Ad this week 11/24 – 11/25
The *️⃣ Ollies Weekly Sales Ad is chuck full of products that manufacturers need to sell but other stores like Walmart or Target no longer want. Ollie's is America's largest retailers of closeout merchandise and excess inventory and they offer products at bargain prices, but without sacrificing the quality you'd expect from even more expensive stores. Ollie's has managed to succeed without even selling online and the items they promote in their weekly ad are even less expensive than Dollar General many times! If you are often googling for an Ollies near you, then you have become addicted to their everyday low prices! The 2 different versions of the Ollies Ad start on different days of the week depending on which parts of the country you are in. We are providing an ad from New York and one from Texas.
Details how to shop these Ollies Sales Flyer Deals:
You can find an Ollie's store near you here. Store hours vary but most are open the following hours:
Monday-Saturday: 9am-9pm
Sunday: 10am-7pm
Ollies Weekly Sales Ad Previews:
1 Ads available. Click the links below or keep scrolling to see the current ad.
Now viewing: Ollies Black Friday Ad 11/24/22 - 11/25/22