Did you know that there are Daily New Tops Online Monopoly Game Coupons when you do not win a prize?
Just enter your online code from your Monopoly ticket and if you do not win an instant prize, you will get a New Click To Card coupon! There is a new one each day. I will do my best to get each days posted so you will know the newest Tops Online Monopoly Game Coupons!
The expiration dates on these are only for a short time so make sure to click them to be added to your Tops Bonus Plus Card!
The coupon for today Saturday 4/20 is $1/1 Nabisco Oreos!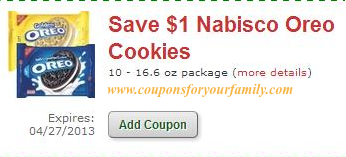 Head on over to the Tops Monopoly Online game here to enter your code–> Tops Online Monopoly Game Coupons
Did you miss any Monopoly coupons of the day this week? We have started a page with links to get the ones you missed this week:
$.75/1 Fresh Express Romaine Hearts
Topic: Tops Online Monopoly Game Coupons