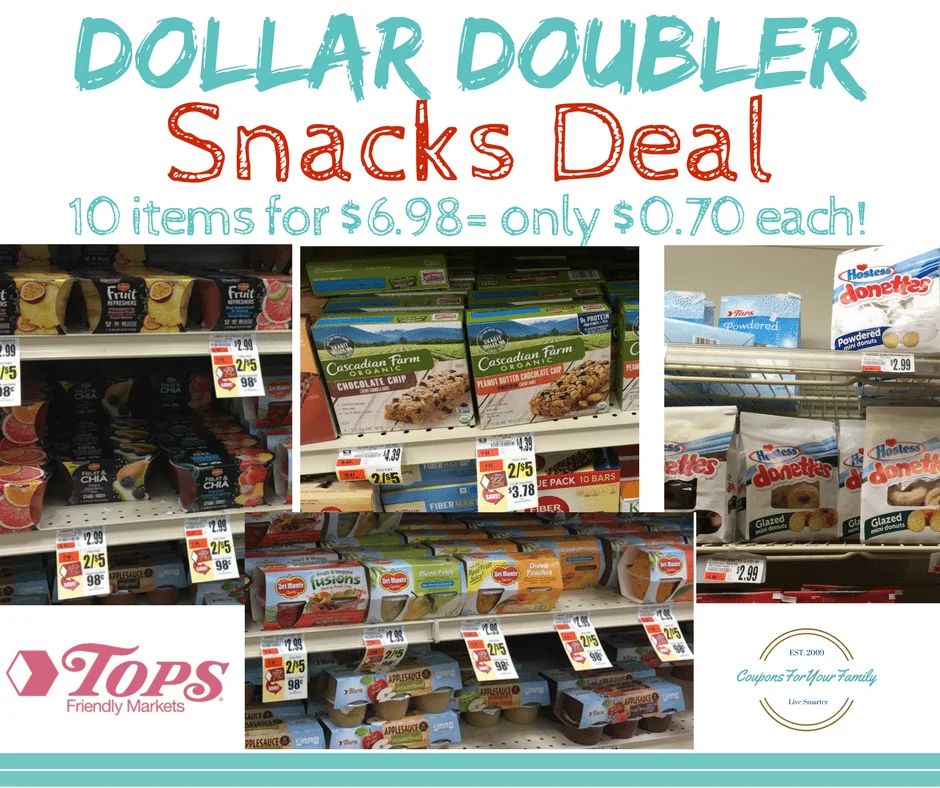 Check out this Tops Markets Dollar Doubler Snacks Deal
I love couponing at Tops Markets because every week you can find some great deals!
This week we have Tops Markets Dollar Doublers promotion — Scroll down to see my Tops Markets Dollar Doubler #3 transaction for this week! To take advantage of Dollar Doublers, you need to have a minumum of $20 purchase and try to have the least amount spent out of pocket at the register. Only 4 Dollar Doublers can be used per transaction, you must have Tops Bonus Card and minimum amount of $20 purchase.
This is just one of the great snack combos you can get this week!
Buy (4) Cascadian Farms Bars, 6.1 – 7.8 oz $2 each= $10
Buy (2) Del Monte Fruit Refreshers, 14 – 16 oz $2 each= $4
Buy (2) Del Monte Fruit Cups, 4 pk $2 each= $4
Buy (2) Hostess Donettes $2.99 each= $5.98
SubTotal= $23.98
USE: (1) Tops Organic Coupon $2 off $10 Organic purchase (in store) (Cascadian Bars)= less $2
USE: (4) Tops Dollar Doubler Coupon- In Ad Tops Store coupon= less $4
USE: (4) $1/1 Cascadian Farms Product printable here (only 2 prints per computer/smartphone) = less $4
USE: (2) $0.75/1 Del Monte Fruit & Chia Or Fruit Refreshers – 1-7-18 SS, Includes 2 pk Only (Expires 03/03/18) (doubles) = less $3
USE: (1) $1.50/2 Del Monte Fruit Cup Snacks, Includes 4 pk Only printable coupon here = less $1.50
USE: (1) $.75/2 Hostess Donettes orintable coupone here= less $1.50
Pay at Register= $7.98
LOAD BEFORE SHOPPING: $1.00/1 Cascadian Farm Product – SavingStar eCoupon(Expires 01/30/18)
Net Cost= $6.98 for 10 items= only $.70 each!!
Please help support our site so we can continue to bring you all of these great deals by printing the ones you need below
Dollar Doubler Deals Recap:
Join our NEW Tops Newsletter here for sneak peeks and to ensure you never miss a deal we posted! We are the only site to publish EVERY Tops sales deal every week matched with coupons with more than 350 items PLUS the most B1G1 prices published within our list!

How much easier can it be to save everyday?
Join our Facebook Groups to see more deals like these:
Couponing to Cut Your Grocery Bill
Couponing at Tops Markets
Couponing at Wegmans
Couponing at Save A Lot
Couponing the Dollar Stores
Couponing at Dollar Tree
Couponing at CVS, Walgreens and RiteAid
Couponing at Walmart, Target and Kmart
Sears and Kmart Steals & Deals
Printable CouponsForFree FB Group
Coupons.com Facebook Group
Freebies, Cheap Deals, Giveaways and Sweeps
Extreme Couponing Nationwide Deals
Hot Online Deals