Check out this Tops Markets Baked Beans Dollar Doubler Deal Combo!
I love couponing at Tops Markets because every week you can find some great deals!
This week we have Tops Markets Dollar Doublers promotion — Scroll down to see my Tops Markets Baked Bean Dollar Doubler combo transaction for this week! We eat these items on a regular basis so I will do this transacion AT LEAST 2 TIMES to get my pantry stocked!
To take advantage of Dollar Doublers, you need to have a minumum of $20 purchase and try to have the least amount spent out of pocket at the register. Only 4 Dollar Doublers can be used per transaction, you must have Tops Bonus Card and minimum amount of $20 purchase.
Buy (6) Bush Baked Beans, 16 oz in the Gas Point Box $1.50 each = $9
Buy (6) Bush Beans Grillin' Beans, 21-22 oz Undvertised Price $1.99= $11.94
Buy (2) Bush Black Bean Fiesta, 15.5 oz Unadvertised Price= $1.50= $3
Sub-Total= $23.94
Use (4) Tops Dollar Doublers in ad or printable here = less $4
Use (3) $.75/2 Bush's Baked Beans – 4-29-18 SS; Includes 16 oz Only (exp. 06/10/18) = less $4.50
Use (2) $1/3 Bush's Grillin Beans 21-22 oz direct link printable here = less $2
Use (2) $1/1 Bush's Savory Black Bean Fiesta 4-29-18 SS; (exp. 06/10/18)= less $2
Pay at Register= 11.44 for 14 cans= $0.82 each out of pocket
Less $5 Gas Point Savings
Net Cost= $6.44 for 14 cans= only $.46!!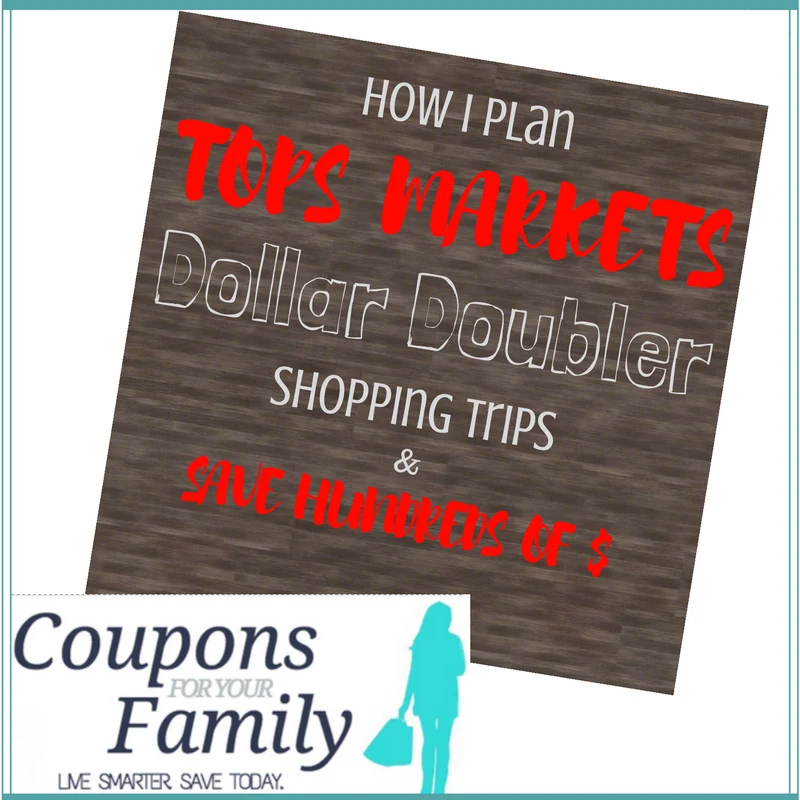 We will no longer be putting Unadvertised Deals in the main list– You can find the
Tops Unadvertised Deals here
. The list will be a work in process every week so make sure to bookmark the link in your browser as its will always be n the same page!
Join our NEW Tops Newsletter here for sneak peeks and to ensure you never miss a deal we posted! We are the only site to publish EVERY Tops sales deal every week matched with coupons with more than 350 items PLUS the most B1G1 prices published within our list!

How much easier can it be to save everyday?
Join our Facebook Groups to see more deals like these:
Couponing to Cut Your Grocery Bill
Couponing at Tops Markets
Couponing at Wegmans
Couponing at Save A Lot
Couponing the Dollar Stores
Couponing at Dollar Tree
Couponing at CVS, Walgreens and RiteAid
Couponing at Walmart, Target and Kmart
Sears and Kmart Steals & Deals
Printable CouponsForFree FB Group
Coupons.com Facebook Group
Freebies, Cheap Deals, Giveaways and Sweeps
Extreme Couponing Nationwide Deals
Hot Online Deals