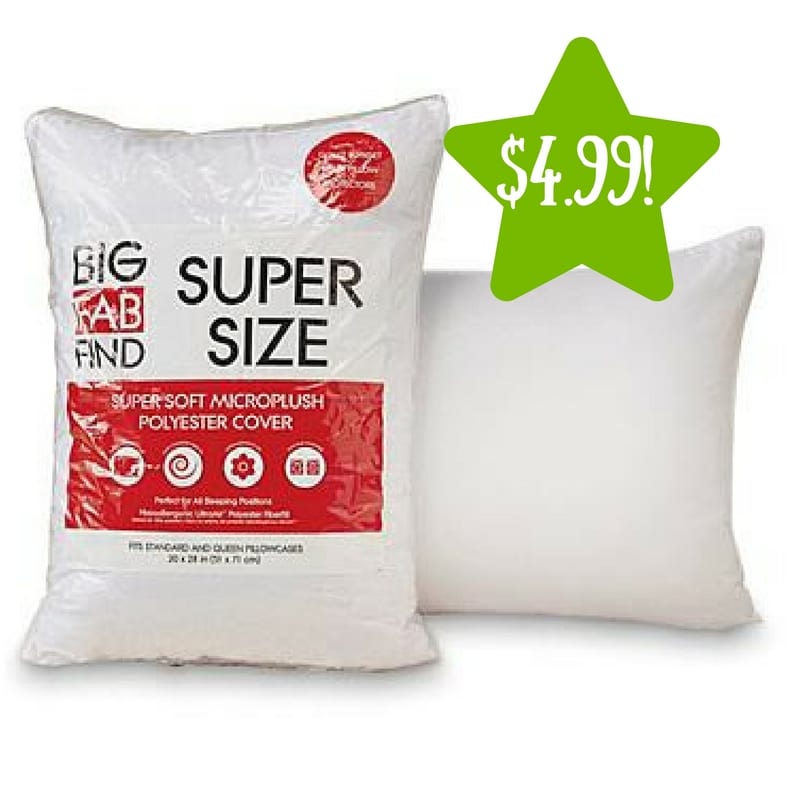 Check out the newest deal on a Big Fab Find Supersize Jumbo Fiber Pillow at Sears !
How to get the best values and deals at Sears:
Become a Shop Your Way member here and choose me as your personal shopper. As your personal shopper I can help you find gifts, deals, share exclusive promotions, send you weekly coupons AND you can contact me directly through text and emails to help you shop!! Plus you'll get 3 months of FREE SYWR Max Shipping if you are a new Shop Your Way member!
Using your Shop Your Way Rewards Card: If shopping online make sure your member number is in your order. Must be scanned to get most deals/rewards at Sears In store. Every 1,000 points is worth $1.00. These are easy to redeem – when you are checking out just say you'd like to pay with the rewards you have on your card. You do not have to use your points if you want to save them up
Right now at Sears you can get this Big Fab Find Supersize Jumbo Fiber Pillow for only $4.99! This is a great time to replace your old pillows. Plus you can get FREE in-store pickup or FREE shipping on orders over $49.
No matter how good your mattress is, you need great pillows to complete your bed ensemble and the Supersize Jumbo Fiber Pillow will meet all your bedding needs. The oversized pillow is filled with long-lasting fiberfill that won't get lumpy or hard with repeated use and guarantees night after night of sleeping bliss. It's the perfect pillow for all your family beds as well as the ideal pillow to stow in the closet for relaxing on the sofa or taking along on car trips for kids to snuggle up to in the backseat. Guests will appreciate finding a perfect pillow in their bed at the end of the day.

Check out the rest of our Sears Deals here
Find the Best Deals for Holiday shopping in our Groups below:
Kmart and Sears Steals and Deals Facebook Group here
Hot Online Deals Facebook Group here
NEW* Freebies, Cheap Deals, Sweeps and Giveaways Facebook Group here
LIKE our Black Friday and Cyber Monday Deals Page here
Topic: Sears