Enter to win a pair of Luxurious Natures Sleep Slippers plus get 50% off Natures Sleep Coupon Code
I am so excited to share with you how great these Memory Foam Slippers are that I received from Natures Sleep to review!
I chose the Closed Toe version as my feet are always cold but not only do they keep my feet warm, but they are the softest and most comfortable slippers I have ever owned!Putting these skippers on after a day on my feet at work in heels is pure heaven!
Make sure you enter at the bottom of the post for a chance to win a pair for yourself along with a 50% coupon code in case you can't wait to try a pair! Thats only $15!!
Here are some specific details about my new Luxury slippers:
Closed Toe Terry Slippers w/Memory Foam
High quality Genuine Nature's Sleep Next Generation Memory Foam
Provides pressure relieving comfort all day long
Naturally conforms to your foot in cool comfort
Distributes weight to reduce pressure points and improve circulation
Ideal for Indoor and Outdoor use on multiple surfaces
Attractive style and look
S, M, L, XL
Upper/inner sole 80% cotton/20% polyester; lining 100% polyester; thermoplastic rubber bottom
Designed in the USA, Made in China
Nature's Sleep Memory Foam are CertiPUR-US® approved
Solid Durable Outer Sole
Attractive Fabric choices
Available in assorted of colors
Material can be spot cleaned or Washed
Not only are these slippers like walking on a cloud, they have a durable outer sole like the bottom of a shoe! This paired with the memory foam makes these slippers my favorite as I can walk outside in them with out ruining the soles. If you do wear them outside and you do happen to get the top of them dirty, you can spot clean them OR you can also just toss them in the wash with like colors!
Also after having surgery on both of my feet 10 years ago, I cannot walk barefoot very long without my feet hurting. With the Natures Sleep slippers, I can have support for my feet while still being comfortable and not feeling like I have shoes on all the time!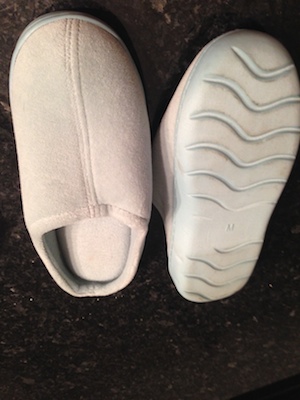 Here is another view of my new memory foam slippers! I have very wide feet so I ordered them a little larger than my normal size just to ensure they would not be tight and they are perfect!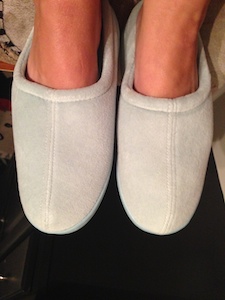 Natures Sleep Coupon code:
The Natures Sleep Slippers sell for $30 and right now you can own a pair for only $15 with FREE shipping when you enter Coupon Code BEARS50 at checkout!
My new slippers are well worth spending $30 but at $15 they are a steal!!!
I may even order myself another pair in a darker color so I can go to the store in them and people will not know I am wearing my slippers 🙂
Try a pair for yourself here–Nature Sleep Memory Foam Slippers
Make sure to enter to win a pair in the Rafflecopter below also:
Topic: Natures Sleep coupon code