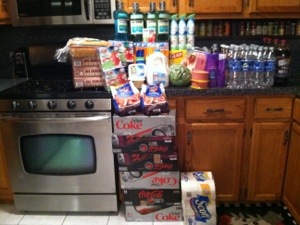 How to Save on Groceries at Tops on Dollar Doubler Weeks
The best way to save money at Tops is to buy items in their combo deals. Of course there will not be much you can cook a dinner out of when doing these deals but you can slowly stock up on items you know your family uses. I always stock up on Dollar Doubler weeks.
I decided to post this because most people really do not realize how much sale and coupon matching saves you on groceries. I read many comments on Social Media that Tops deals are a hoax. You have to pay attention to prices, coupons and combo deals but we do that for you so you can see how much you can save. I did not do the shopping 2 weeks ago and Ilet the love of my life, Vince, go shopping. He did great and bought what we needed at the time that was on sale and stocked up on some freezer things and bought generic but went with no coupons and no meal plan! He shopped at Aldi's and Tops. $300 later and shelves not stocked, I was running to store for items we needed within a weeks time. Hence, that will not happen again any time soon 🙂
Some key factors on How to Save on Groceries:
– you have to know what you have in your pantry, freezer, and refrigerator to know what to buy. I meal plan from my pantry and freezer and only buy perishabes and sale items on my weekly shopping trips
– Every item on my list was on sale. The best time to shop at Tops is Saturday night. You can get the benefit of sale ending and sale beginning AND if you go at around 9:30 or 10 the store is practically empty except for workers stocking shelves for Sunday. Unfortunately, I do not get to do it that often, but I always try to on Dollar Doubler weeks.
– I pre plan my Dollar Doubler deals into separate transactions before I go to the store. Use our shopping list, check the items you want to buy per transaction and print per transaction. See example below.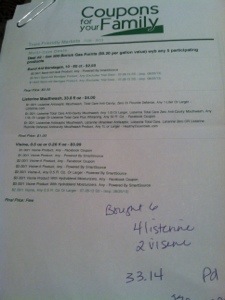 – All of these transactions used coupons from the Tops Coupon Matchups I posted last week.
– I plan each transaction to be over $20, with items I need for the week or for stock up and each to use (4) Dollar Doublers. I could have slimmed them down to save more but these are realistic items we use on a regular basis and items I needed. You can not do all of these transactions on the same day. Ideally, Tops would like to only have one transaction per day. I have had cashiers allow me to do 2-3 transactions on one trip but they do not have to allow that, so it is best to plan out your week and go to the store multiple times during Dollar Doubler week.
– Mistakes happen so dont get overly obsessed in making things perfect. In just these 6 transactions both myself and the cashier made errors. I bought 6 items on the listerine deal instead of only 5 AND the cashier didnt scan 2 of my listerine coupons but he did scan one of my Visine coupons twice! I only had 4 Dole coupons instead of 6 and I was short on Bubba Burger coupons. My store was out of the candy I had planned on in one of the gas point deals so I just bought another item in the combo deal (coke deal) to make sure I received the 20 ppoints. Be flexible and you will still save money! The register also did not credit my free milk so I have to go to customer service in next 7 days. BUT with all those errors, I still saved 61%.
Rather than typing all the coupons, I took a picture of my receipt showing coupons used on each transaction
Transaction #1
Gas Point Deal with Coca Cola and Fast Fixin Chicken, coupons and Dollar Doubler
(6) 12 packs Diet Coke Cans
(4) 6 packs Diet Coke Plastic Bottles
(1) 6 pack Diet Pepsi (I wanted to use my last diet pepsi coupon!)
(2) Fast Fixin Chicken
Total before sales and coupons 87.47
Paid $44.75
Gas Points 301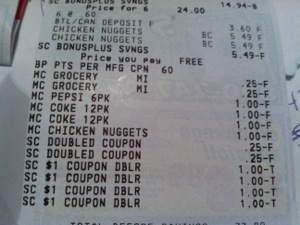 Transaction #2
Dole Fruit Instant Savings Deal
(6) Dole Fruit Squish' ems
(1) Bubba Burgers
(1) DiItaliano Bread
Total before sales and coupons $49.21
Paid $26.97
Gas Points 82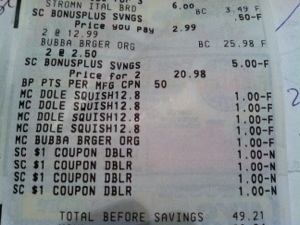 Transaction #3

Deals I couldn't pass up and we needed toilet paper 🙂
(3) Febreze Air Effects
(1) Scott Bath Tissue
(2) Butterball Turkey Bacon
(1) International Delight
Total before sales and coupons $29.73
Paid $12.78
Gas Points 89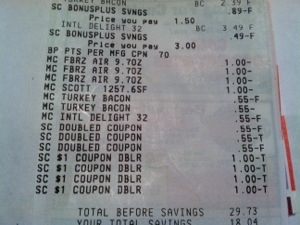 Transaction #4
Gas Point Deal with Listerine and Visine
(4) Listerine
(2) Visine
Total before sales and coupons $33.14
Paid $10.03
Gas Points 270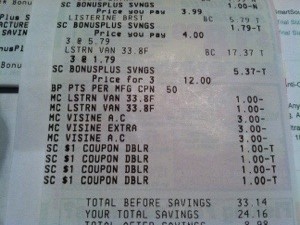 Transaction #5
More Deals I couldnt pass up and we were getting low on shampoo!
(6) Aussie Shampoo
(2) President Feta
(4) Dr Pepper Ten 2 ltrs
(1) Bubba burger
Total before sales and coupons $56.87
Paid $24.31
Gas Points 114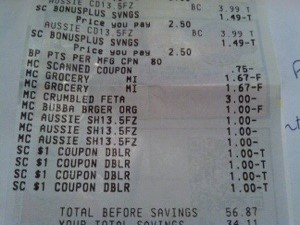 Transaction #6
Buy 4 Cereal Deal get Free milk
This deal crushed my total savings but we needed the other items 🙁
(4) Reeses Puffs
(1) Glad Trash Bags
(1) Tops coffee (I never buy this but Vince doesnt like my K Cups so had to get him ground coffee as his was gone)
(1) Iceburg Lettuce (bought Saturday night so received Sunday sale price of $.99)
(2) Oscar Bologna ( bought Saturday night so got B1G1 sale starting Sunday)
(1) Gallon Tops Milk
Total before savings and coupons $43.60
Paid $27.13
Gas Points 82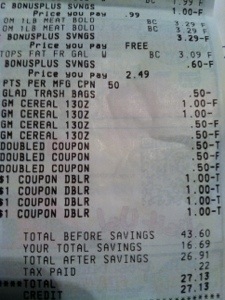 Grand total beforesales and coupons= $300.02
Paid= $145.97
Total Gas Points= 938 = value of $3 per 100 points= $28.14
Net Cost= $117.83
That is a savings of 61%!
Granted, the items on the list are not the healthiest but these are items I keep on hand for our boys to cook themselves and everyday pricing on convenience foods are outrageous!. My boys are not great chefs, nor do they want to learn! We all drink way to much soda so I could go broke buying soda when it is not on sale! I will spend another $20 this week on veggies and fruit so I will go even further over my budget but next week I will make up for it and not buy as much 🙂
Hope this helps you get the idea of how to save on groceries using Tops Dollar Doublers. You can do this on items you use and need by using our weekly Tops Coupon Matchups and Shopping List.
Please do not hesitate to ask questions in the comments of any of our posts. Although working during the day, I do answer all comments in the evening–good or bad 🙂
Other Savings Posts at Tops:
Save 68% at Tops with Gas Point Combo Deals
Preparing for Multple Transaction shopping at Tops
Topic: How to Save on Groceries