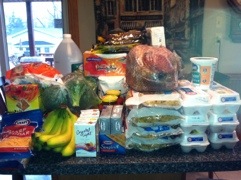 Today Tops Shopping Trip was a combination of 4 transactions. See how I prepared for this trip here
I will not list all but will highlight most important. You can see almost all items in picture except for 2 extra newspapers I could not fit!
To see where to find actual coupons used see full Tops matchup for 4/1 here
Transaction #1- buy 6 items get 200 gas points
6 Vanity fair napkins
use (3) $1/2 coupons
use (3) Tops $1 doubler
2 PA dutch noodles
use $1/2 coupon
use (1) Tops $ Doubler
Total Retail =$22.12
Paid=$6.44
plus received 250 gas points
Transaction #2- buy 6 items get 200 gas points
buy (4) Crystal Light to go
use (2) $1/2 coupons
use (2) Tops $1 Doubler
buy (2) Kraft American Singles
I had a $1/1 Kraft cheese coupon from Kraft book
use (1) Tops $1 Doubler
buy (2) PA Dutch noodles
use (1) $1/2 coupon
use (1) Tops $1 Doubler
Total Retail= $27.32
Paid $9.09
plus received 242 gas points
Transaction #3- (2) Save $4 instantly wyb 6 items
buy (4 )Nestle morsels
use (2) $1/2 coupons
use (2) Tops $1 doubler
buy (2) Domino Sugar
use (1) $.75/2 coupon
buy (6) Egglands Best eggs
use (2) $1/2 coupons
use (1) $.55/2 egg coupon
use (2) Tops $1 Doubler
also bought 2 papers and 1 sour cream
Recd $8 off instantly
Total Retail $45.07
Paid $16.63
Recd 82 gas point for manufacturer coupons
Transaction #4 -(2) buy 6 items get 200 gas points
buy (4) Cracker barrel
use (2) $1/2 coupons
use (2) Tops $1 doublers
buy (2) Kraft Shredded cheese
use (1) $.50/2 coupon
buy (4) Nabisco Wheat thins
use (2) $1/2 nabisco coupon
use (2) Tops $1 doublers
buy (2) Philly Cream Cheese
I also bought:
2 Ragu
use (2) $.50/1 coupons
2 Ocean Spray
use B1G1 coupon
Tops White Vinegar
bananas
fresh broccoli
head of lettuce
10lb bag potatoes
half spiral ham ($24.62)
-used 100 gas point coupon
rhodes frozen rolls
2 Campbell soup
Total Retail $125.65
Paid $73.29
should have received 532 gas points–only was credited 332
went to service desk to have adjusted
Grand total
Retail =$220.17
Paid $105.45
Recd 1106 gas points= $1.10 per gal x 30 gallons=$33 value
Net cost= $72.45 for all!!
Total savings of $(147.72) 68% for items I use every day. There is not 1 item in here I bought only because I had a coupon.
…and I have my ham and rolls for Easter dinner plus 2 more papers full of coupons!!
Note:
The shelves were already looking empty as I was shopping at 4 o'clock this afternoon. Ask someone to check in back if the shelves are empty.
If they do not have it get a raincheck and have customer service staple ad section showing gas bonus point deal or have them write it right on the
rain check. They are good for 60 days..you just have to make sure you redeem raincheck before your coupons expire.
Happy shopping!!
___________________________________________________________
Get more coupons in the All You Magazine. Now available this weekend only for $12 for 12 issues!!
Each issue has at least $40 of coupons in it!



Get yours here