More ways to Save on Groceries: Can Fresh Tomatoes
Part of our "Reducing Your Must Have Expenses" SeriesWe have had a vegetable garden for about 4 years now and every year we make our own tomato sauce and can it for the winter time. It really used to be a chore until we perfected our system!! Now it is not difficult or even all that time consuming!!1)First get your tomatoes from your garden: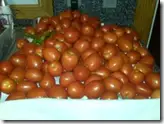 Suggestion:We only use Roma tomatoes to can fresh tomatoes. They have less water in the center so thicker sauce.2)Cut tomatoes into quarters: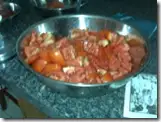 3)We purchased a tomato puree maker a few years back. It was the best $69 I ever spent.(Go here or see below- Amazon has for $58.95) This machine takes the skins and seeds out. You just put the cut tomatoes in top of machine and turn crank.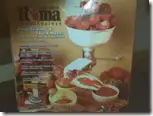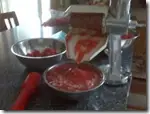 (Method without machine is –soak tomatoes in boiling water in sink, then transfer to ice cold water on other side of sink. Skins start to peel themselves. Manually peel rest of skin and squeeze excess water from tomato and take seeds out. Put in blender on puree setting. )4)We cook our sauce for hours and hours in our 18 quart Crockpot to make thicker just as comes in jar from store. We add 2 large cans of tomato paste to help thicken sauce and season. We also add seasonings and meat (pork, sausage or beef) while cooking along with oregano, basil, garlic and onion to flavor.

5)We cool the sauce and refrigerate overnight as to make thicker and next day cook in crockpot for few more hours. While cooking, we prepare quart size canning jars by washing lids and jars in dishwasher and setting on heat dry-not cool dry. Boil canning lids with seal in pan on stove when sauce is ready. When jars are finished in dishwasher, they are extremely hot. Immediately take a few jars out at time, fill with hot sauce, clean rim of jar from any drips, and put sealing lid from boiling water on top of jar and put on screw on lid to seal. Place upside down and leave to seal. Sometimes you will actually hear the popping sound!

Label your jars and store in cool place!!! When ready for use just heat and serve with pasta!Many times you can get Spaghetti Sauce for $1 -$2 jar but it is much less expensive to grow your own tomatoes and make your own! Plus there are no preservatives in the sauce.
Please share ideas and recipes!
Do you like to Can Fresh Tomatoes?