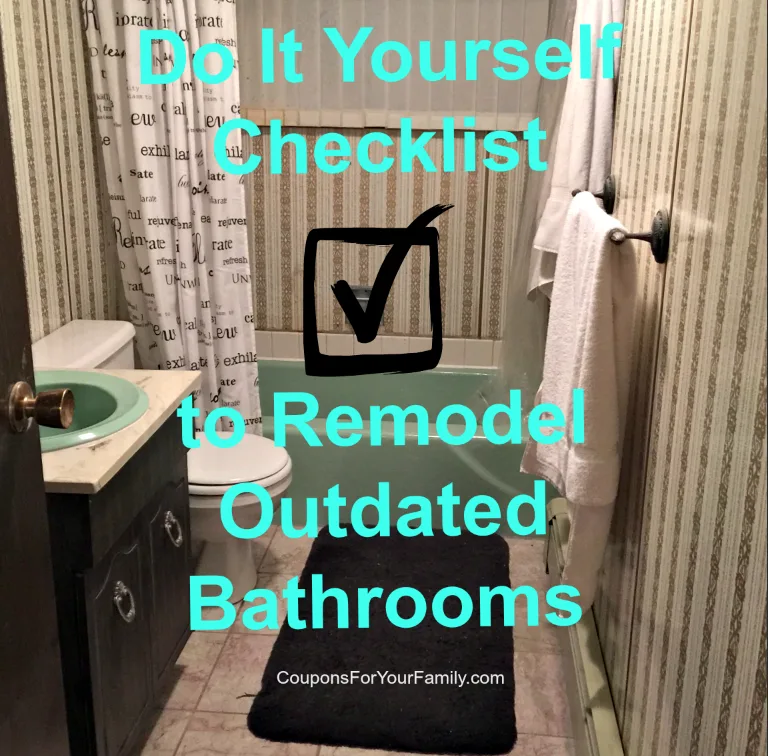 Be sure to make a thorough Checklist for a Do It Yourself Bathroom Makeover on a Budget!!
Making a plan and checklist will save frusteration AND Money!! We are just in the planning stages of this bathroom makeover. Bathroom makeovers can cost thousands of dollars if you allow it so you need to make sure you have a good plan and a list. This is the third and LAST house we will be renovating and this bathroom is one that needs a total gut job!!
Take a look at these great pictures of our current UGLY and DISFUNCTIONAL bathroom: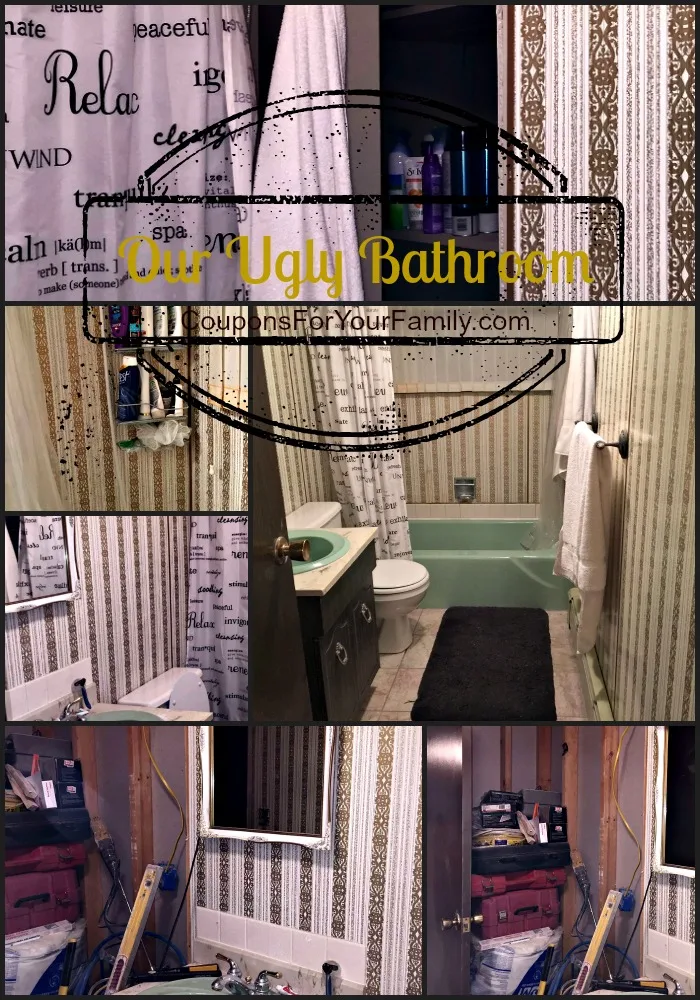 Why are we gutting this bathroom?
– The walls are not drywall, they are cheap melamine type material.
– There wasn't a shower, so we just added a shower head to the bathroom faucet, and we had to buy a rounded shower curtain rod and add an extra curtain at the end to stop the water from going into a wall storage center at the end of the tub!! We did this all knowing we would have to replace it but we had other projects to tackle first. Now the wall in the shower is peeling and starting to bow.
– There is a window in the shower
– The vanity is only 24 inches wide with little storage underneath.
– The tub and sink are GREEN
– The medicine cabinet is from the 1950's I think 🙂
– I don't understand the tile design at the top of the sink and the tub….
I took the picture once we started gutting it and so the place where the tools are, behind the door, was once a wall that had a very large hallway on the other side. We blew that wall out so we can have a larger vanity and some storage.
SO on to the planning….There are many items that can be forgotten about when planning a Do It Yourself Bathroom Makeover, so hopefully this list will help you!
First decide your color scheme you would like, whether blues, greys, greens, beiges, whites etc.
Use a color wheel to help you choose your colors or maybe even an app like FloorVana by Shaw Floors which is made to choose colors for flooring, but you can take a picture that has the colors you love, and it will choose your color bank from the picture you love!! You can then base your entire room color theme from that

Ipad APP link-
Iphone App link-
Sink/Vanity Area:
When planning these items keep in mind storage needed, and color/ finish preference of fixtures along with the entire room design.
Vanity/ Sink Stand– type, size, storage needed or just modern table type
Sink– how many- type and color
Bathroom Faucet color of finish, style (make sure the faucet you pick will fit the sink you choose
Vanity Top– type (laminate, granite/silkstone etc) and color.
Medicine Cabinet or Mirror
Towel bar– where, size, color
Electricity/Lighting– are you going to be putting on your makeup here? Blowdrying, curling? Make sure to have right lighting and outlets.
Storage of Toothbrushes, personal items
Shower/Tub area:
Tub/shower together or both separate? Custom shower? What type of tub? choose Color
Tub surround– ceramic tile or one piece surround? then color, etc. Don't forget mildew resistant materials. Color of caulk, grouts, shampoo/soap holders?
Shower heads and faucets–single or double, how many settings, rain shower or standard, color of finish
Shower Doors or Curtain? Or Custom Glass block shower, choose door, type of block, color, etc
Towel bar – outside/inside shower?
If you are building from the studs, make sure to get correct type of drywall for wet areas or concrete board.
Toilet area:
Toilet….type of flush, height, color
Storage– cabinet above toilet? match vanity or contrast
Where to put the toilet paper holder 🙂 – style, color
Storage:
In a small bathroom, this is very important in the planning stages!
Where to keep towels/washclothes- linen closet, vanity?
Where to keep daily toiletries for each household member using bathroom
Where to keep extra toiletries
My suggestions are an extra cabinet built into wall thickness like a medicine cabinet flush to the wall in tight spaces, towel/toiletries closet or cabinet. Baskets work well for daily items.
Flooring:

Choose type–Ceramic, Vinyl Sheet goods, Luxury Vinyl Tile or Plank, Hardwood, Laminate? Take into consideration if DIY or professional installation.
Choose color
Walls:
Tile or Paint- some of each? Color
Did you notice how important COLOR is in all of the selections are above?
Now how to do all of this on a budget?
– shop auctions and craigs list. Don't be afraid to paint a vanity
– pre-shop online and compare prices for the items you must buy
– use online coupon codes and no interest payment terms if shopping at Home Centers
– choose practical items with a touch of flair to modernize the over all look. You can paint an old vanity to make it look almost new but adding new tiles or nice counter top to give it a more expensive look and modern
– make sure all of the fixtures in the bathroom are the same finish for professional overall look.
– if you have existing shower doors, you can paint them to make them updated!
– choose neutral colors for floors, walls and any tiles so you can easily change accent colors over the years.
– reuse any existing fixtures/materials you can
– do as much of the work yourself as you can as labor if very expensive.
I will make sure to update this post with a link to our finished bathroom with all of the details once its completed!!
Topic: Do It Yourself Bathroom Makeover