Mothers Hand Stamped Necklace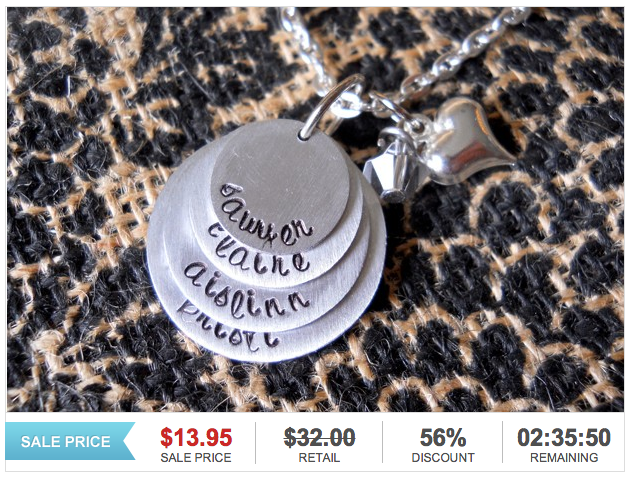 I just bought this for myself for Mothers Day for under $20 🙂
I wear a plain Silver Necklace and these hand cut, and hand stamped discs with with my childrens names on them will be different and simple enough for everyday wear!
For only $13.95 plus $3.50 shipping I will have "charm-like" discs and the puffed heart and crystal to display my childrens names! I especially like them because they are hand made!
Here is the formal description:
These charming little necklaces come with up to 4 discs, hand cut, and hand stamped with each name. The largest disc as pictured on the necklace with 4 discs is a 1" disc. The discs are adorned by a tiny silver toned puffy heart and a faceted clear swarovski crystal. It comes on a 24" silver toned chain. Such a perfect gift for Mom, or your wife. Or even a little something for yourself. Each stamped disc is made of silver aluminum, very strong and durable, and will never tarnish.
These would also make an inexpensive gift for someone too!
If you would like to have these charm discs with your Childrens Names on them, make sure to order them now here–> Mothers Hand Stamped Necklace
Topic: Mothers Hand Stamped Necklace