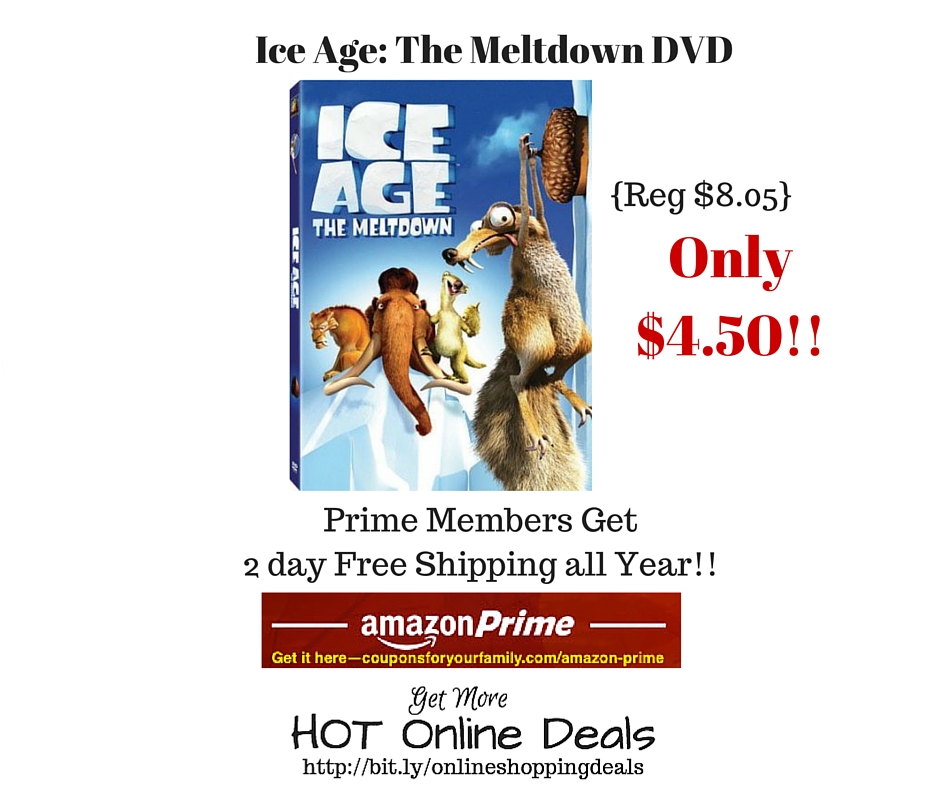 Get this Ice Age: The Meltdown DVD on Amazon right now!
Make sure to grab this Amazon Deal as soon as possible as prices change quickly!!
If you are looking for a great family movie, you will not want to miss this great deal! Amazon has this Ice Age: The Meltdown DVD for only $4.50! Plus they are eligible for FREE shipping on orders over $49 or if you are an Amazon Prime Member.
The love life of a woolly mammoth–handled with G-rated delicacy–drives this sequel to the first computer-animated romp in the age of prehistoric mammals. While the first Ice Age took a delightful premise and suffocated it with a formulaic plot–in which a mammoth named Manfred (voiced by Ray Romano, Everyone Loves Raymond), a sloth named Sid (John Leguizamo, Moulin Rouge!), and a sabre-tooth tiger named Diego (Denis Leary, Rescue Me) helped an abandoned human infant return to its tribe (basically, Three Mammals and a Baby)–the sequel takes the now-familiar setting, gives it a shapeless, episodic storyline, and yet somehow becomes pretty darn entertaining. Faced with the threat of a flood from melting ice, our heroic trio are on the run to escape from their blossoming valley. On the way, they meet a female mammoth (Queen Latifah, Bringing Down the House) who thinks she's an opossum and get menaced by some freshly defrosted carnivo! rous fish. Add into the mix a herd of lava-worshipping mini-sloths, some Busby Berkeley-style vultures, and more ingenious slapstick featuring the acorn-crazed Scrat, andIce Age: The Meltdown will amuse even jaded adults. — Bret Fetzer

Stuck on what to buy someone for the Holidays? Give the gift of Amazon Prime!!

Amazon Prime includes:
* FREE Two-Day Shipping on millions of items
* No minimum order size
* Instant streaming of thousands of movies and TV shows
* Unlimited, ad-free access to over a million songs and hundreds of playlists
Join our Facebook Groups for even more deals!:
Kmart and Sears Steals and Deals Facebook Group here
Hot Online Deals Facebook Group here
NEW* Freebies, Cheap Deals, Sweeps and Giveaways Facebook Group here
LIKE our Black Friday and Cyber Monday Deals Page here
Topic: Amazon Deals