[vc_row][vc_column][vc_column_text]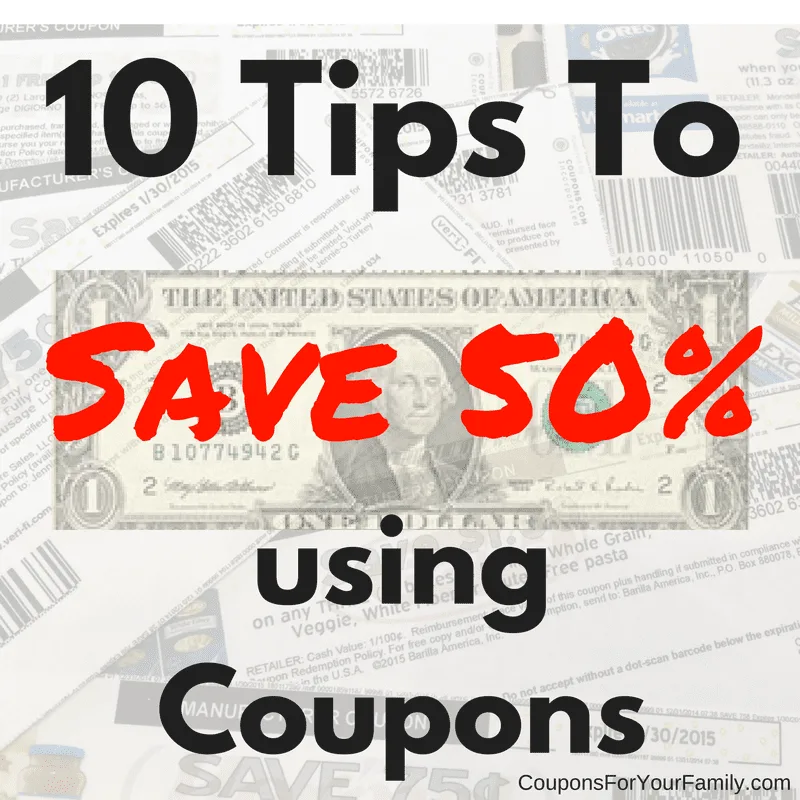 Welcome to Coupons For Your Family and learning the 10 Tips to Save 50% with coupons !
My name is Denise and I am a fulltime working mom who got very frustrated when our 4 boys started to become teenagers. I could not keep enough food in the house and run to the store 3-4 times a week and our wallet sure couldn't keep up either! Our bills were easily $200-$250 week to keep up with groceries and all the household expenses! Our bill is 50-70% less using coupons and sometimes even FREE!
Many people ask me how to start couponing, where to get coupons and how to save 50-70% on your household and grocery bills so here goes!
UPDATE: since writing this post a new Smartphone App, Favado is available that will allow you to save, not only with coupons, but by price comparing sales at your local stores!
The app is free and can be downloaded to IOS and Android phones. You can even use the IOS app on your Ipad!!
Before going to the app stores, register here at Favado first , to make sure you are registered by region for your regional deals. Then download the app on your phone, and enter your registration criteria.
You can read more of our posts regarding Favado Grocery List app in the posts below:
Busy Mom Grocery List App
Favado Grocery List App with Local Tops and Wegmans matchups in it
Still read the rest of the post, because if you would like to save the most on your groceries, you will need to learn how to collect up those coupons!
So, How Do You Begin Using Coupons? Start to collect coupons.
1) Sunday Newspaper Coupons:
The first place to start is from your Sunday newspaper. Each weekend, there are 1-5 coupon inserts available. Those inserts are labeled Smart Source, Red Plum, P&G , or General Mills. Every week, a post with the preview of the coupons coming out in that Sundays paper is posted on Coupons For Your Family under Coupon in Sunday Newspaper. Please keep in mind that these coupons vary by region and I never know exactly what will be in your newspaper 🙂
By following our weekly Coupon Preview Post, you will know if you may want to buy an extra paper for extra coupons.
Here is a list of Coupon Lingo that you can reference to understand all the abbreviations.
2) Printing Coupons:
There are different coupons available to print in various places. Here are top 5 places to print coupons:
Coupons-com
SmartSource
RedPlum
Many companies release printable coupons on their Facebook page or direct website also.
Everyday the newest printable coupon are also posted on Coupons For Your Family and Printable Coupon For Free, so make sure to print when you see them becuase sometimes they disappear fast!
Make sure you subscribe to my Daily Newsletter Email Update and Facebook to keep up with the newest coupons available.
Other Places to print coupons:
Savings.com Grocery Coupon
CVS Coupon Database
Rite-Aid Coupon Database
Queravida.c0m
Common Kindness Coupon Database
Hopster Coupon Database
AARP Coupon Database


3) Electronic/Digital Coupons:
The most common places to get Digital coupons are Savingstar and Upromise. With these databases, you simply enter your store loyalty card, click the coupons you think you will use and when you go to your Grocery store and purchase one of those items , dollars are deposited into your account. Many stores now also have Digital coupons to add to your store account such as Dollar General, Target, Tops and many more!
4) Use our Coupon Database:
The Coupon Database enables you to find coupons that you want for products that are on sale at your local store. The database tells you if a coupon is available, the expiration date, any limitations, and where you can find that coupon. Any with links are printable coupons. You can also read how to search for a coupon for items on your grocery list
5) Blinkies/Peelies/Tearpads
Keep your eyes open when you are at the Store. There are many coupons on tearpads, blinkie machines on shelf and peel off ones on product.
6) Organize your coupons
You need to know what coupons you have so can use them when you need them. There are many different ways to organize your coupons.
A)File Folder Method
The quickest way for me is to not cut out the Sunday Newspaper coupons every week. Working full time plus blogging and taking care of family and home barely lets me get to the store!
I file my weekly inserts by date, use our matchups or coupons database to find ones I need and then go back and cut when I am read to use. Read more about this method here.
B) Binder Method
This is the most effective way to coupon but it takes time to cut and organize. The best coupon binder to use is the Qubie Pro. Read about it here.
If you are looking to purchase an organization system, you can find other options here-> Coupon Organizing Systems for Sale.
7) 5 Do's of Couponing
Watch expiration dates. Don't cut them off or try any other way to hide them. Deals tend to run in cycles, so if you miss one, you can get it the next time it hits rock bottom price.
Read the coupon carefully. Make sure you have the right product (might be different than what is pictured) and that you have the right quantity. If a coupon is for $1 off 2 items, make sure you have both items.
Use a coupon per item in your transaction. One coupon per purchase does not mean one coupon per transaction. If you have 3 bags of chips, then you can use 3 coupons. If the cashier refuses, even after you have explained this, ask to do separate transactions. Some stores offer their own store coupons. If they do they usually allow (1) store coupon and (1) Manufacturer coupon to be used on (1) item which yields the most savings. (2) manufacturer coupons CANNOT be used on (1) item.
Watch the cashier to make sure all your coupons are used. Everyone makes mistakes, and the cashier is no exception. If you notice a discrepancy, make sure to mention it,
Get to know your store(s) policies. Do they double? Does your store take competitor and/or printable coupons? Is there a loyalty or shopper's card? Do they ever triple or quadruple coupons?
8) 5 Don'ts of Couponing
Don't copy coupons. It is illegal. There are plenty of legal ways to get extra coupons to get those deals, so don't copy coupons.
Don't use more than 1 coupon on 1 item. You can't use numerous $1 off manufacturer coupons on 1 item. However, you can use a manufacturer and one store coupon on an item (good example are Target and Dollar General STORE printables)
Don't buy a product just because you have a coupon. Wait until it is on sale if you want it, but remember, you don't have to buy something just because it is a great deal.
Don't clear out the shelves. Stock piling with a sale can save you, but taking 20 jars of peanut butter just because it is on sale isn't a good use of your money unless you will use it until the next sale cycle. Usually 4-6 weeks.
Don't be ashamed. Be proud of the savings you are getting with your coupons and ignore those that want to snicker when you carry in your giant coupon binder or roll their eyes when you hand over 50 coupons to the cashier. Just think of the money you are saving your family! What is more important?
Overwhelming & just want to ease your way into couponing, then…
1) Choose 1 store to start at..preferably a grocery store
-check off a few items by using our weekly matchup lists and adding other items you need in the notes of the Weekly Store Printable Lists. Adding items you did not plan to buy will put you over budget.
2) Use your list and do not waver from it when in store.
3) If you are not ready to tackle using our weekly printable lists
Look through your stores ad scan, make your grocery list and you can then search the Coupon Database for Coupons on your own list.
Good Luck and I hope these tips start you off to saving every time you go to the store. Please make sure to ask questions in the comment section.
Topic: 10 Tips to Saving 50% with Coupons
[/vc_column_text][/vc_column][/vc_row]