May 12 (aka Mother's Day 2013) is just around the corner.  Now is the time to affordably show all the mothers in your life just how special they are while also taking advantage of the RetailMeNot Mother's Day deals.
If you haven't gotten your Mothers Day gift yet–DONT FRET and check out the RetailMeNot Mother's Day deals!
Whether you're shopping for your sister, friend, mother-in-law or your own Mom, you will find deals on gifts that match each unique personality – from jewelry and perfume to cookbooks and kitchen gadgets!
Look at some of the facts from the RetailMeNot Mothers Shoppers Trend Report…..they are quite interesting!!
Over two-thirds of respondents would be more worried about what to buy Mom for Mother's Day than what to buy Dad for Father's Day!
18% of moms most hope to receive flowers for Mother's Day, while another 18% would most like a spa day, 15% would most like a gift card or gift certificate, and another 15% would most like jewelry.
Meeting her expectations, 27% of people will most likely be giving their mom flowers for Mother's Day this year and 18% will be most apt to give a gift card. Unfortunately, only seven percent plan to give jewelry this year and just two percent plan to give a spa day.

Spouses will be honoring their wives/partners with gifts as well. The top three gifts are a nice meal (22%), flowers (18%), gift cards (12%) and jewelry (12%).

42% of respondents intend to spend up to $40 on Mom for Mother's Day, while 22% will spend between $41 and $60, and 23% will spend $61 or more.

10% are not planning to give a Mother's Day gift to their mom this year.
Survey Methodology:
The survey was conducted between April 12 and April 17, 2013, among 1,067 nationally representative U.S. residents ages 18 and over, using an email invitation and an online survey. Quotas are set to ensure reliable and accurate representation of the entire U.S. population ages 18 and over. Results of any sample are subject to sampling variation. The magnitude of the variation is measurable and is affected by the number of interviews and the level of the percentages expressing the results. In this particular study, the chances are 95 in 100 that a survey result does not vary, plus or minus, by more than 3 percentage points from the result that would be obtained if interviews had been conducted with all persons in the universe represented by the sample. The margin of error for any subgroups will be slightly higher.
Check out this AWESOME Giveaway for the Most Pinteresting Mom: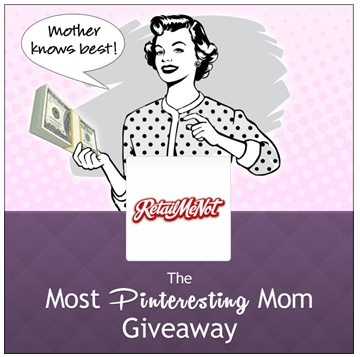 RetailMeNot is looking for the most pinteresting mom in the nation to pamper!
Visit RetailMeNot now through Sunday, May 12, for instructions on how to create a Pinterest board that describes the most pinteresting mom you know.
Submit your board and you could win the mother of all prize packages: $1,000 for shopping spree and spa of your choice for you and the most pinteresting mom you know!
And Don't Forget about the RetailMeNot Deal Alerts:
Sign up for RetailMeNot Deal Alerts and receive new coupon and sales notifications for your favorite stores!
New and improved Deal Alerts from RetailMeNot allow you to:
Select and customize alerts to your favorite stores
Get new coupon and sale notifications
Shop the most popular offers from those stores
About RetailMeNot:

?
RetailMeNot.com is the most widely used digital coupon site in the United States.
Their mission is to help consumers save money and enjoy a hassle-free discount shopping experience.
Hundreds of thousands of digital coupons from retailers. Online coupons are rated and ranked by users, ensuring that quality deals rise to the top and expired coupons drop down the list.
Shopping on the go? Download the 

RetailMeNot Coupons 

app

 for iPhone and Android phones to access Hot Deals, browse top coupons, popular stores and categories and get thousands of online and in-store coupons to shop when you want, where you want.
Sign up for RetailMeNot's Online and In-Store Coupons Newsletter by visiting: http://www.retailmenot.com/static/newsletter/.
This is a Sponsored post written by me on behalf of  for  RetailMeNot. All opinions are 100% mine.
Topic: Mother's Day Coupons, Deals & Most Pinteresting Mom Giveaway