How to Shop for Free!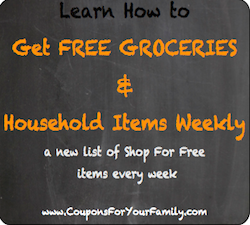 I think all of us want to be able to Shop For Free …right?
Our Shop for Free List has been updated!!
Our weekly Shop for Free List shows you the items you can get for free using coupons and where to get them! This list is an important component of how you can decrease your Grocery and Household bill immediately!

Colgate Instant Coupon – Limit 1 Offer per Household
– $0.50/1 Colgate Toothpaste – 4-12-15 SS; Includes 3 oz or Larger (exp. 04/25/15)
Final Price: Free
Use the $2.50/1 coupon from the in-store CVS coupon machine and the $0.50/1 manufacturers coupon
Colgate 2 in 1 Toothpaste, 4.6 oz
$3.00
$2.50/1 Coupon from the CVS Coupon Center
Use the $2.50/1 coupon from the in-store CVS coupon machine and the $0.50/1 manufacturers coupon
– $0.50/1 Colgate Toothpaste – 4-12-15 SS; Includes 3 oz or Larger (exp. 04/25/15)
Final Price: Free
Use the $2.50/1 coupon from the in-store CVS coupon machine and the $0.50/1 manufacturers coupon
Colgate Max Toothpaste, 6 oz
$3.00
$2.50/1 Coupon from the CVS Coupon Center
Use the $2.50/1 coupon from the in-store CVS coupon machine and the $0.50/1 manufacturers coupon
– $0.50/1 Colgate Toothpaste – 4-12-15 SS; Includes 3 oz or Larger (exp. 04/25/15)
Final Price: Free
Use the $2.50/1 coupon from the in-store CVS coupon machine and the $0.50/1 manufacturers coupon
Colgate Optic White Toothpaste, 3.5 oz
$3.00
$2.50/1 Coupon from the CVS Coupon Center
Use the $2.50/1 coupon from the in-store CVS coupon machine and the $0.50/1 manufacturers coupon
– $0.50/1 Colgate Toothpaste – 4-12-15 SS; Includes 3 oz or Larger (exp. 04/25/15)
Final Price: Free
Use the $2.50/1 coupon from the in-store CVS coupon machine and the $0.50/1 manufacturers coupon
Colgate Total Toothpaste, 4 – 4.2 oz
$3.00
$2.50/1 Coupon from the CVS Coupon Center
Use the $2.50/1 coupon from the in-store CVS coupon machine and the $0.50/1 manufacturers coupon
– $0.50/1 Colgate Toothpaste – 4-12-15 SS; Includes 3 oz or Larger (exp. 04/25/15)
Final Price: Free
Use the $2.50/1 coupon from the in-store CVS coupon machine and the $0.50/1 manufacturers coupon
Colgate Enamel Health Toothpaste, 4 oz
$3.00
$2.50/1 Coupon from the CVS Coupon Center
Use the $2.50/1 coupon from the in-store CVS coupon machine and the $0.50/1 manufacturers coupon
– $4.00/1 Almay Product – 4-12-15 SS; Excludes Trial and Travel Sizes
Final Price: Free
Buy 2; Use (2) $4/1 Coupons
Almay Shadow Softies Eye Shadow
$5.29
$5.29 – Prices may vary by store
B1G1 50% OFF
Buy 2; Use (2) $4/1 Coupons
Prices and sales may vary by store
Final Price: Free
Buy 1; Use $1.00/1 Coupon; Additional Savings with Rebates
Glade PlugIns Scented Oil Warmer
$0.99
Buy 1; Use $1.00/1 Coupon; Additional Savings with Rebates
$5 Catalina wyb (1) through 4/19
Out-of-Pocket Price: $6.99
Final Price: Free
Buy 1 for $9.99; Use $3/1 Coupon; Includes: Checkout51 & Catalina Offers
Glade Automatic Spray Starter Kit
$9.99
Includes: Clean Linen
$6.99
Buy 1 for $9.99; Use $3/1 Coupon; Includes: Checkout51 & Catalina Offers
Giant Eagle (Unadvertised Deals)
Final Price: Free
Birds Eye Recipe Ready Onions & Garlic, 8 oz
$1.50
Final Price: Free
Birds Eye Recipe Ready, onion and peppers, 8 oz
$1.50
Final Price: Free
Maggi Chicken Bouillon, 3.38 oz
$1.00
Final Price: Free
Sheba Perfect Portions Wet Cat Food, 2.6 oz
$0.79
Final Price: Free
use $0.50/1 coupon
Band-Aid Plastic Strips, 30 ct
$1.00
check the bins by the registers
use $0.50/1 coupon
Tops Friendly Markets (04/12-04/18)
Deal #2 – Earn an extra 200 GasPoints ($0.20/gallon) for every 6 participating items
Final Price: Free
Buy 6: use (4) $2/1 and (2) $.50/1: after $6 Gas Points Savings
Colgate Maxfresh Toothpaste, 6 oz
$2.50
Includes: Selected Varieties
Buy 6: use (4) $2/1 and (2) $.50/1: after $6 Gas Points Savings
Final Price: Free
Buy 4; use $1/4: after $1/3 Mobi Rebate
Dannon Light & Fit Yogurt, 6 oz
$0.50
Buy 4; use $1/4: after $1/3 Mobi Rebate
Final Price: Free
Butterball Sliced Turkey Bacon, 6 oz
$1.50
Dollar General (4/12 – 4/19)
Final Price: Free
Renuzit Adjustables, 7 oz
$0.95
Includes: Select varieties
Walmart Prices Vary By Region
Out-of-Pocket Price: $1.18
Final Price: Free
Buy 1; Use $1.50/1 Coupon; Includes: Ibotta Savings
Zing Stevia Sweetener, 40 ct
$2.68
$1.18
Buy 1; Use $1.50/1 Coupon; Includes: Ibotta Savings
– $4.00/1 Almay Product – 4-12-15 SS; Excludes Trial and Travel Sizes
Final Price: Free
Buy 1; Use $4.00/1 Coupon; Includes $1.66 Overage
Almay Deodorant
$2.34
Buy 1; Use $4.00/1 Coupon; Includes $1.66 Overage
Final Price: $0.72
Always Discreet Liners
$2.72
– FREE Mucinex Allergy Product – 2-22-15 SS Mail in Rebate; 30 ct or Larger; $20 Maximum Value (exp. 04/30/15)
Final Price: Free
Buy 1; Submit for MIR
Mucinex Allergy, 30 ct
$13.47
Buy 1; Submit for MIR
Ibotta

SavingStar

Aldi Weekly Sales| CVS Coupons | Dollar General Coupons |  Dollar Tree | Family Dollar Coupons | Food Lion Coupons  | Giant Coupons  | Giant Eagle Match-ups | Kinney Drugs Coupons  | Kmart Coupons | Kroger Coupons  | Martins Coupons |Meijer Coupons | Organic Coupons | Pathmark Coupons | Price Chopper Coupons  | Publix Coupons  | Rite Aid Coupons | Save A Lot Coupons  |Shop and Save Coupons  | Shop For Free List | ShopRite Coupons  |Target  Coupons  | Tops Coupons  | Walgreens Coupons  | Walmart Coupons  | Wegmans Coupons 
Topic: Shop for Free List Using Coupon Deals April 12-18