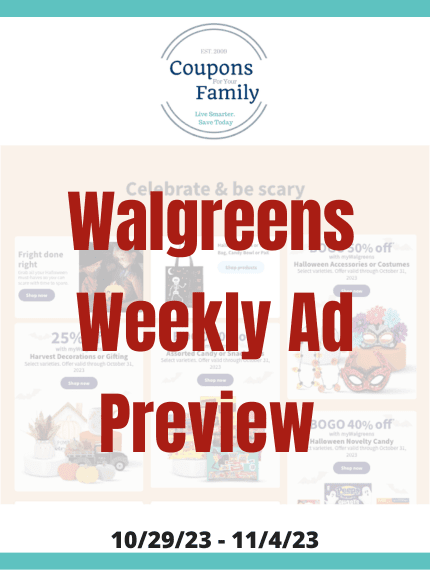 Walgreens Ad Preview this week 10/29/23 is live
Make sure to check out next weeks *️⃣ Early Walgreens Ad Preview and shop this weeks *️⃣ Walgreens ad online! Viewing the Walgreens Ad early allows you to get your coupons together ahead of time and print those that might be gone when the ad is live! Scroll down for the ad previews and see the most recent Walgreens photo coupons! We will post them as early as we can get them
Quick Facts regarding this Walgreens Ad:
At Walgreens you are required to have a Balance Rewards Card in order to receive Walgreen's sale prices.
Walgreens will still offer Register Rewards. 5,000 points = $5 10,000 points = $10 18,000 points = $20 30,000 points = $35 40,000 points = $50 Please note: Balance Rewards points will not show up in your account immediately, it will take anywhere from 3 to 5 days before you can redeem them.
For more information on Walgreen's new rewards program, click here
Add coupons to your Walgreens Card here
Shop with Walgreens Coupons and Codes on Walgreens.com from home here
Shop this weeks Walgreens deals online here
Use the arrows at bottom to scroll through pages and scroll down below this weeks ad to see next weeks preview
Walgreens Ad Previews
1 Ads available. Click the links below or keep scrolling to see the current ad.
Now viewing: Walgreens Ad 10/29/23 - 11/4/23