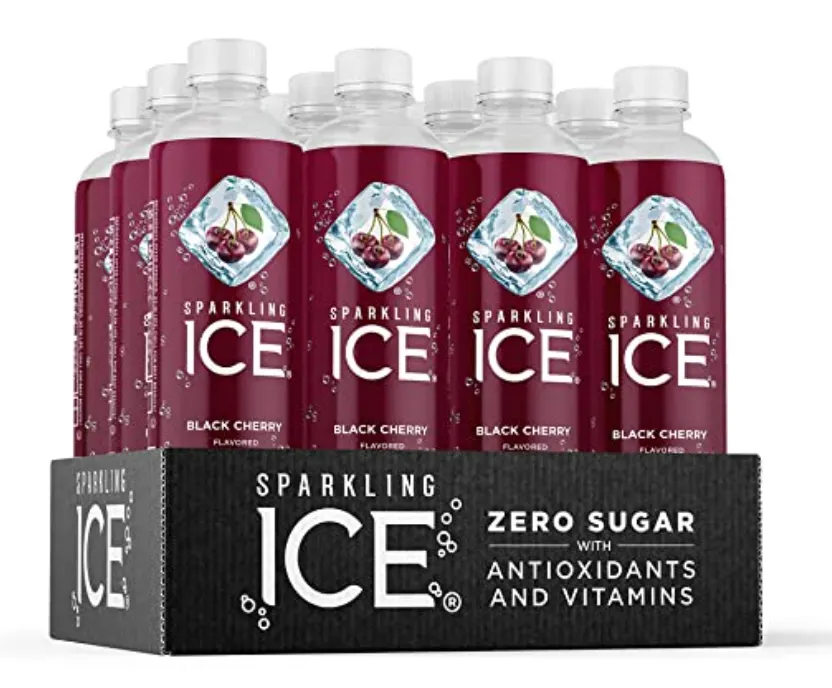 Grab a case of this Black Cherry Flavor Sparkling Ice Water for less than $.85 bottle!!
If you are trying to kick the habit of drinking soda or pop or lessen your sugar intake, this Sparkling Ice water is a great alternative! With Vitamin D3, Vitamin B6 & B12, plus antioxidants this Ice SParkling Water Flavor is a healthier choice than others.
And what a better time to get them delivered to your door with Amazon Subscribe and Save at $10.20 after 15% discount! That's only $.85 per bottle!
In today's times, sometimes its less expensive to buy items online rather than going to a grocery store! Make sure to check out other Best Selling Amazon Grocery Deals here!!

Fizzy, Fruity, Sparkling Ice Water
Sparkling Ice is 17 fizzy, fruity flavors with a splash of juice, colors and flavors from natural sources, plus vitamins and antioxidants—and 5 flavors with a little kick of caffeine.
INGREDIENTS: CARBONATED WATER, MALIC ACID, FRUIT AND VEGETABLE JUICE (FOR COLOR), NATURAL FLAVORS, POTASSIUM BENZOATE (TO ENSURE FRESHNESS), CITRIC ACID, SUCRALOSE, GREEN TEA EXTRACT, CHERRY JUICE CONCENTRATE, RETINOL (VITAMIN A), NIACINAMIDE (VITAMIN B3), CALCIUM PANTOTHENATE (VITAMIN B5), CHOLECALCIFEROL (VITAMIN D3), BIOTIN, CYANOCOBALAMIN (VITAMIN B12), PYRIDOXINE HYDROCHLORIDE (VITAMIN B6)
amzn_assoc_tracking_id = "couforyoufam-20";amzn_assoc_ad_mode = "manual";amzn_assoc_ad_type = "smart";amzn_assoc_marketplace = "amazon";amzn_assoc_region = "US";amzn_assoc_design = "enhanced_links";amzn_assoc_asins = "B01FS2GH2O";amzn_assoc_placement = "adunit";amzn_assoc_linkid = "a4c332c2c58fd2a338b2fa2f0ae3dfb3";
Make sure to check out all of the other online deals here!

How much easier can it be to save everyday?
Join our Facebook Groups to see more deals like these:
Couponing to Cut Your Grocery Bill
Couponing at Tops Markets
Couponing at Wegmans
Couponing at Save A Lot
Couponing the Dollar Stores
Couponing at Dollar Tree
Couponing at CVS, Walgreens and RiteAid
Couponing at Walmart, Target and Kmart
Online Steals & Deals
Printable CouponsForFree FB Group
Coupons.com Facebook Group
Freebies, Cheap Deals, Giveaways and Sweeps
Hot Online Deals