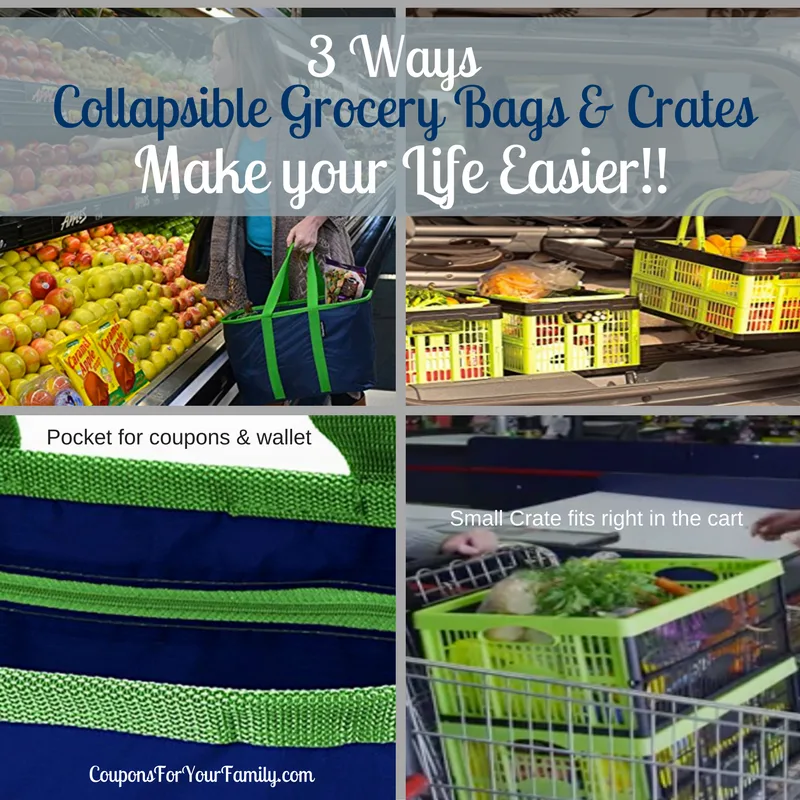 See how Reusable Grocery Bags, Collapsible Bins & Crates can make YOUR life easier!!!
Lets face it. We all want life to make our daily lives easier. Most of us are always on the run, have minimal storage space and are always looking for ways to declutter our lives. Many parents today are working full time, rushing to sports activities, stopping at the grocery store on the way home and are trying to keep order within their homes without any extra effort. In my opinion, this company called CleverMade, has created an awesome invention to help us do just that with their reusable grocery bags and collapsible bins and crates! . Grab your own 3 pack here of the Clever Crates and a 3 pack here of the SnapBasket.
CleverMade SnapBasket
No more broken cheap grocery bag handles
Convenient zip pouch for coupons, wallet and cell phone so you don't have to take your purse into the grocery store
Perfect for your quick run into Aldi for produce bread and milk. Put all into the same bag without worrying about smushing your bread with the patented snap hinges.
CleverMade Collapsible Crates:
Stack these crates right in the grocery cart for easy unloading into the car and carrying into the house
Easy storage under the seat of car or home in a cabinet
Here are 3 ways to use these Clevermade Reusable Grocery Bags and Collapsible Bins!
1) On the Run trips to the grocery store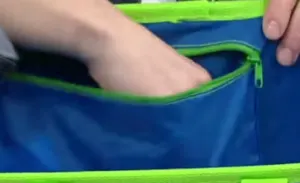 These are perfect for trips to the grocery store especially for Aldi shopping trips where there aren't any bags available. Having to carry boxes of groceries and then disposing of those boxes when home is not something I like. I also do not like to take my entire purse in if I dont have to. The grocery bags can be used for quick trips to Aldi, Tops Markets and Wegmans and the crates for large shopping trips where I can stack them in the cart and use the zip pouch for my wallet, phone and coupons. Plus no more smushed items!
2) Work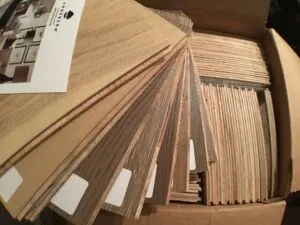 I am a traveling floorcovering salesperson by day and visit 5-7 customers per day. I basically live out of my vehicle and have to carry heavy hardwood, tile and vinyl samples. The larger and stronger collapsible crates will be perfect for me! Many of the samples are too large but many of our new introductions like above will fit in the collapsible bins and carried into customers very easily without scratching them. Many other occupations such as Teachers, Salespeople, Mechanics and tons more can make their lives easier by having these! I can't wait to get mine!
3) Home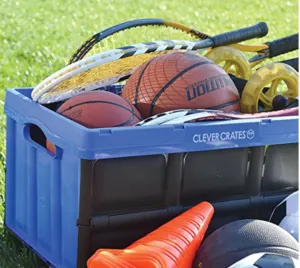 There are so many options for these crates to be used at home! They are very versatile.Storage: We moved from a 2700 sf house with a 2 1/2 car garage to an 1800 sf house with no garage. We have no space. We have numerous bins taking up valuable space when not in use. The collapsible crates will be perfect for when we need to use them AND perfect for when we just need to store them!Moms: Mom's have so many ways to use these collapsible crates! Sports equipment, collapsible laundry baskets, cleaning from floor to floor, kids toys, gardening, craft project storage, cleaning supply holder, pantry storage, from home to vehicle transport and many more!!Organization: There are many different sizes of these bins, so you can even organize your pantry, laundry room, under the sinks, garage and tools and much more!!Ready to try them??
These sturdy Collapsable Bins can be purchased as a 3 pack right here!

The small Collapsible Crates can be purchased also. See the entire collection here

How much easier can it be to save everyday?
Join our Facebook Groups to see more deals like these:
Simple Living: Recipe, Crafts, DIY & moreCouponing to Cut Your Grocery BillCouponing at Tops MarketsCouponing at Wegmans Couponing at Save A LotCouponing the Dollar StoresCouponing at Dollar TreeCouponing at CVS, Walgreens and RiteAidCouponing at Walmart, Target and KmartOnline Steals & Deals Printable CouponsForFree FB GroupCoupons.com Facebook GroupFreebies, Cheap Deals, Giveaways and Sweeps Hot Online Deals