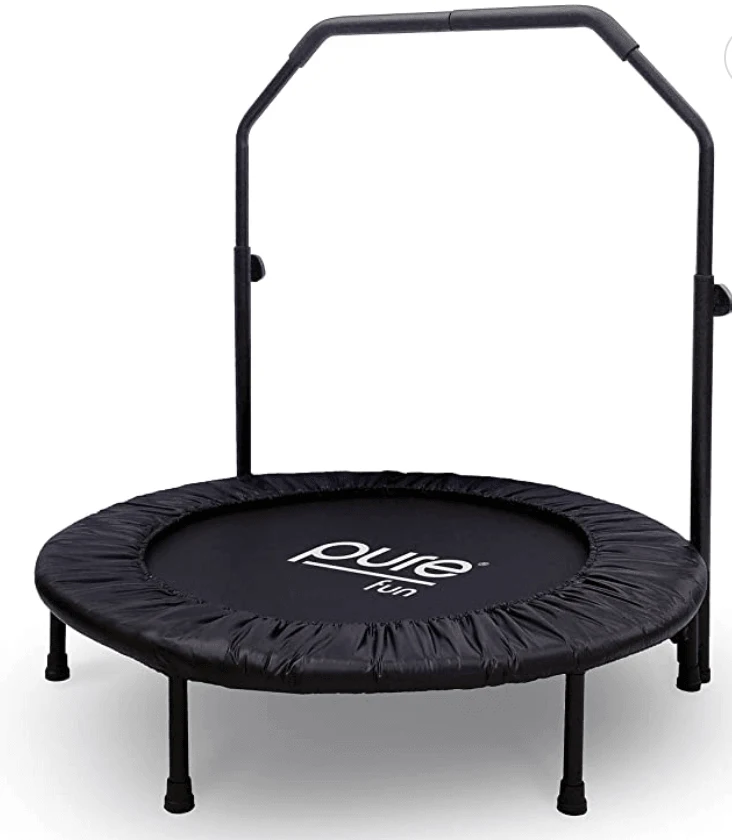 Here is a GREAT Deal on Pure Fun Trampoline!!!!
Check out this great deal on the Pure Fun Exercise Trampline! Normally $115 and now as low as $58.93- thts half of the price!! Grab yours here before the price goes back up!
Pure Fun 40-inch Bungee Exercise Trampoline Handrail
The Pure Fun 40-inch Bungee Exercise Trampoline with Handrail is the perfect solution for a low-impact, aerobic workout. Featuring a 40-inch wide platform, this trampoline is designed to prevent falls and injuries associated with smaller platform trampolines.
Safety Features:
For added safety, the handrail is easily removable and adjustable to 4 separate heights, making it perfect for novice rebounders or those who prefer to have something to hang on to. For extra bounce, each trampoline contains 24 high-tension bungee straps, which also makes it sturdy and durable. Most importantly, the superior construction ensures you get a good cardiovascular workout, regardless of how much space you have available.
40-inch jumping surface provides plenty of space to safely bounce
24 high tension bungee straps for superior bouncing
Removable, padded handrail adjusts from 28″ to 37″ from jump mat
Jump mat made of heavy-duty polypropylene to ensure durability
Weight Limit: 300Lbs


How much easier can it be to save everyday?
Join our Facebook Groups to see more recipe & deals like these:
Simple Living, Recipes, Crafts, DIY and more!
Couponing to Cut Your Grocery Bill
Couponing at CVS, Walgreens and RiteAid
Couponing at Walmart, Target and Kmart
Printable CouponsForFree FB Group