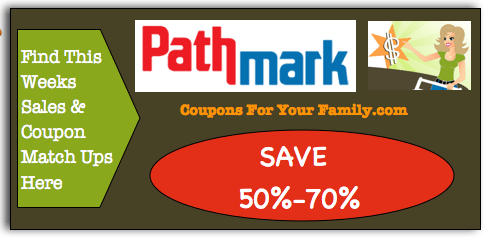 Here are this weeks TOP Pathmark Coupon Matchups March 27 – April 2
** to view the entire list of this weeks matchups head over to see the new Pathmark Coupon Matchups page.
We are now using a new coupon matchup program to help make your sales and coupon shopping even easier! This system will allow you to see all the items on sale and check of the items you want plus be able to add custom items on your list!
If you are new here, check out the Coupon Abbreviation page to become familiar with Coupon Lingo and our How To Save Money Using Coupons page
Don't forget to check Coupons.com, SmartSource, RedPlum, Hopster.com, and Common Kindness, Shopmium, and Checkout51 for new coupons that came out after these coupon matchups were completed.
A few facts about Pathmark:
-Pathmark has stores NY, NJ, PA and DE.
–You can locate a store near you here
– Pathmark Coupon Policy (scroll down)
-Prices vary by store. Coupons are doubled up to $.99, with maximum of 4 like newspaper coupons and 2 like internet coupons.
Double Manufacturers' Coupons Up To $0.99
Hefty Easy Grip Cups 1l8 – 50 ct – B1G1
Includes: Assorted varieties
$0.50/1 Hefty Ultimate Easy Grip Cups – 3-22-15 RP; Limit of 4 like coupons in same day, No Cash or Credit Back (exp. 06/30/15)
Nature Made Vitamins, 12 – 300 ct – B1G1
Includes: Assorted varieties
$2.00/2 Nature Made Products – 3-8-15 SS (exp. 04/08/15)
Sorrento Galbani Provolone Cheese, 12 oz – B1G1
Limit 1 OfferIncludes: Assorted varieties
Tribe Hummus, 8 oz – B1G1
Includes: Assorted varieties
Get $5.00 OFF Instantly wyb 5 Participating Mix or Match Products
Includes: Assorted varieties
$0.75/3 Capri Sun Product – 3-15-15 SS; Includes 10 ct (exp. 05/02/15)
Buy 3; Use (1) $0.75/3 coupon (doubled), Includes Instant Savings (With Purchase of 5 Mix or Match Products)
Includes: Assorted varieties
General Mills Honey Nut Cheerios, 12.25 oz – $2.50
$0.75/1 General Mills Honey Nut Cheerios Cereal – 3-1-15 SS (exp. 04/11/15)
Buy 1; Use $0.75/1 coupon (doubled)
Dole Canned Pineapple, 20 oz – $1.25
Includes: Assorted varieties
$0.50/2 Dole Canned Fruit – 2-1-15 SS (exp. 04/30/15)

$1.00/3 Dole Canned Fruit – 2-1-15 SS (exp. 04/30/15)

$1.00/3 Dole Canned Fruits – 3-22-15 SS (exp. 05/31/15)
Stacks With
Out-of-Pocket Price:
$0.75
Buy 2; Use $1.00/2 Coupon, Includes Snap Rebate
Condiments, Spice & Baking
Carnation Evaporated Milk, 12 oz – $1.25
Includes: Assorted varieties
$0.55/2 Carnation Evaporated Milk Cans, 12 oz – 1-25-15 RP (exp. 04/30/15)
Stacks With
Out-of-Pocket Price:
$0.98
Buy 2; Use $0.55/2 coupon, Includes Checkout 51 Rebate
Domino Sugar, 4 lb – $2.29
Excludes: Canister
$0.40/1 Domino Granulated Sugar – 3-15-15 RP; Includes 4 or 5 lb (exp. 05/31/15)
Buy 1; Use $0.40/1 coupon (doubled)
Arm & Hammer Toothpaste, 4.5 – 6.3 oz – $2.50
Includes: Select varieties
$0.75/1 Arm & Hammer Toothpaste or Whitening Booster – 3-29-15 SS; Includes 2.5 oz or Larger (exp. 05/10/15)
Buy 1; Use $0.75/1 coupon (doubled)
BiC Disposable Razors, 3 – 6 ct – $4.99
Includes: Assorted varieties
$2.00/1 BIC Disposable Razor – 3-29-15 SS; Excludes Trial or Travel Size (exp. 04/26/15)

Aldi Weekly Sales
|
CVS Coupons
|
Dollar General Coupons
|
Dollar Tree
|
Family Dollar Coupons
|
Food Lion Coupons
|
Giant Coupons
|
Giant Eagle Match-ups
|
Kinney Drugs Coupons
|
Kmart Coupons
|
Kroger Coupons
|
Martins Coupons
|
Meijer Coupons
|
Organic Coupons
|
Pathmark Coupon
|
Price Chopper Coupons
|
Publix Coupons
|
Rite Aid Coupons
|
Save A Lot Coupons
|
Shop and Save Coupons
|
Shop For Free List
|
ShopRite Coupons
|
Target Coupons
|
Tops Coupons
|
Walgreens Coupons
|
Walmart Coupons
|
Wegmans Coupons
Topic: Pathmark Coupon Matchups