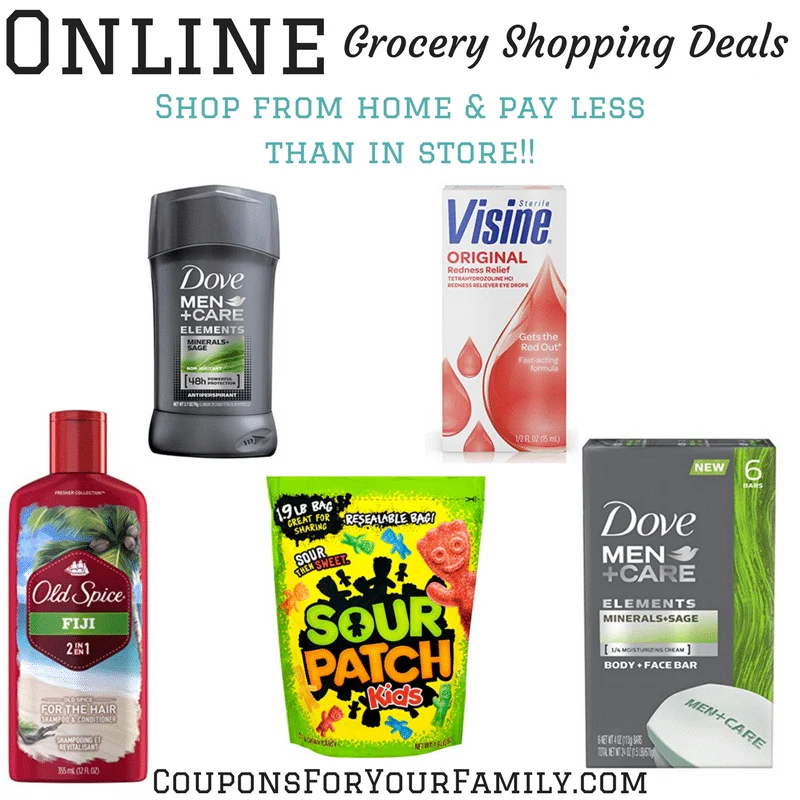 We are going to try something new and that is comparing prices when Grocery Shopping Online to in store prices! There are hundreds of shoppers that do not take the time to cut coupons and go to 2-3 different store every week.
I don't think its because they don't want to save money, its the time clipping the coupons and getting to the stores that gets in the way–LIFE JUST HAPPENS!
Some people travel for their jobs and just can't get to the store at all!! So many people end up paying full price for items when they don't have to. Also for some brand items, there just aren't many coupons.
There are numerous places to shop online for groceries and daily essentials, but there are only a few that you can actually save money while shopping from home.
PLUS Checkout 51 Cash Back App allows you to buy online and still submit for cash back on weekly promo items!! If you do not signed up for Checkout51, you can see all the details on our Checkout 51 page here
This week I have put together 6 Amazon items that are less than store prices, have new Checkout51 cashback offers, combined with online coupons and FREE shipping with the below scenario based on Amazon Prime Pantry qualifications.
This scenario requires you to be an Amazon prime member in order to get some of the Prime only coupons and to get the Amazon promo of free Prime Pantry shipping when you choose 5 qualifying items
Prime Pantry Deal Scenario
1 box | 6 items | 15.4% full

Your order qualifies for FREE shipping on one Pantry box.

Promotion will be automatically applied at checkout.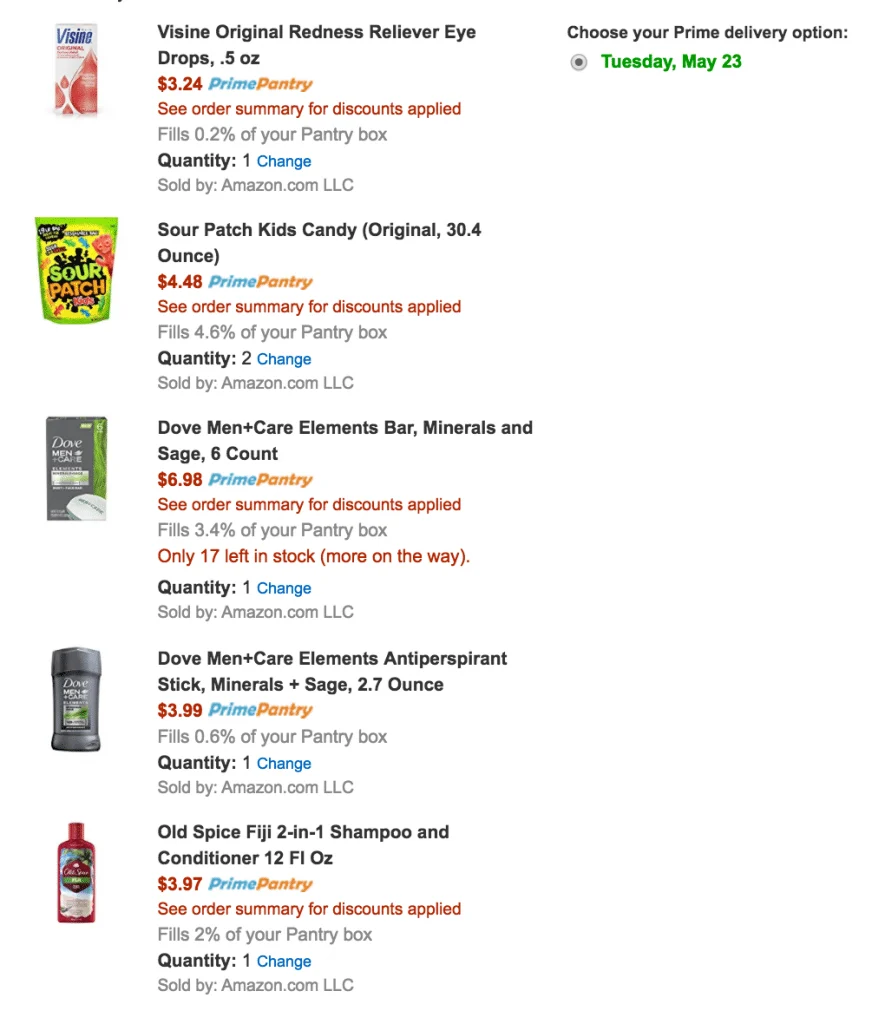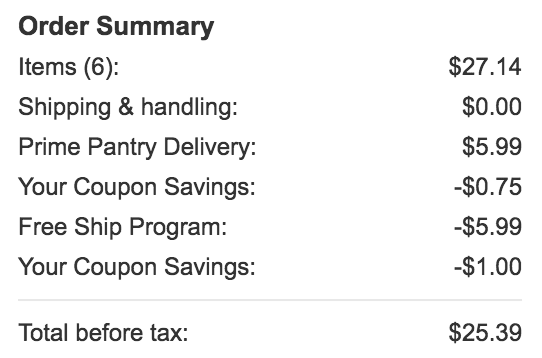 Click on each link below, and add to your cart.
Make sure to clip any coupons listed also!!
Visine Original Redness Reliever Eye Drops, .5 oz
Online price $3.24
USE Coupon Clipped Save $0.75
Pay $2.49
Compared to in store prices of $4.49-$5.49
Old Spice Fiji 2-in-1 Shampoo and Conditioner 12 Fl Oz
Online Price $3.97
USE Coupon Clipped Save $1.00
Pay $2.97
Compared to in store prices of $3.99-$4.49
Sour Patch Kids Candy (Original, 30.4 Ounce)
Buy 2 @ $4.48 Online Price
Pay $8.96
Compared to in store prices $4.49-$5.79
Dove Men+Care Elements Antiperspirant Stick, Minerals + Sage, 2.7 Ounce
Online Price $3.99
Compared to in store prices $3.99-$4.99
Dove Men+Care Elements Bar, Minerals and Sage, 6 Count
Online Price $6.98
Compared to in store prices at $7.49-$7.99
Subtotal (6 items) Pay at Amazon Checkout =$25.39 (not including tax)
LOAD these to your Checkout51 account before shopping:
Less $2 Dove Men Care Bar Soap – new Checkout51 offer
Less $2 Dove Deodorant – new Checkout51 offer
Less $1.20 Sour Patch – new Checkout51 offer
Net cost after cash back= $20.19 for 6 items = $3.37 per item
While some of my extreme coupoing readers may not think these are a great deal, its definitely much less than what you would pay without cutting coupons and shopping the drugstores every week PLUS no coupon clipping, you dont have drive to the store, spend the time shopping OR haul the bags into your car and house!!!
Never miss a deal ~~get them delivered directly to your inbox here!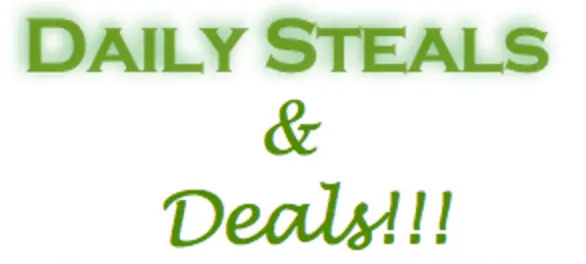 TOPIC: Online Grocery Shopping Deals 5/17