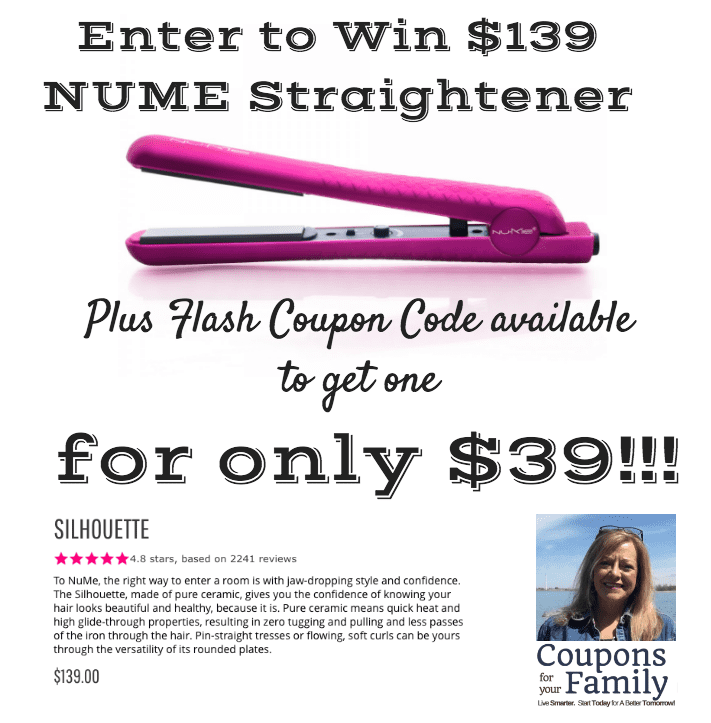 Enter to win a NuMe Hair Straightener PLUS a $39 NuMe Coupon Code if you can't wait to see if you win!
NuMe has a variety of different hair straighteners and curling irons and I was happy they chose me to try one out, have a NuMe Coupon code to share AND sponsor a gvieaway!
My hair is extremely curly so in order to wear it straight, I have to have a quality ceramic straightener to take the curls and bushiness out. I have tried inexpensive, non ceramic straighteners and they did not work. My last straightener was a generic brand that I bought at a beauty supply store and I still paid $89 for it. Needless to say I was anxious to try out the NuMe Silhouette hair straightener.
Take a look at the results:
Day 1 started with freshly washed hair. I blowed dried it and was done straightening my hair in less than 10 minutes! I love the way the NUME Silhoutte took the frizz and extra body out of my hair. The first day of washing my hair is always the toughest for frizz. I liked how little time the straightener took to be hot. Some take a while to actually heat up.
Day 2 I woke up with the normal wave and curls in my hair that occur after putting my hair up after work and then sleeping on it. I have stopped washing my hair everyday and try to extend it to every 3rd day to wash it. You can see the natural wave and curl in the last row of pictures (1 and 2). In 5 minutes, a little dry shampoo and quick straighten with the NUME and I was ready for the day with straight hair! You can also give your hair waves with this straightener too!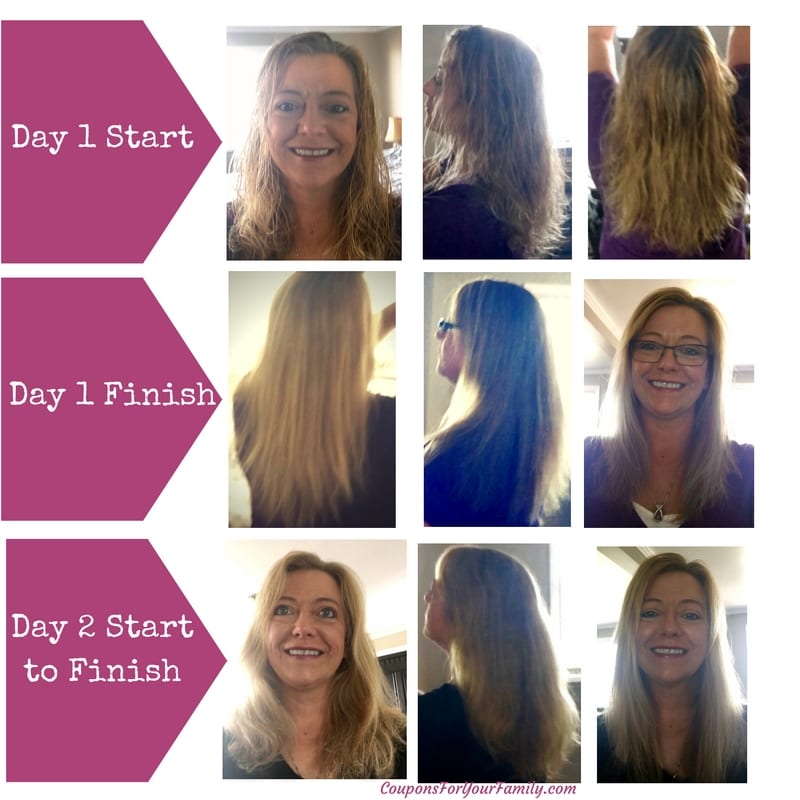 Don't want to wait to see if you win the giveaway?
Right now, NUME is offering the Silhoutte straightener for only $39 with coupon code DU039!! coupon code expires 8/31. You also get a FREE GIFT & FREE SHIPPING!! The Silhouette is the one I tried and can personally recommend. It comes in a pink, turquoise and black.

Giveaway
Not ready to buy yet? Enter our Back to School Giveaway for a chance to win your very own NUME Silhoutte Straightener below:
Click the link below if the form fails to load
Giveaway ends 9/10 at 12 am. winner will be notified via email. We reserve the right to choose another winner should the first winner fail to respond within 24 hours. Prize fulfullment viae NuMe Styling products.

This is a sponsored post and I received the product as a sample to review. All opinions are my own.
Topic: Nume Coupon code and Hair Straightener Giveaway