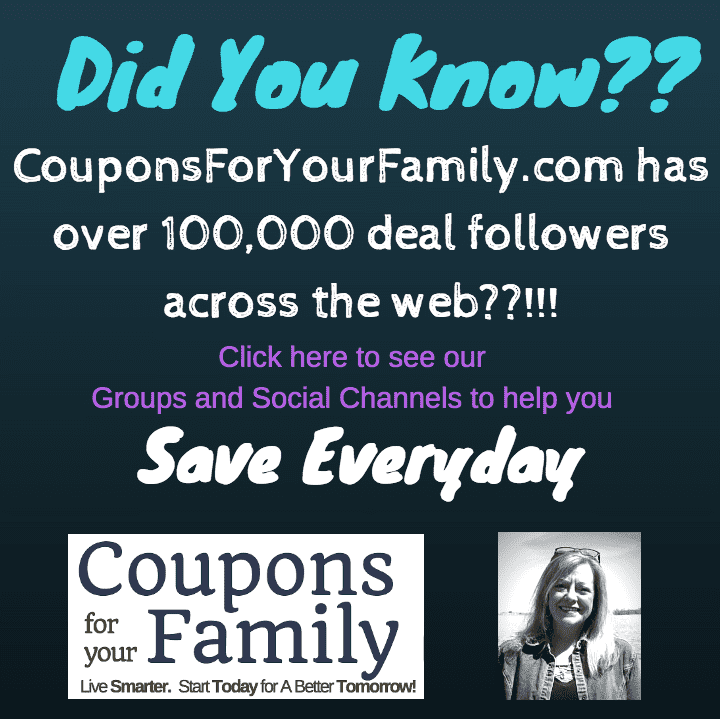 Did you know CouponsForYourFamily.com has over 100,000 followers across the web learning how to save money?
Since 2009, I have been helping people learn how to save money through our deals and savings for stores nationwide! What started as a little old blog to help share my grocery deals with my friends and family is growing by hundreds of new followers every day. Everyone has their favorite way to follow, so I thought it was time to have one page that showed ALL the different ways to follow our deals!
These groups and numbers are changing daily so they are all in a spreadsheet so I can easily update so YOU can see which may be your easiest way to see the deals and savings!
While Social Media is a great way to follow CouponsForYourFamily.com, sometimes the platforms (ex Facebook) only show you what they want to see. Facebook also blocks our posts sometimes due to the volume of deals and groups we have. We do share some things on Social Media that never make it the site, so my recommendation is to:
Join our Daily Email Newsletter to see all posts and sneak peek messages on the site here
Choose which social media plus groups and stores you are most interested in by clicking on the links in the spreadsheet. Groups offer much more to save every day as we have active members helping answer questions and sharing deals and coupons!
This will give you the most ways to SAVE while joining in on fun freebies & giveaways, seeing new brand info, cash back at restaurants and stores and of course, the newest coupons and store matchups AND online retail deals!

Topic: Save every day with Coupons For Your Family