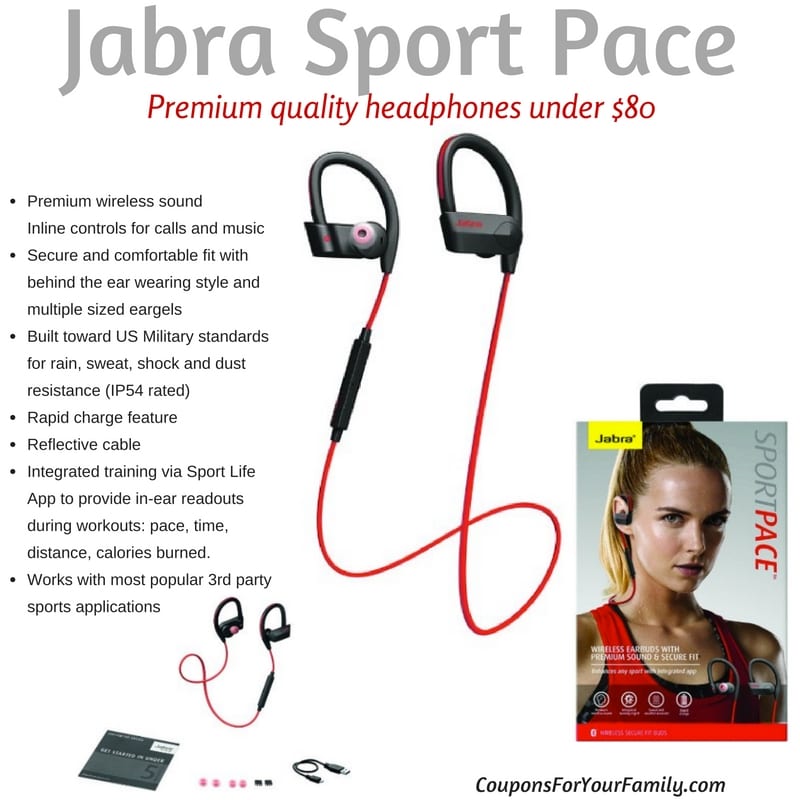 Jabra Sport Pace Wireless Headset for under $80!
I was fortunate to be chosen as a product reviewer of the Jabra Sport Pace Wireless Headset. I am always on the go and even though I do not excercise on a regular basis, having a headset for when I am on my eliptical or walking is a huge plus. I like to listen to audio books or podcasts while I am working out. The best part is you can get the Jabra Halo Smart Headset for under $80. As I write this post, they are on sale on Amazon for only $79.69 here. Read on to see the pros and cons I experienced while using.
Pros:
Ease of Set Up: I am not good with getting used to new headsets and electronic equipment but I was so happy to see how easy this headset was to pair to my phone. Just click the multifunction button until it flashes blue and look in bluetooth settings on phone or tablet to pair. The headset also talks to you while doing this!
Training Guide: Jabra Sport Pace is more than just music motivation; it's a training guide. The integrated training app, Jabra Sport Life app, gives you motivational training tips and lets you plan, monitor and evaluate your training! No other headset has this capapbility that I know of. You can even connect it up to some 3rd party fitness apps! Look at some of the app screenshots:
Comfort: It was a little hard for my to get used to the earbuds but they did not hurt me as most do. It was just getting used to them being there.
Multifunctionality: You can use this headset for just about anything. Music, talking, listening to audio books etc all while working out or just cleaning your house! The sound is very crisp and clear, not muffled like some other headsets I have tried.
Cons:
Learning Curve: The only con I experienced was getting used to where the buttons where and the proper way to use it. This is not any fault of the Jabra Sport Pace, just my slowness to change. I was however using it with ease after a few times using it!
I would highly recommend the Jabra Sport Pace Headset as it is unique with the combination of the Jabra Sport Life app to help you get in shape! Get yours here.

Jabra has an entire line of quality headsets you may also want to check out here–> Jabra Headsets
Disclaimer: I received this product in exchange for a review, however all opinions are my own.
Topic: Jabra Halo Smart Wireless Headset for under $80