The Best FREE Grocery List App is here…introducing Favado!!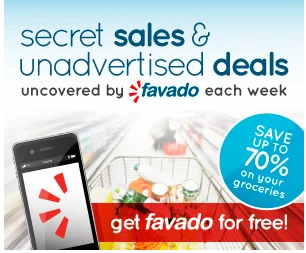 We are one of the first to be able to offer this awesome Grocery List App that will allow you to save 50-70% on your groceries and household expense~
We are honored to have our very own Tops Coupon Matchups in Favado. Yes, those same matchups that you are accustomed to receiving for the last 4 years 🙂
I shop at Tops, Wegmans, Dollar General, Aldi and CVS the most. Even though I am continually finding and posting deals, I get confused about where the best deal is.
The Favado Grocery List Mobile app will help you know where the best deals are at the stores you normally shop at. This app has Nationwide store chains, both regional and national.
First Check out the video below and then make sure to sign up right away to be one of the first to use the app! Then share our post link with all your friends via Facebook and Twitter and tell them how easy it will be to save!!
Here is how it works:
1) JUST SUBMIT YOUR EMAIL ADDRESS here
2) you will receive an email verifying your email address.
3) Once you receive your verification email, go to the app store on iphone or andriod market and download the app!
4) You are now on your way to saving 50-70% on groceries from your MOBILE PHONE!!
Detailed Favado Grocery List App Features
Favado is a mobile savings app that helps shoppers stop overspending by notifying them when their favorite items are on sale. Favado's money saving experts hand select sales and coupons every week — for more than 65,000 grocery and drugstores nationwide. Favado helps you discover of the best deals at your local stores, for savings up to 70% on everyday items.
Favado's Features include…
1. Price Comparisons for Best Deals at Your Local Stores
2. Search for Deals on What You Need
3. Personalize the Deals You Want to See, So You Never Miss a Deal on Products You Love
4. Shopping List with Available Coupons & Sharing Options
5. Complete Sale Details, including Sale Prices & Available Coupons that Reveal Deepest Discount
6. Hand Selected Sale Information, Inputted Weekly by Top Grocery Store Experts
In order to print coupons that are available, you must email the shopping list from Favado to yourself. It only takes a second and then you can email the list and print the coupons right from your email!!
Please let us know what you think of the new Favado Grocery List Technology!!

Topic: Grocery List