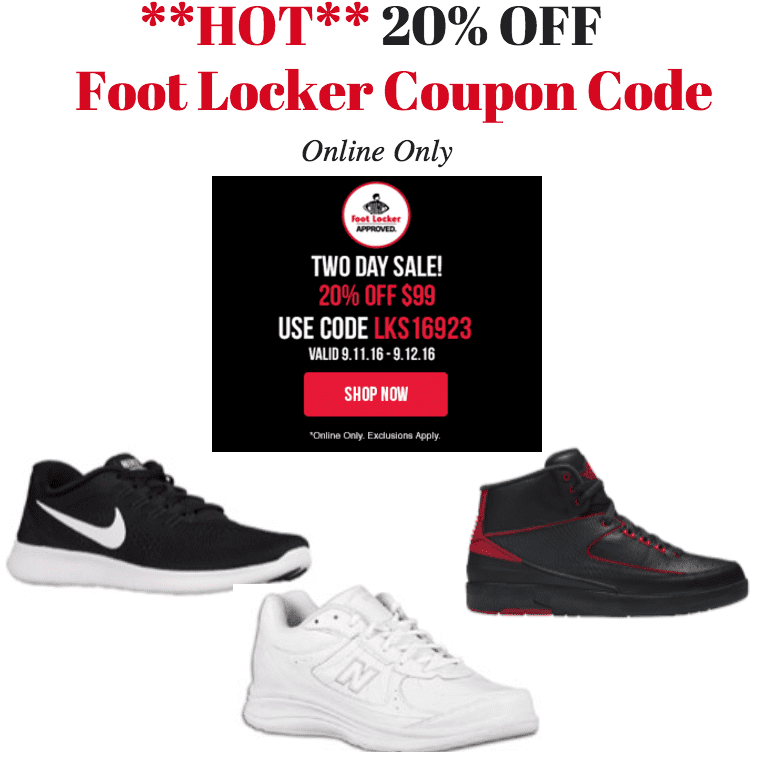 Use this 20% off Foot Locker Coupon Code before it expires!!
Our family is very active in sports and outdoors activities. All of our boys have played baseball, basketball and football throughout their high school years. For a family of 6, this was always a challenge to keep them in the right sized equipment and sneakers for all of their activities. Different spikes and sneakers for each sport too!! It's was very hard to stay on budget and a 20% off coupon code is hard to come buy so shop Foot Locker here now to help your family sae money!!
Even today my husband and I play volleyball and walk when ever we can so I have to have a good pair of sneakers for support.
How I save everyday on Retail Purchases
Thankfully, with companies like Foot Locker, I am usually able to find a great coupon code or deal in order to help ease the expense of raising an active family. I will not buy retail products without coupons and or a sale. I use Savings.com to look for the most current coupons and sales before I buy anything!!
Right now for 2 days only, use this Foot Locker Coupon Code, LKS16923 to save 20% on a $99 order!
Almost all of our boys have had Jordan brand sneakers for basketball and you can get a great deal on the Jordan Retro 2 with this coupon matched with the Foot Locker sale. You can get these $189 sneakers for $143!

Another great deal for an everyday sneaker for women are the Nike Free RN that sells for $99.99. Some Nike are exluded from this using this coupon code but you can apply the coupon code for these and get them for $79.99!!

Another great everyday shoe for men are the New Balance 577 for $69.99. Our kids call these "dad" sneakers but thats becuase they fit well, are wide, and are plain white to be worn with just about anything!! After 20% coupon (must have total $99 purchase) you can get these for $55.99!!

Shop with Foot Locker Coupon Code here and make sure to use coupon code LKS16923 for 20% off $99 order!!! Ends 9/12 so hurry!!