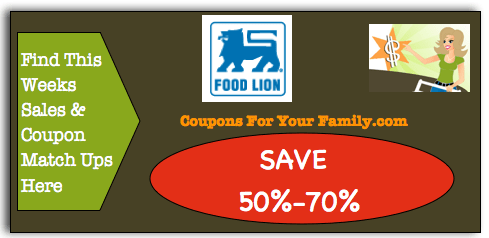 Here are this weeks TOP Food Lion 3 Day Sale Oct 2 – 4
** to view the entire list of this weeks matchups head over to see the new Food Lion Coupon Matchups page.
We are now using a new coupon matchup program to help make your sales and coupon shopping even easier. This system will allow you to see all the items on sale and check of the items you want plus be able to add custom items on your list!
Make sure to bookmark this link- Food Lion Coupon Matchup in your web browser for quick reference!
If you are new here, check out the Coupon Abbreviation page to become familiar with Coupon Lingo and our How To Save Money Using Coupons page
Don't forget to check Coupons.com, SmartSource, RedPlum, Hopster.com, and Common Kindness, Shopmium, and Checkout51 for new coupons that came out after these coupon matchups were completed.
Quick Facts regarding Shopping at Food Lion:
– Food Lion Coupon Policy
-BOGO items ring up half price, so you only need to buy one.
-Only one Food Lion Internet Printable (FLIP) for the same item per transaction. A FLIP may be stacked with a manufacturer's coupon.
-Sign-up for the Shopper's Companion to get FLIPs sent to your inbox.
B1G1 Sale Prices Based on Purchasing a Single Item
Nabisco Chips Ahoy! Cookies, 9.5 – 13 oz
Limit 2 Free
Pepsi Products, 2 L – $0.79
Limit 4
General Mills Cheerios Cereal, 12 – 14 oz – $1.79
$1.00/2 General Mills Cheerios Cereal – 9-13-15 SS (exp. 10/25/15)
Final Price: $1.29
General Mills Honey Nut Cheerios Cereal, 12 – 14 oz – $1.79
$1.00/3 General Mills Cereals – 9-27-15 SS; Includes Cheerios, Cinnamon Toast Crunch, Chex, Lucky Charms, Cocoa Puffs, Trix, Reese's Puffs, Fiber One, Cookie Crisp, Golden Grahams, Kix, Total, Wheaties, Dora the Explorer, Hershey's Cookies n Creme, SpongeBob SquarePants, Oatmeal Crisp, Raisin Nut Bran, Basic 4 or Star Wars (exp. 11/07/15)
Final Price: $1.46
Margaret Holmes Canned Vegetables, 14.5 – 15 oz – $0.50
Bounty Paper Towels, 8 Large Rolls – $7.99
Final Price: $7.74
Charmin Ultra Bath Tissue, 16 Dbl Rolls – $7.99
Out-of-Pocket Price: $7.49
Final Price: $7.14
Charmin Ultra Bath Tissue, 8 mega rolls – $7.99
Out-of-Pocket Price: $7.49
Final Price: $7.14

Aldi Weekly Sales| CVS Coupons | Dollar General Coupons | Dollar Tree | Family Dollar Coupons | Food Lion Coupon | Giant Coupons | Giant Eagle Match-ups | Kinney Drugs Coupons | Kmart Coupons | Kroger Coupons | Martins Coupons |Meijer Coupons | Organic Coupons | Pathmark Coupons | Price Chopper Coupons | Publix Coupons | Rite Aid Coupons | Save A Lot Coupons |Shop and Save Coupons | Shop For Free List | ShopRite Coupons |Target Coupons | Tops Coupon | Walgreens Coupons |Walmart Coupons | Wegmans Coupons
Topic: Food Lion 3 Day Sale

[favado_my_list]