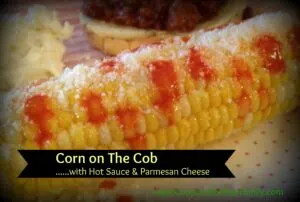 Try one of our Favorite Summer Recipes: Corn on the Cob with Hot Sauce & Parmesan Cheese!
Now don't laugh until you try it!I have always liked Corn on the Cob but it was not on my "Must Have" list. One of my friends insisted I try this many years back and all I can say is WOW!This combination of the butter, corn, Franks Hot Sauce and parmesan cheese is addicting! The hot sauce gives it just enough kick for flavor while adding the butter and parmesan cheese is just very flavorful! Now we usually have Fresh Corn on the Cob with Franks Hot Sauce and Parmesan cheese once a week in the Summer.This is a very inexpensive side dish for any meal! You can get Corn on the Cob for as low as $.33 an ear at most grocery stores/farmers markets, Franks Hot Sauce for $.50 or less with sales and coupons, Parmesan Cheese at Aldi for $2.79-$2.99. [seo_recipe id="118266″]
Make sure to share one of your Favorite Summer Recipes in the comments below!
This post can also be seen in the following Link Parties! Check out some of the other great Recipes, Frugal Tips and Crafts!See more DIY projects and crafts, and other ways to save:The Shabby NestLiving Well Spending Less Thrifty ThursdayThrifty Ideas To InspireMadame Deals Friday FavoritesA Life In Balance: Fabulously Frugal Thursday and Motivation MondayMade From Pinterest: Super Saturday LinkyBlissful and Domestic Feature FridayBack2Basics: Friday with a TwistTopic: Summer Recipes: Corn on the Cob