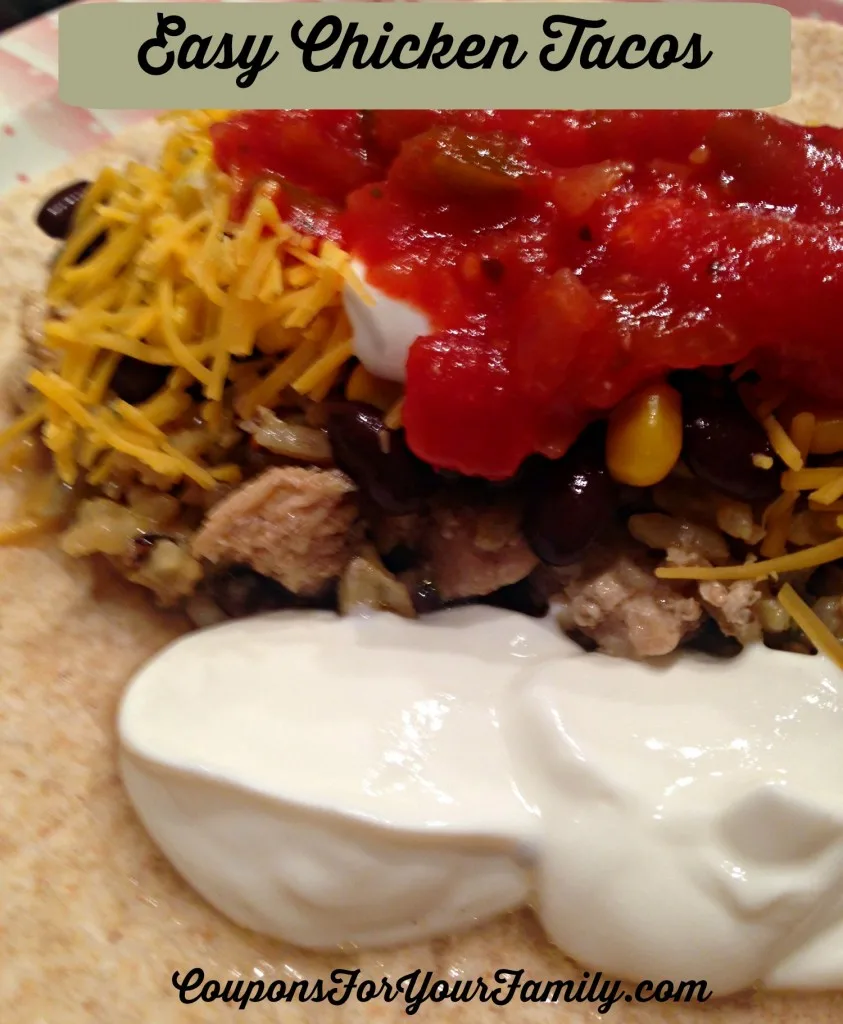 These Easy Chicken Tacos are my favorite choice of a quick and inexpensive meal to serve to my family!
There are a few reasons I like these so much! I always have chicken in the freezer, lettuce, tomato and cheese in the fridge and I am usually able to find a deal on tortilla shells easily so I almost always have those too!
With the way our household is with the kids working and going to college, there is always someone that is not at the dinner table. Chicken Tacos are something any of my boys can heat up and make in 5 minutes AND its a healthier option than frozen or processed foods.
Ingredients:
4-6 Boneless Chicken Breasts
Hard Taco Shells or Soft Burrito Shells
Tomatoes
Lettuce
Shredded Cheese
Black Beans
Corn
Beans
Sour Cream
Taco Sauce
Salsa
Instructions:
Cut chicken in cubes
Cook chicken on stove in frying pan in butter and minced garlic for a little flavor until all pink is gone
If chicken is frozen, you can still cook in pan frozen and as cooking, remove chicken and cut into smaller pieces
You can also use our [Crockport Chicken Method here](https://couponsforyourfamily.com/shredded-crockpot-chicken)
Cut tomatoes, lettuce and serve with shredded cheese and numerous options of beans, corn, peppers or whatever your family likes
Wrap items in tortilla and microwave for 10 seconds and serve
The main cost of this meal is the chicken but the chicken goes a far way with all of the rest of the inexpensive ingredients that I have gotten close to free using sales and coupons. My ideal price for chicken is $1.49-$1.79lb and I load up my freezer when lower than $1.59lb. I can usually make these tacos for approximately $12 for 6 of us which is only $2 per person!
Check for coupons on tortillas, cheese, taco sauce, beans, sour cream and more in our coupon database here!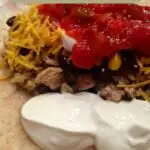 Chicken Tacos are an inexpensive quick way to feed your family! For those that do not like the shells, make into a Chicken Taco Salad!
Servings

Prep Time

12

servings

10

minutes
Servings

Prep Time

12

servings

10

minutes
Chicken Tacos are an inexpensive quick way to feed your family! For those that do not like the shells, make into a Chicken Taco Salad!

Servings

Prep Time

12

servings

10

minutes

Servings

Prep Time

12

servings

10

minutes
Cut chicken in small cubes

Cook chicken on stove in frying pan in butter ( or water for healthier option) and minced garlic for a little flavor until all pink is gone

If chicken is frozen, you can still cook in pan frozen and as cooking, remove chicken and cut into smaller pieces. Add back to skillet to complete cooking

You can also use our [Crockport Chicken Method here](https://www.couponsforyourfamily.com/shredded-crockpot-chicken/)

Cut tomatoes, lettuce and serve with shredded cheese and numerous options of beans, corn, peppers or whatever your family likes

Wrap desired items in tortilla and microwave for 10 seconds and serve