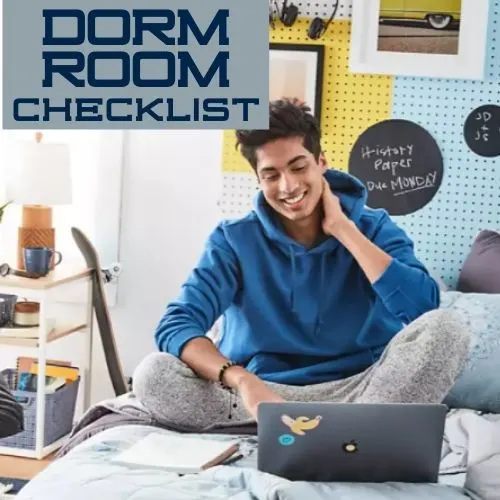 Share this Dorm Room Ideas CheckList with those heading off to college this year!
I put together this Dorm Room Checklist when my son went off to college. I added items for girls also so that any College Student can use this as a guideline as they are packing up to head off to the next step in their lives! You can great Dorm room ideas on Bed Bath & Beyond here
Many students realize they need some of these items once they get there so even if you think you are done shopping, take a look at the list!
Good Luck to all the College Freshman!
College Dorm School Supplies
calculator
computer
desk lamp
ethernet cord
extension cord
headphones
memory stick
pencil holder
pens/pencils
plain envelopes
power strip
scissors
stamps
stapler
white out
extra printer ink
hole punch
pencil sharpener
printer
printer paper
backpack

Dorm Room Organization
bed lifts (for creating storage or desk space under your bed)
bulletin board with push pins for hanging flyers, contact numbers, schedules, etc.
calendar
storage bins
under-bed boxes
over the door hooks
Tools and Emergency Supplies
Miscellaneous Necessities
batteries
duct tape
flashlight
basic toolkit with hammer and screwdriver
sewing kit
tape
ace bandage
band-aids
cold medicine
cotton balls
cough drops
hydrogen peroxide
Imodium
nail clippers
nail file
Neosporin
pain reliever
Pepto Bismol
Q-Tips
tweezers
vitamin c

Personal Items Dorm Checklist
bath towels
hand towels
wash cloths
shower flip flops
traveling soap container
shower caddy/basket
comb/brush
curling iron/straightener
hair care products
hair dryer
shower gel/soap
shaving cream
razor
face soap
facial moisturizer
deodorant
lotion
toothbrush
toothpaste
dental floss
trash bags
trash can
laundry bag/basket
laundry detergent
all purpose cleaner
2 pillows
2 sets of sheets
alarm clock
bedside lamp
comforter
fan
tissues
Dorm Life Entertainment
dvd player
television
camera
iPod dock
mp3 player
mini fridge
microwave
water bottle
coffee maker
Download a PDF of this Dorm Room checklist here:
Dorm Room Checklist

Forget some Dorm Room Checklist Items?

Amazon Dorm Room Items

Walmart.com
Target.com
Bed Bath & Beyond
How much easier can it be to save everyday?
Join our Facebook Groups to see more deals like these:
Couponing to Cut Your Grocery Bill
Couponing at CVS, Walgreens and RiteAid
Couponing at Walmart, Target and Kmart
Sears and Kmart Steals & Deals
Printable CouponsForFree FB Group
Freebies, Cheap Deals, Giveaways and Sweeps