DIY Chalkboard Projects are so unique and modern looking and you can do them very inexpensively!
I am a huge fan of Pottery Barn but most items are out of my budget! I did end up buying lighting and some organizational boards from them but more about how I did that on a budget later!
SO anyhow ….. I saw this "Lifes Recipe" sign and chalkboard and wanted it back in 2011: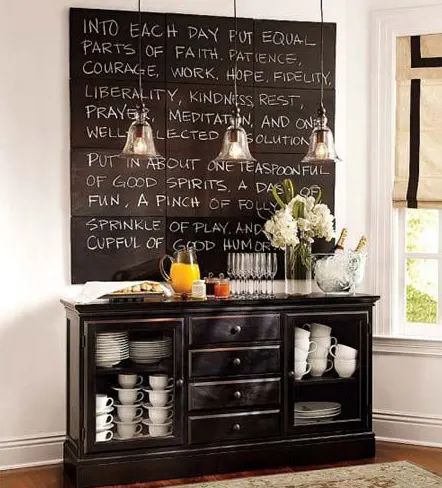 I could not afford to spend over $300 to buy this exact size (3 packages of (4) Chalkboard Tiles so I put my thinking cap on and came up with a solution under $5!
I originally used a flat cardboard box to make this because thats all I had, but I have since upgraded to a piece of thin laminated board !
Steps to Decorate with DIY Chalkboard Projects:
1) Find a stiff material you have around the house that is the size of the sign you want to make. There are numerous items you already have that would work, even cardboard or heavy packaging materials. You can also visit a local wallpaper store or flooring store and ask for a panel on a discontinued sample, etc (these normally are just thrown out). One of my local flooring stores gave me a thin piece of laminated board for my 2nd version of the "Lifes Recipe". Cost = FREE
2) Grab a can of Rustoleum Chalkboard Spray Paint and paint your sign platform. Allow to dry for 3-4 hours. Cost= $3-4
3) Grab a piece of chalk and write your favorite quote or make a family calendar, menu plan or place for notes! Cost= under $1 for full box!
4) Drill or cut 2 holes in the sign and add rope or string that you have in your house to hang your masterpiece on your wall! Cost= FREE
We just moved to a house on Lake Erie so I also added a "Welcome to the Lake" at the top for guests to see when they walk in our home: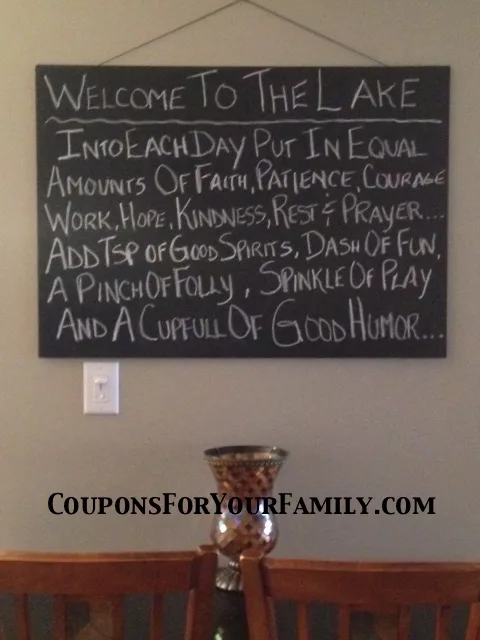 And here is a close up so you can make your own Lifes Recipe Chalkboard Sign!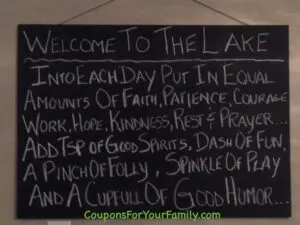 If you are not at all crafty and you would still like a Chalkboard Decoration, here are some options you can buy and add your own quote:
Walmart: McCall Wallies Peel and Stick Vinyl Panels, pack of 4 $13.99
Amazon: WallCandy Arts Chalkboard Panel Wall Decal Kit $43.77
Home Depot: Buy an unframed Chalkboard for $9.97
Topic: DIY Chalkboard Projects