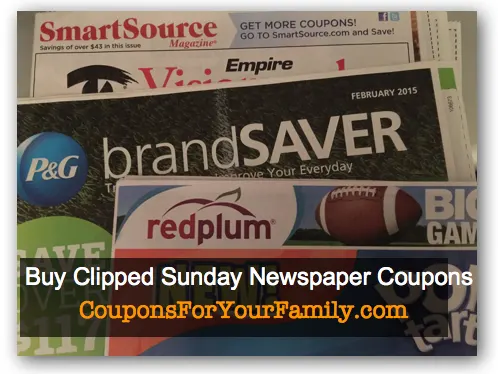 You can Buy Coupons that are coming in Sunday Inserts June 28 plus enter to win $5 in Clipped Coupons from Klip2Save!
We received 2 inserts this week –(1) RedPlum and (1) SmartSource Insert. Coupon Inserts are Regional so all areas will differ on the actual coupons and the values. It is sometimes better to buy coupons from a Clipping Service to maximize your savings and stock up on products your family uses often.
It is sometimes better to buy coupons, like a $.75/1 coupon from this preview, rather than a $1/2 that come in our Buffalo paper because the $.75/1 coupons will double at Tops and Wegmans. Then if an item is on sale for $2 you will only pay $.50 versus $1.50. You can also buy multiples of one coupon to get a stockpile of items your household uses. This is where you really begin to cut your grocery bill in half!
Starting this week, we will be giving away (5) $5 clipped coupon credits at Klip2save.com every week thru the end of July!!

Thats $25 in coupons every week!


Facts about the giveaway:
1) Join our Couponing to Cut Your Grocery bill Facebook Group here
2) Each week there will be a new pinned post labeled- Weekly Deal Share – Coupon Giveaway Post– in our Facebook Group
3) Share a Store Deal with coupon info that is not in our weekly matchups in the comments of the Facebook Group post. You would need to list the store name, sale price, coupon to be used and final price or you can share your Shopping Trip Picture with breakdown!
4) You can enter as many deals as you would like but please note deals that are already in our matchups will be deleted and will not qualify as an entry! Please enter different deals or Shopping Pic trips on a new comment line or they will only count as one entry.

Example: Dollar General Deal: Alpo Dog Variety Snaps 16 oz everyday price $2, use $1/1 coupon from 4/26 SS insert= Final Deal $1 box

This weeks Giveaway will run from Sunday June 28 9:30pm through Monday June 29 at midnight.
We will announce the (5) winners that will receive a $5 Gift Certificate on Tuesday June 30. This giveaway is sponsored by Klip2Save.com and CouponsForYourFamily.com. Klip2save is offering the credit in exchange for me running the giveaways! Winners will be chosen using Random Org and receive an email from CouponsForYourFamily with a $5 Gift Card Certificate Number to be entered online at Klip2Save.com. The certificate does not all have to be used at once!!

Remember all entries are in our Couponing to Cut Your Grocery Bill Group only…not on this post!

Good Luck and Join the fun here–> Couponing to Cut Your Grocery Bill
If I am able to get the Buffalo News Coupons early I will post the entire list here so you know what values we are getting– Buffalo News Coupon Inserts
Each coupon clipper has different values depending on the region they receive coupons from. If I can't find my value at Klip2Save, then I try to use one of these services: My Coupon Hunter, Jacks Coupons, Ebay, Coupon Clippers, and Coupons By Dede
This weeks hot coupons to buy for Tops Deals:
$1/4 Yo Crunch Cups exp 9/15
$1/1 Hellmanns Mayo exp 7/19
$0.50/1 Hefty Slider Bags 12ct+ exp 8/31
$0.25/1 Ajax Dish Liquid 25oz+ or Auto Dish Pacs exp 7/18
Don't forget to check the printable coupons that are available also:
This is the NATIONAL Sunday Coupon preview of what will be in Sunday Newspapers around the country.
**my favorites are highlighted in red (note there is a Kmart Double Coupon Event coming in July so look for $2/1 coupons you could use)
RedPlum National Preview 6/28
SmartSource National Preview 6/28
The coupons in this Sunday Coupon Preview will be added into our Coupon Database!!
New to Couponing?
Make sure to check out the following links to get you organized and saving money:
How To Use our Site & Learn to Save Everyday
10 Tips to Saving 50% with Coupons
How to Start Using Coupons and Saving $
How to Shop For FREE & use the Weekly Store Matchups & Printable Lists
Searching for Coupons on Your own Grocery List
Get more coupons below:
Coupons.com
Kelloggs Coupons
Hopster Coupons
PrintableCoupons For FREE
Common Kindness coupons
Coupons and Savings
SavingStar e-Coupons
Cellfire e-Coupons
Ibotta Cash Back Offers
Sign up for Shopmium and get Free Candy Bar and Special Local offers
Checkout51- get cash back for purchases at any store
____________________________________________________________________________________________________
Download Coupons to your Store Loyalty Card