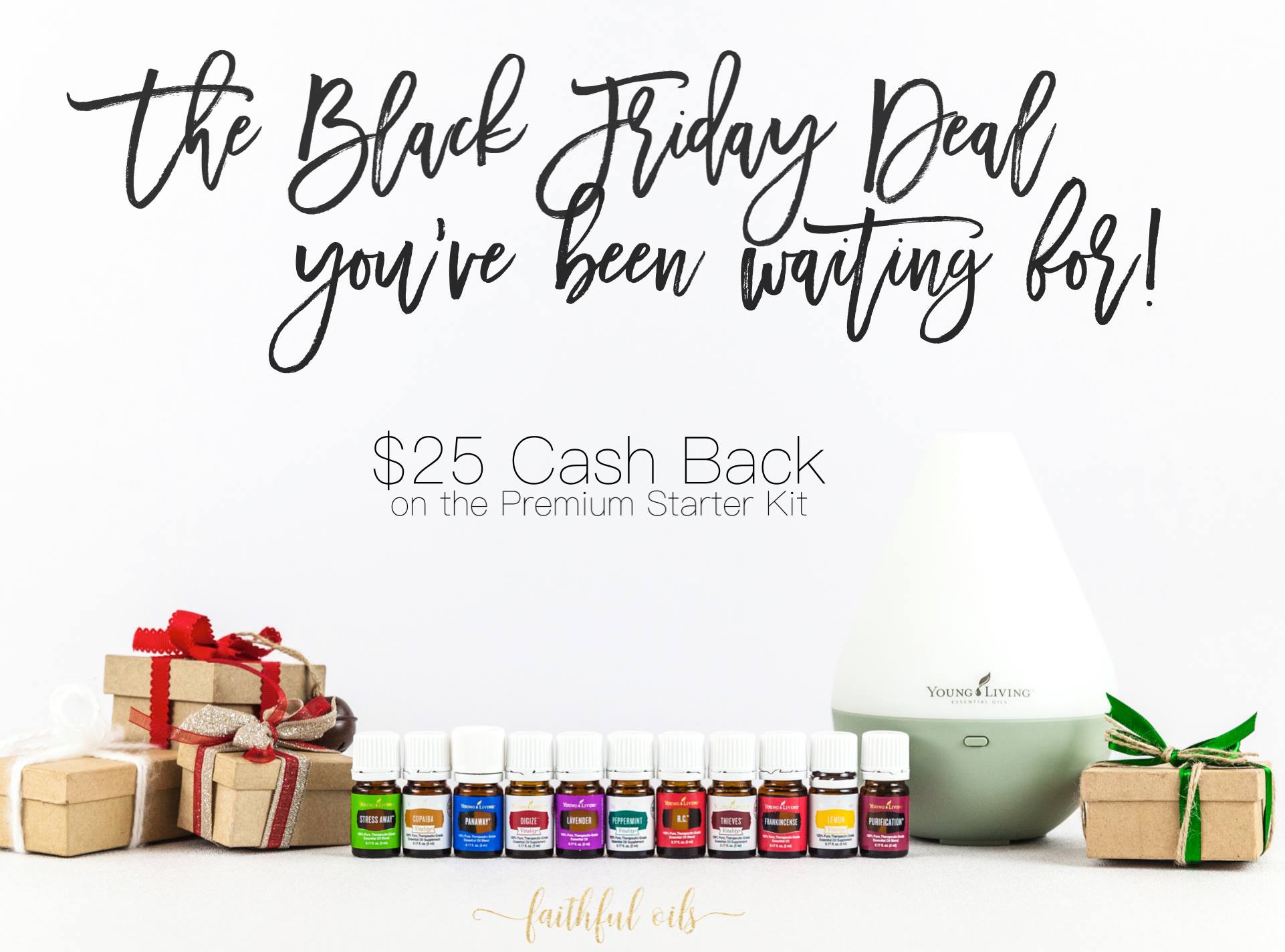 Check out this Cyber Weekend Special for the Best Essential Oils Premium Starter Kit!!
Before I give you the DEAL on this kit, I just want to preface it with this: I have been using Young Living Essential Oils for 3 years and by my friends and family seeing me use the oils and my results in changing my lifestyle to a more chemical free one, I have begun to share more in everyday conversations and on the site to help other families benefit. I am not going to get into a huge debate of which brand oils are best. This is just my own personal reasons why I chose Young Living.
I have chosen Young Living for the following reasons:
1) Founded in 1993, with headquarters across the world, Young Living has grown to become a world leader in essential oils. I have tried other essential oils and can tell even by the smell they are not the same quality as Young Living so I chose to go with the world leader. Read more regarding Essential Oils here
2) Quality Control and Standards– they guarantee a Young Living Therapeutic Grade standard, which preserves the integrity and potency of natural essential oils. The thing that sold me on Young Living was that they control their product right from the very botanical seeds; cultivating, harvesting and distilling many of their essential oils right on their own farms across the world. This gives Young Living the unique ability to verify their quality standards at every step of the process which is Young Living's proprietary Seed to Seal production process.
3) Essential Rewards: Save money through monthly specials and the ability to earn free oils. I purchased and used Young Living Essential Oils for 2 1/2 years before sharing them with my readers. I wanted to make sure that there really was a cost savings as upfront it doesn't seem like there is. Over these 3 years, I have spent less money at the dentist, at the pharmacy, at the drugstore, at the doctor, and in everyday household products just to name a few… and all from using Young Living Essential Oils!
There is an oil for everything! I make my own household cleaning products, perfumes, use essential oils for overall well-being and tons more. You can learn more about Using Essential Oils post here. The largest question I get is how do you learn all of this and how to use them?? 2 ways: Member only facebook group and by searching pinterest and google.
SO with all that said if you have been wanting to try essential oils and have a community to help you learn how to use them, then NOW is the time to try with this great deal!!

Here is the deal for the Young Living Essential Oils Premium Starter kit and just a few ways I use them:
Right now you can get 11 bottles of oils for net cost of $135 plus tax and shipping plus FREE diffuser and NingXia Red natural energy drink samples!!
Here is what you get in your Young Living Premium starter kit:
-Free Diffuser
-Lavender 5-ml (calmness, minor burns, stress relief, insomnia)
-Peppermint Vitality™ 5-ml (congestion, head/neck tension, nausea, on tongue for fresh breath)
-Lemon Vitality™ 5-ml (add daily to your water to help detox your system, air freshener, calming)
-Copaiba Vitality™ 5-ml (promotes wellness, boosts all other oils blended with)
-Frankincense 5-ml (smooth appearance of healthy looking skin, massage)
-Thieves® Vitality™ 5-ml (boost overall immunity, ingest, diffuse, topically)
-Purification® 5-ml (cuts, scrapes, removed odors from the air when diffused)
-R.C.™ 5-ml (blend of 3 types Eucylptus oils, allergy and sinus support)
-DiGize™ Vitality™ 5-ml (upset stomach, aids digestion)
-PanAway® 5-ml (sore muscles, stimulate your senses)
-Stress Away™ 5-ml (stress, anxiousness, calming)
-AromaGlide™ Roller Fitment
-10 Sample Packets
-10 Love It? Share It! Sample Business Cards
-10 Love It? Share It! Sample/To Go Oil Bottles
-2 NingXia Red® 2-oz. samples
-Product Guide and Product Price List
-Essential Oil Magazine
-Essential Edge
-Member Resources
PLUS access to our Facebook Group where thousands of others are sharing ideas and uses for an overall better wellness routine and lifestyle!!
Total Value = over $300
You Pay: $160 plus tax and shipping– That's Huge Savings!
PLUS I send you a $25 amazon or Paypal EGift Card once registered!!
NET COST= $135 for kit without tax and shipping
Remember the best part: once you've purchased the kit, you automatically become a wholesale member which entitles you to 24% off all future purchases from Young Living! There are NO monthly minimums or fees. Plus the Young Living line has Vitality line of oils that can be ingested for a superior wellness routine!
How To Get Started
1) Click HERE to order your Premium Starter Kit so you can start using essential oils
2) Select "Sign up as: Young Living Wholesale Member" – which will allow you to purchase the Premium Starter Kit – otherwise you will be paying full retail prices. You are NOT obligated to make any further purchases after this other than $50 per year- thats just coule bottles of your favorite oils! Wholesale membership simply allows you to buy the Premium Starter Kit at a huge discount rather than retail.
3) Be sure the "sponsor ID" and "enroller id" say 2029850 (so that I can send you your free $25 cashback through Amazon/Paypal giftcard AND link to our essential oils learning group!)
4) Select your Premium Kit order with either the Dew Drop or Home diffuser which is included in the $160 premium kit. You can also order larger diffusers here for an extra charge if you would like
5) Optional: sign up for Essential Rewards (ER). When you join ER, you'll start accumulating rewards points for everything you buy monthly, which can be used to get free products on future orders. There's no need to join right away. You can purchase your Starter Pack first and join the ER club later if you prefer. This is another way to get 10-20% additional savings once you are comfortable choosing new oils for your collection
6) Fill out your name, billing address, shipping address, and contact information.
7) Create a password and PIN. This will allow you to log in to your account and order any future oils.
8) Commission processing: If you would like to become a distributor of Young Living and get compensated for helping your friends get the Premium starter Kit, enter your social security number. If you are not interested, choose individual without social security number.
9) Agree to the Terms & Conditions.
10) CONFIRM YOUR ORDER- make sure to do this final step!!
11) Look for a welcome email from me (denise.caggiano.oils (at) gmail.com) within 24 hours. This will be a welcome email with a link to our Faithful Oils Facebook group with 1000's of other members sharing how they use oils and for what AND to let you know I will be sending out your FREE $25 for registering!
$25 Cash back Sale ends Cyber Monday Nov 27th at Midnight!!
Want to learn more? We will be posting ideas for using Essential Oils so make sure to sign up for our Essential Oil Newsletter here
(if you already subscribe to our daily newsletter for deals the Oil Uses will be included there also but I know some only want the oil info not the deals )