3 Easy Ways to Earn FREE Gift Cards and Free Points Online
See how you can pay for your Christmas this year using FREE MONEY!!
It's never been easier to earn online than it is right now!! You can use these programs throughout the year to either save up for the holidays or just to get things you need for FREE!
Retailers, shopping engines want your opinions and want your business. Get rewarded for a little time by using these 3 easy programs!
I do not recommend programs like these unless I personally use them myself so they are safe!!!
Here are quick reference links for easy sign up:

Sign up for Dealspotr– earn Amazon Gift Cards
Sign up for ShopYourWay– earn points to shop for free
Sign up for Swagbucks– earn variety of store Gift Cards, your choice
Here are the details on how to earn!!!

1) Earn Free Gift Cards by sharing deals:
There is a new saving community out called Dealspotr.com!! I am an Ambassador of Savings over in the Dealspotr.com community and I have already earned $5 Amazon Gift Card in the first week! Plus I am able to see some great online deals while I am there! All you have to do is share deals and like others deals and you earn KARMA points towards free Amazon Gift Cards! You can earn up to $500 in gift cards!!
Its easy to join and earn:
Join the Dealspotr Community with our exclusive link here and get 200 KARMA points towards your 1st gift card (normally only 50-150 points)!
Fill out your profile and start sharing deals by clicking the "Post a Deal" button. The deals can be in store deals, free coffee deals, coupon codes etc! You can follow others and get KARMA points for liking and sharing too! Plus by following others, your dashboard will be YOUR OWN deal feed by who you follow and like!!
You will see your KARMA start to go up instantly!
If you need help with earning and posting, just comment below and I will answer you back as soon as I can! We have also set up a new Facebook Group for Freebies, Deals and Giveaways here where I can answer questions too!!
Here is a breakdown of how you can earn Amazon gift cards with KARMA points: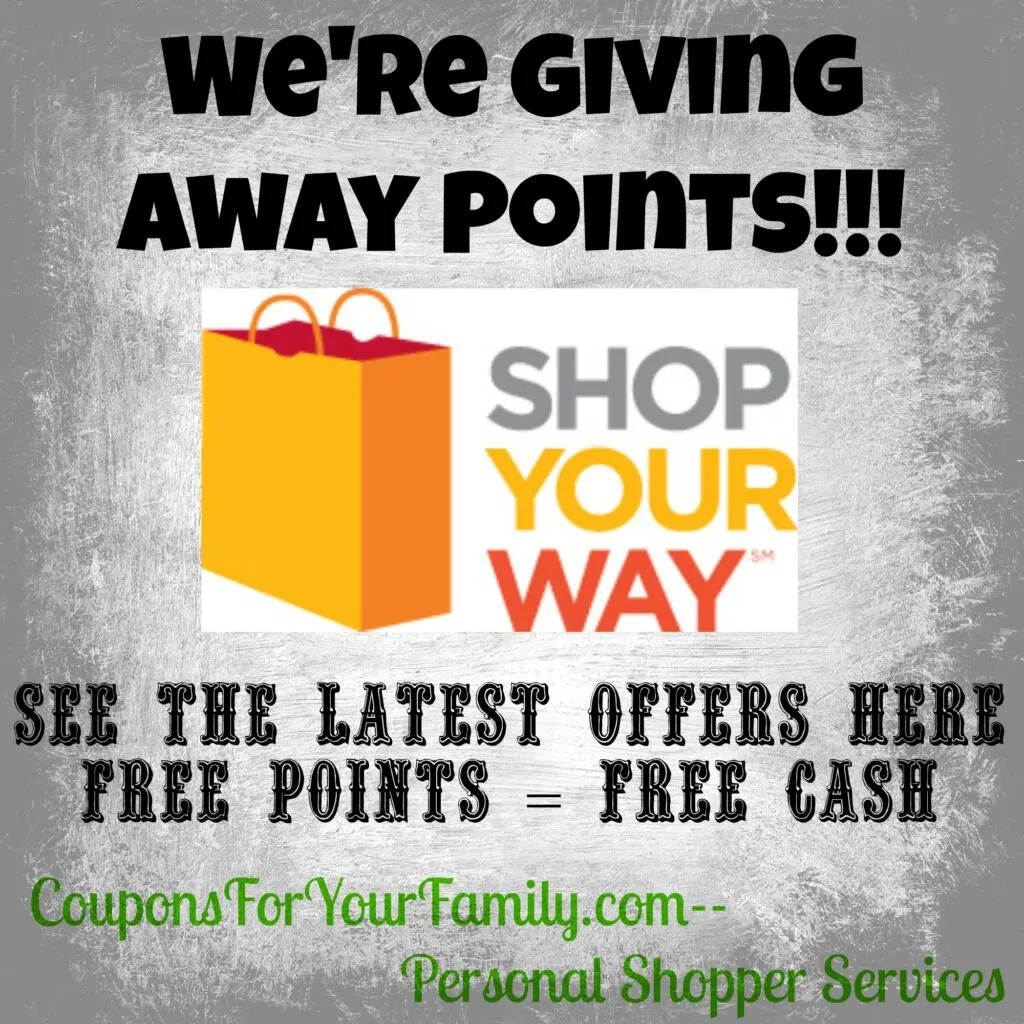 2) Earn Points on Shop Your Way to get Free Items
by Being my Client plus earning Points by Exercising, playing Doorbuster Sweeps and Being active in the Shop Your Way community!!
First sign up to be a Shop Your Way Member and choose me as your Personal Shopper here and you will receive a $5 (5000 points) off $25 purchase at Sears or Kmart with in 24 hours plus a FREE Shop Your Max membership for FREE SHIPPING!!
By being active in the community especially in the Sweeps section and answering surveys, you will begin to earn Points sometimes where no minimum purchase is required. You can then spend your points by shopping thru Shop Your Way and using your Free Shipping or pick up at store! As my client, I will do my best to let you know when there are Free points available
We also send out weekly coupons to our clients, PLUS Shop Your Way has MEMBER ONLY DEALS, where sometimes you get back 100% in points back in what you spend.
RIGHT NOW as of Oct 14, you can get a $10 off $25 purchase by signing up for email notifications here (first time registrants only)
We posted last week how to get FREE CLOTHES using points here! This deal is only good while quantities last!

3) Earn Free Gift Cards by searching the web with SwagBucks!
What IS Swagbucks?
It's the biggest rewards site out there, where you get points/SB for doing things online and turn those into gift cards! They actually just hit $100 million in rewards given out to their members, so this site is the real deal. Want to know how you can join in on the rewards, plus get a bonus that will double your SB?
Here's how it works:
Sign up for Swagbucks here. When you earn 300 SB by Saturday, 10/31, you (and the person who referred you to join) will also get another 300 SB bonus, so your SB will be automatically doubled!
Already a member? Earn your bonus by inviting a friend, and share the tips below to help them get 300 SB! Remember the bonus goes both ways: when you invite a friend and they earn their 300 SB, you BOTH get a 300 SB bonus! It's a win-win for all.
Whether you're brand new and looking to get your bonus, or you just want to spread the word and help friends with their bonus, here are ways that you can earn 300 SB in less than 2 weeks:
Watch a variety of video playlists on your desktop and earn up to 500 SB in just one day. Check out all the different video playlists you want, or spread it out over the course of a week = 300+ SB by Oct 31st
Earn SB on the go with the SBTV app and other Watch apps:
SBTV app: 36 SB per day = 540 SB by Oct 31st
All of the YowGo apps (including IndyMusic.tv, Moviecli.ps, Entertainow, Lifestylz.tv, and Sport.ly) pay out up to 10 SB per day. Choose 3 apps to watch videos on weekdays = 300 SB by Oct 31st
Here's one way to check off a little SB earnings each day:
Daily Poll = 13 SB
Daily Crave = 13 SB
Daily Offers (NOSO) = 26 SB
Use Swagbucks Search and try to get at least 1 Search Win a day = 100 SB
Try out a couple free, quick Special Offers on the homepage or Discover page = 65 SB
Complete at least 3-5 Surveys within the course of 2 weeks = 85 SB
Want to get your 300 SB in one day? Check out the Discover page to see if there's a Special Offer that you're interested in. Many of them earn you more than 300 SB, some even more than 1,000 SB, AND credit instantly. (Terms vary by offer. See specific offer for details.)
Note: the above SB amounts are estimations and can vary. SB amounts are for US members only.
Right now is the best time to join Swagbucks: with the holiday season coming up fast, your 300 SB bonus and earnings can go towards gifts, travel purchases or offset your holiday shopping! Sign up today and use the tips above to guarantee your bonus!
Start earning today:
Sign up for Dealspotr– earn Amazon Gift Cards
Sign up for ShopYourWay– earn points to shop for free
Sign up for Swagbucks– earn variety of store Gift Cards, your choice
With the Holidays around the corner, you may want to join our
Black Friday & Cyber Monday Facebook Page here
And
HOT Online Deals Facebook Group here
Topic: Earn FREE Gift Cards and Free Points Online!!