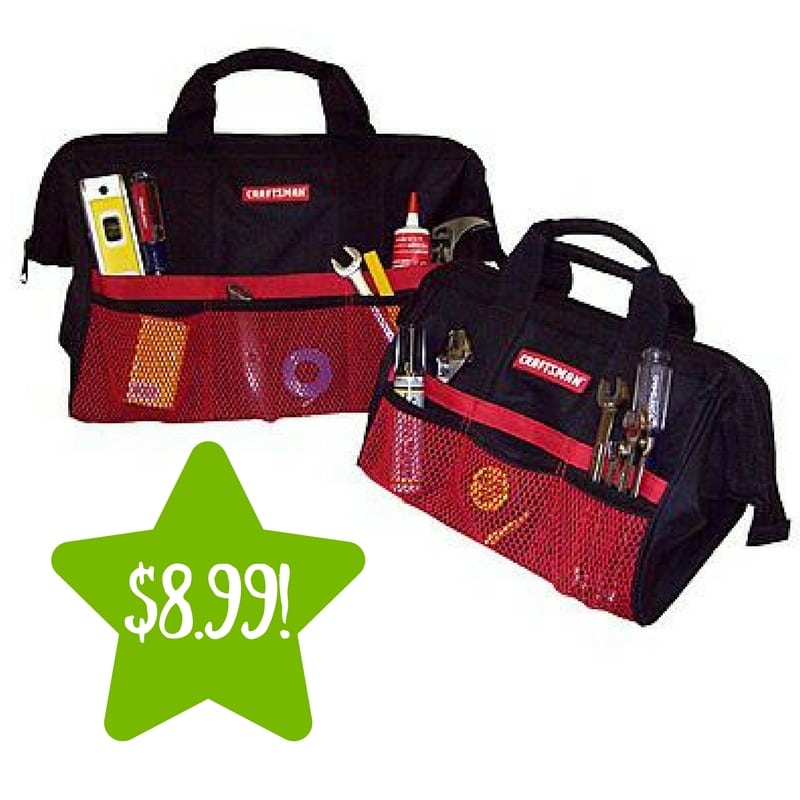 Black Friday Deals / Deals / Holiday Gift Deals / Kmart / National Stores / Online Deals / Resources / Retail Deals / Reward Point Programs / Sears / Shop Your Way Rewards / Stores
Check out the newest deal on a Craftsman 13 in. & 18 in. Tool Bag Combo at Sears !
How to get the best values and deals at Sears:
Become a Shop Your Way member here and choose me as your personal shopper. As your personal shopper I can help you find gifts, deals, share exclusive promotions, send you weekly coupons AND you can contact me directly through text and emails to help you shop!! Plus you'll get 3 months of FREE SYWR Max Shipping if you are a new Shop Your Way member!
Using your Shop Your Way Rewards Card: If shopping online make sure your member number is in your order. Must be scanned to get most deals/rewards at Sears In store. Every 1,000 points is worth $1.00. These are easy to redeem – when you are checking out just say you'd like to pay with the rewards you have on your card. You do not have to use your points if you want to save them up
Wow! Right now at Sears you can get this Craftsman 13 in. & 18 in. Tool Bag Combo for only $8.99! These are a great way to organize your tools. Plus you can get FREE shipping on orders over $30 or you may be able to get FREE in-store pickup.
Nothing's more frustrating than reaching for a tool in the middle of a project and finding it missing, but with the Craftsman 13 in and 18 in Bag Combo, all your tools will be at your fingertips. The oversized zipper tops makes even big tools easy to store and retrieve. The smaller ones are clearly visible when stored in the sturdy mesh pockets on the outside of the bags.
Craftsman 13 in. & 18 in. Tool Bag Combo features:
Craftsman 13 in and 18 in Bag Combo is a great gift for all ages of handymen and handywomen
Large and small sizes accommodate all sizes of hand tools and small power tools
Extra strong zippers and materials won't tear or rip when exposed to sharp edges or pointed ends
Large openings let you see all the contents of the bags instead of groping in darkness for familiar shapes
Mesh pockets are perfect for storing small items such as tapes and fasteners
Bag colors vary by store
Super strong construction ensures years of use without rips or tears

Check out the rest of our Sears Deals here
Find the Best Deals for Holiday shopping in our Groups below:
Kmart and Sears Steals and Deals Facebook Group here
Hot Online Deals Facebook Group here
NEW* Freebies, Cheap Deals, Sweeps and Giveaways Facebook Group here
LIKE our Black Friday and Cyber Monday Deals Page here
Topic: Sears
---