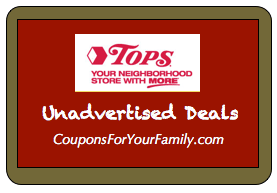 Make sure to checkout out the Unadvertised Deals available at Tops Markets!!
These WNY deals were personally seen at the McKinley Parkway store in Hamburg NY. Please check your stores price before purchasing as all stores are different!
You can add the Tops Markets Unadvertised Deals to your Favado Grocery list right here! If you would like to have me add a deal into the Tops Favado List, please add it in the comments and I will get it added asap to make your grocery shopping as easy as ever and for you to save more!! If you are viewing our site on mobile you will have to go to a desktop version to add to your list or go into the Favado app on your phone and search the item
Thank you for being a reader of CouponsForYourFamily.com and make sure to share with your friends so they can save to!!
Each week I will upload the pics and then work on the list with coupons! I take pics of items I think or know have coupons, B1G1 deals and discontinued items. I have always done this every week I just didnt publish them anywhere!! I am going to attempt to upload them all here every week but if the site starts to have issues I may have to make a private page/forum or post in the Couponing to Cut Your Grocery bill Facebook Group.
Please leave me your comments as to what you would prefer to view the pics. Do you want to be able to discuss and comment in a forum type setting like a facebook group–or a private forum somewhere on the site–or just leave them here like this and update with a list each week??
Pics from Tuesday Aug 11
[favado_my_list]
Topic: Tops Markets Unadvertised Deals