Look at the pleasant surprise for the Tops Markets Ground Beef Meal Deal– its only $3.59lb!!!
I didnt have time to do a complete meal deal comparison like I have done for the Chicken Meal deal or the Pork Meal Deal, but the Ground Beef Meal Deal is always my favorite! And it just got sweeter at $3.59 lb instead of $3.99lb!
The above package of ground beef cost $14.58 and the regular retail cost on the 9 items you are getting for free is $14.50!!! If you compare that Ground Beef cost to Wegmans at $1.99 lb plus the cost of the 9 items you would have to buy, it will be well over the $14.50-$18 cost for all at Tops!! Tops is even less than Aldi on this one!!
Scroll down for Ground Beef Meal Deal Recipes!!
[favado_my_list]
Tops Friendly Markets (12/04-12/10)
Family Meal Deal ~~ Buy 1 Big Pack Ground Beef and get 9 items FREE
Bakery Fresh Italian Bread, 15 – 16 oz
Francesco Rinaldi Pasta Sauce, 23.5 – 24 oz
Beef, Ground, 80% Lean, per lb
RegPrice is usually $3.99 lb= $16-$20 per 4-5lb package $3.59 lb!!!
Fresh Express Shredded Lettuce, 8 oz
McCormick Original Chili Seasoning, 1.25 oz
Includes: Original, Mild or Hot
Tops 6″ Soft Tortilla, 10 oz
Tops Canned Beans, 15.5 oz
Includes: Chili Beans, Dark or Light Red Kidney Beans or Dark Kidney Beans No Salt
Tops Canned Tomatoes, 14.5 – 15 oz
Tops Mexican or Taco Shredded Cheese, 6 – 8 oz
Tops Pasta, 12 – 16 oz
Excludes: Whole Grain, Hidden Vegetable, Lasagna, Kluski and Egg Noodles
Ground Beef Meal Deal Recipe Round Up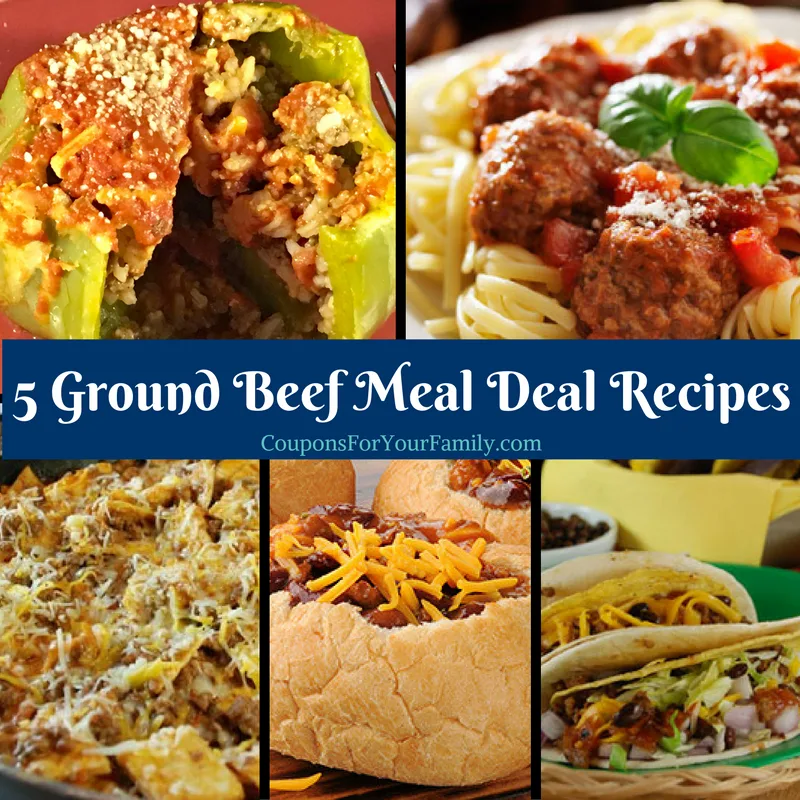 Photo credit #2-#5 TopsMarkets
I just couldnt help but to share 5 EASY and QUICK meals that you can make with this weeks Ground Beef Meal Deal! For as little as $14.58 for a 4.06lb package of Ground Beef you can make 2-4 of these meals –depending on family size! To add some of the extra ingredients would only be about an estimated $5. Thats under $20 for multiple meals!
Click on the links below to get the full recipes to make these meals at home, on a budget and NOT spend the whole night in the kitchen!
1) CouponsForYourFamily Easy Stuffed Pepper Recipe
2)Tops Markets Spaghetti & Meatballs Recipe
3)Tops Markets Beef Taco Skillet Recipe
4)Tops Markets Chili Bowl Recipe
5)Tops Markets Double Wrap Beef Tacos
Would you like to see recipe links and meal suggestions for items on sale every week?? Please let us know in the comments 🙂
Saving money is not always about coupons. Proper Meal Planning and ease of getting the ingredients and less waste all ties into saving time and money

See the rest of this weeks Tops Coupon Matchups here!
How much easier can it be to save everyday?
Join our Facebook Groups to see more deals like these:
Couponing to Cut Your Grocery Bill
Couponing at Tops Markets
Wegmans Coupons & Deals Facebook Group
Couponing at CVS, Walgreens and RiteAid
Couponing at Walmart, Target and Kmart
Sears and Kmart Steals & Deals
Printable CouponsForFree FB Group
Coupons.com Facebook Group
Freebies, Cheap Deals, Giveaways and Sweeps
Extreme Couponing Nationwide Deals
Hot Online Deals