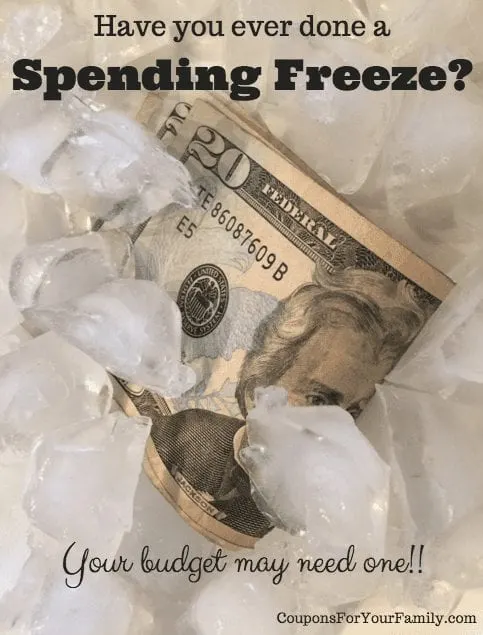 Save your Budget with these Spending Freeze Tips to jump start it in the right direction!
No lie, if I was having problems meeting the needs of my budget/paying my bills, I would bring on an immediate Spending Freeze! I would eat soup or baked potatoes and cut every expenditure out until I could get back on track! I don't know why I am like that, but might be because both of my grandmothers lived through the depression or because both of my parents were raised that way? I need very little to live on BUT my family, on the other hand, does not share my way of thinking! That is one of my goals this year, is to get them on track with me. If you are concerned about budgeting and getting on the right track for the New Year, you may want to start a Spending Freeze of your own to get your budget in line!
What's a spending freeze?
A spending freeze is basically a period of time during which you stop or "freeze" your spending.However, the majority of people can't spend absolutely no money for two weeks. You'll still have to use things that will eventually cost you money such as your electricity, water and vehicle. And you'll still have to get the necessity items that you haven't stocked up on from our money saving Weekly Ad previews such as fresh product and milk, etc. But for the most part, if you have a stockpile of deals in your pantry, freezer and linen closets, you would be surprised how little you will spend!!But for a period of two weeks (or whatever other interval you choose), you won't actively spend any money on other things such as going out, buying unnecessary things, etc. A spending freeze can be an amazing way to re-evaluate financial priorities, appreciate what you have and boost your savings account.
Here's how to start a two-week spending freeze:
Have a destination for your Savings: Whether your funds will go to an emergency fund, toward a debt payment or a large necessary expenditure, make sure to have a place for it to go so you do not spend frivolously!
Look through your freezer, fridge and pantry. As I mentioned, if you follow our site, you should have a good stock up of items and can plan meals for the two weeks, and stock up on what you'll need to make them. You could set aside a small amount of cash to purchase fresh items, like fruits and veggies, halfway through. My plan this year, is to try and help my readers in other ways than couponing through ways of less waste, frugal recipes, time saving organization methods and whatever else I can think of that I do in my life, that may help you!
Clean and Organize your linen closet or pantries. Check your inventories of other essentials ( toilet paper, toothpaste, etc.) which you should also have enough of from the freebies we publish every week, but by organizing you may find some hidden items you didn't know you had!
Fill your tank up with gas. If you drive a lot of miles, you may want to get an extra gas can or two full if you absolutely must use more than a tank over two weeks, and
Pre-pay any bills that will be due during your spending freeze
Stop spending money for two weeks. For me, here is what I have done in the past: 1) that means no trips to the grocery store other than Aldi for milk and produce. 2) Make a Meal Plan for 2 weeks and do with what I have 3) Do a run through with the family to see exactly what they may need for school etc BEFORE the freeze starts. 4) Absolutely no going out for dinner or drinks. If we want to do something to get out of the house, we go to our house in the country and enjoy nature and each others company or invite friends over for cards or a small get together . 5) Do not use a credit card or debit card for anything. Do without. 6) Don't tempt yourself by going into any store or shopping online. The only time I have tempted myself, is when I had $40 in Shop Your Way Points to spend that had to be used as they are like cash. I made sure I only spent what was already coming to me. Not a penny more. 7) I always work more hours at my day job or on the site to make more money also. My mind is always clearer and I am more focused so I always do better at both during a Spending Freeze! Do a spending freeze will give you a sense of control like you will never know until you experience it!
Spending Freeze Tips & Why to do It
1. Jump start your savings. This is the most important Spending Freeze Tip. Doing a spending freeze allows you to easily see how much extra money you spend on unnecessary items every week. You will be able to put it all the extra cash toward one of your financial goals. Many families save hundreds of dollars with this method in just a couple weeks! But even $50 or $100 is worth it, especially if your spending freeze also helps change long-term financial habits.2. Get your budget on track. A spending freeze will tell you just where you've been overspending on the fringes such as daily latte's, happy hour after work, eating out or shopping binges. Understanding where you've been overspending is a great way to take control of your budget for the future and is powerful information you need to know to get your budget in check!3. Train yourself to not be an impulse buyer. Reinforce the difference between wants and needs. Getting in the habit of training your mind to wait to make a purchase is very powerful and your willpower will build up the more you use it. After your 2 week spending freeze, it will be easier to resist impulse purchases.4. Shop your pantry. Another great way to cut back on grocery spending is utilizing what you have on hand. Being forced to live on what's available for two weeks can get you in the habit of utilizing your pantry and getting creative with ingredients you have readily available. Be creative and try some new ingredients in recipes if you are missing an item! Learning to cook with only items in your cupboard rather than running to the store for the missing ingredient is a fabulous way to cut back on grocery spending and a great habit to start!5. Schedule Free and Fun Stuff to Do and focus on what's really important. When you aren't spending money on "things", your life gets a little more focused and you tend to spend more quality time with the people you love. For example, instead of going out for an expensive dinner, you could have a potluck with friends or family Or instead of spending money on a movie, you could get into the habit of reading good books from the library or even start a tradition of family game nights!Regardless of how much you save, a spending freeze will more than likely put you in a more thoughtful and grateful frame of mind, which has consequences far beyond your checking account! I like to do some form of a spending freeze every year just to keep myself in check. The habits I learn during the spending freeze always opens my eyes to something new and creates habits that last a lifetime!!
Want to try a 31 Day Spending Freeze?
Take the 31 Days of Living Well & Spending Zero challenge offered in Paperback or Kindle written by Ruth over at Living Well Spending Less!!Here's what you have to gain from taking this challenge:
Discover the surprising joy of zero spending, and make instant changes that will totally transform your attitude.
Learn how to use the food you already have on hand to create delicious, budget friendly meals for your family.
Be inspired to clean and declutter your living space in order to create the cozy space you've always dreamed of.
Gather innovative ideas for using those items you already have on hand to create new solutions for old problems.
Find encouragement and inspiration from others who have completed this same challenge—and lived to tell the tale.
Learn simple tricks and tips for selling your stuff, slashing your bills, and even saving on food.
Ruth has done this challenge numerous times on her site for her readers and has now made it available in book right here !