The Walgreens Black Friday Deals 2014 have been released!
You can view the entire Walgreens Black Friday Ad Scan here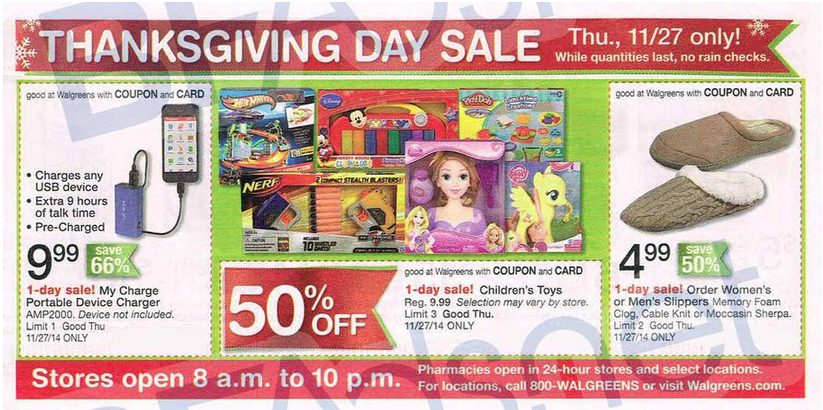 Walgreens will be open on Thanksgiving with most stores opening at 8 am.
The ad highlights items in their 3 day Thurs Nov 27-Saturday Nov 29 Sale. While quantities last, no rain checks!
You can also shop Walgreens Black Friday Deals online here without fighting the crowds!
——Look for other Black Friday Deals by store on our Main Black Friday Deals Page

Like our Black Friday and Cyber Monday Facebook Page by clicking here to see all the deals as they come out right in your Facebook News Feed! Just like the deals as they come out and the deals will continue to show in your feed as long as you like each one as they come out!
There is an in-ad coupon to shop Walgreens Online or in store for an extra 25% off also. Use promo code GOBBLE25 to shop online!!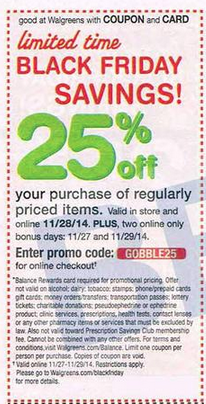 Here are just the highlights of the Walgreens Black Friday Deals:
*****you can view the ENTIRE LIST of Walgreens Black Friday Deals here
MG217 Therapeutic Scalp Treatment 4 oz. $6
Earn $6 RR
Final Price: FREE
Relief OTC Antacid 4 oz. $3
Earn $3 RR
Final Price: FREE
Children's Neilmed Nasabulb 2 piece $4
Earn $4 RR
Final Price: FREE
Gillette Venus Embrace Razor $4.99
Earn $2.50 RR
-$3/1 Venus Razor 10/26 PG insert (exp 11/30)
Final Price: FREE + profit
Urgent RX to Go Upset Stomach Relief $1
Earn $1 RR
Final Price: FREE
Fungicure .35 liquid $5
Earn $5 RR
Final Price: FREE
Zim's Arnica Max or Max Freeze 3-4 oz, $7
Earn $5 RR
–$2/1 printable
Final Price: FREE
Speed Stick or Lady Speed Stick Deodorant 2.3-3 oz. 2/$5.98
Earn $4 RR on two
–B1G1 Free Speed Stick Gear printable (print now, exp 12/31)
Final Price: FREE + $1.01 profit
Speed Stick or Lady Speed Stick Deodorant 2.3-3 oz. 2/$5.98
Earn $4 RR on two
–B1G1 Free Speed Stick Gear printable (print now, exp 12/31)
Final Price: FREE + $1.01 profit
Scunci Hair Elastics 18 pk. 2/$3
Earn $3 RR on two
Final Price: two for FREE
Outback Pain Relief 1.69 oz. $10
Earn $10 RR
Final Price: FREE
Select Crest Dental Care $3
3D White Toothpaste 4 oz, 3D White Rinse 8 oz, ProHealth Mouthwash 8-8.45 oz
Earn $3 RR
-$1/1 Crest Toothpaste 10/26 PG insert (exp 11/30) or $0.25/1 Crest 3D Toothpaste printable (exp 12/6)
Final Price: FREE + profit
Oral-B Indicator Toothbrush $1.50
Earn $1.50 RR
Final Price: FREE
Vivioptal Multivitamins 30 ct. $10
Earn $10 RR
Final Price: FREE
Healthy Delights Bites or Chews 30 ct. $7
Earn $7 RR
Final Price: FREE
Robitussin Medi Soothers 4 ct. $1
Earn $1 RR
Final Price: FREE
Neilmed Sinufrin or Nasagel Nasal Spray .5 or 1 oz. $5
Earn $5 RR
Final Price: FREE
view the ENTIRE LIST of Walgreens Black Friday Deals here
Thank you Moms By Heart for sharing these highlights of the Walgreens Black Friday Deals
>View more Black Friday Deals here
Topic: Black Friday Deals 2014